The Procter & Gamble Company (NYSE:PG) has paid dividends for 123 consecutive years and has increased its dividend by a compound annual rate of 10.2% over the last ten years. Beyond a sustainable payout, investors may see more growth soon on the return of CEO Lafley and a recently announced reorganization.
Not quite a record dividend history but not bad either
While the company does not hold the record for the longest-running dividend payment, the accolade belongs to Stanley Works (NYSE:SWK) paying since 1877, a century-plus of payouts puts it easily in the top ten. The shares pay a 3.1% yield with the payout increasing by an annualized 10% over the last decade.
Adjusting for dividends, if you had invested ten years ago, you would have realized an annualized return of 7.4%. That's above the 7% annualized total return on the S&P500 and pretty exceptional considering the company is in a mature industry in a defensive sector.
Global growth and a surprise upside to earnings
On top of the promise of healthy cash returns, the company may be in for some stronger growth ahead. Procter & Gamble recently announced a reorganization under its returning CEO A.G. Lafley to drive more flexibility and faster global growth. Operations will be segmented by four industry-based groups; global baby, feminine and family care; global beauty; global health and grooming; and global fabric and home care.
As part of the reorganization, the company has set a goal of cutting $10 billion in costs through 2016. It achieved its goal of $1.2 billion in cost of goods savings and beat its 5% target for increasing manufacturing productivity in 2013. Non-manufacturing overhead roles were cut by 7,000 this year, beating the company's goal of a 5,000 reduction.
Lafley returned last year to replace Bob McDonald, largely at the insistence of Bill Ackman who bought a $1.8 billion stake in the company. Investors are optimistic that Lafley can bring growth back to the company, organically and through acquisitions.
Revenue has grown by an annualized rate of 5% over the last decade but has slowed down to annual growth of just 0.15% over the last five years. Even over the last few years of slower growth, the company's $10.8 billion in free cash flow has been more than enough to pay the $6.5 billion in dividends. The company has an aggressive share repurchase program as well, buying back $6 billion in stock this year.
Shares of Procter & Gamble may be a little pricey at 20.3 times trailing earnings relative to their five-year average multiple of 17.5 times earnings. The company reports earnings on October 24th with expectations for $1.06 per share, matching the same period last year. Revenue is expected to come in at $21.06 billion, or 1.5% higher than last year.
Management's own guidance for shareholder return is in-line with last year's performance. The $5 to $7 billion in repurchases could reduce the share count by as much as 76 million, or almost 3% of shares outstanding. The dividend payout of $6.5 billion plus does not leave much room for an increase but something within the 5% to 7% range is possible.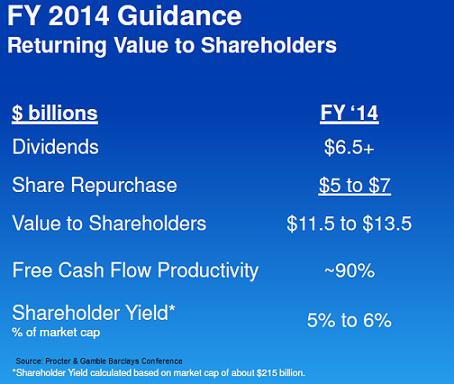 The company has beaten estimates for the last nine consecutive quarters with an average beat of 6.5% over consensus. I think there is a good chance for a strong upside surprise this quarter. Consensus earnings have come down from $1.12 over the last 90 days so the street has lowered their expectations.
On top of the lowered expectations, the dollar has been in free-fall for most of the last quarter, dropping almost 5% from a one-year high in early July. This could mean a strong upside surprise as the company translates foreign earnings into more U.S. dollars.
There are a lot of reasons to like Procter & Gamble, both for near-term and long-term investors. A solid dividend history and sustainable cash flow makes it a good long-term income stock. A management turnaround and the possibility of a strong earnings report mean that it may be time to open a new position or add to an existing one.
Disclosure: I have no positions in any stocks mentioned, and no plans to initiate any positions within the next 72 hours. I wrote this article myself, and it expresses my own opinions. I am not receiving compensation for it (other than from Seeking Alpha). I have no business relationship with any company whose stock is mentioned in this article.