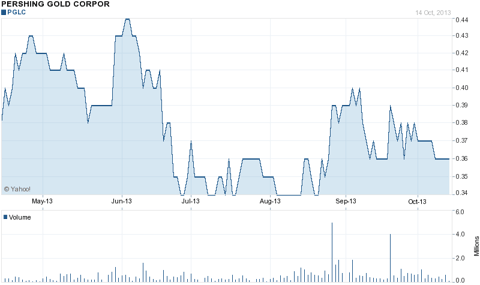 Click to enlarge
Last year I started picking through small cap gold producers hoping to find some good investment opportunities.
What I found was a sector where stock prices had been decimated and small companies have had their access to capital essentially turned off.
I found a lot of companies that looked like their survival could be in doubt.
Within that carnage I came across one company that stood out. That company is Pershing Gold (NASDAQ:PGLC) which has been bucking the trend of a downward spiral that most of its competitors have been caught in.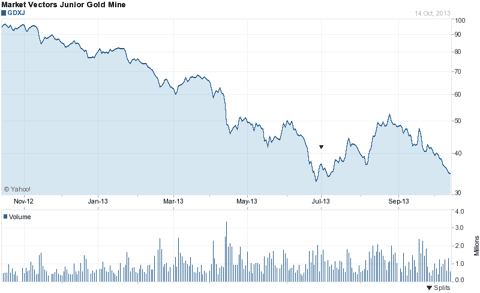 Click to enlarge
While the Market Vectors Junior Gold Miner (NYSEARCA:GDXJ) index has lost a staggering 70% of its value over the past year, Pershing Gold has held up pretty well.
Additionally, the company has not once but twice been able to raise capital in this brutal market for junior miners.
Pershing Gold has been doing things that the other companies in the sector aren't able to.
The obvious question is what is different about Pershing that is creating this differentiation?
In my opinion the answer to that question is tied to major Pershing shareholder, Dr. Philip Frost. Frost is a billionaire. He has made these billions by taking small companies and making them big. Frost started out by building Key Pharmaceuticals which he sold in 1986 and pocketed $100 million. Then he founded IVAX and as CEO built that company to the point where it was sold for $7.4 billion in 2006 to TEVA Pharmaceuticals (NASDAQ:TEVA).
His presence gives Pershing a level of credibility that other companies at this stage of the junior life cycle don't have. The market is well aware of the recent successes Frost has had with some of his other investments.
The man has a hot hand.
Frost's Hot Hand Exhibit A - OPKO Health Inc (NYSEMKT:OPK)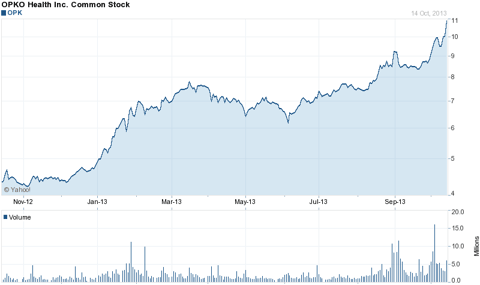 Click to enlarge
Frost controls nearly 40% of Opko Health which has nearly tripled in the past year alone.
Frost's Hot Hand Exhibit B - Safe Stitch Medical (SFES)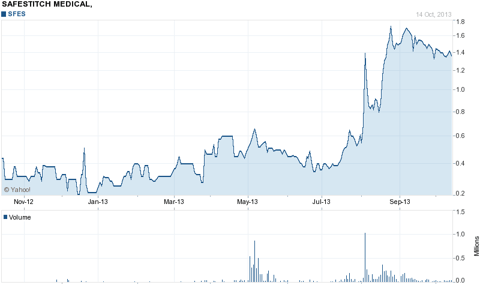 Click to enlarge
Frost controls almost 17% of Safestitch Medical which has also tripled in the past year.
Frost's Hot Hand Exhibit C - Tiger Media Inc (IDI)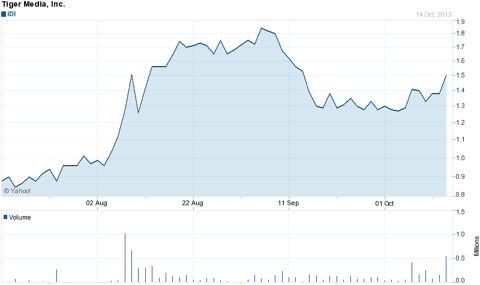 Click to enlarge
Frost controls 31% of Tiger Media which is up 50% in the past three months.
Frost's Hot Hand Exhibit D - Castle Brands (NYSEMKT:ROX)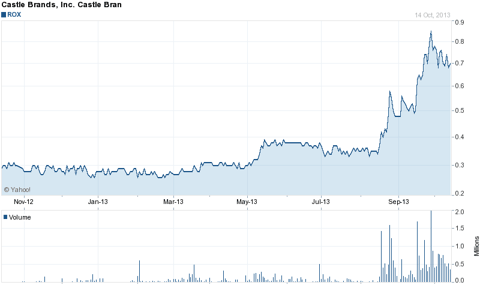 Click to enlarge
Frost controls over 40% of Castle Brands Inc which has tripled over the past year and is up more than 100% in the past month.
As an investor Frost has done incredibly well building businesses and his portfolio is absolutely killing it over the past year.
When Will Pershing's Shares Also Start To Move?
The junior mining sector has been crushed over the past two years. With the rest of the US market at the end of a five year bull run, it is time to look for value in the corners of the market that are beaten down.
Pershing Gold is Frost's only investment in the gold sector. If this billionaire investor thinks this company is worth his dollars, then I'm inclined to think it is a great way to play a rebound in the junior miner sector.
Clearly based on the recent performance of his other portfolio holdings, he has an eye for value.
Frost being behind Pershing Gold has clearly made a difference in the amount of respect Pershing receives from the market.
Despite significantly outperforming its sector though, Pershing's stock price has not really gone anywhere over the past year despite the company announcing some major value enhancing achievements.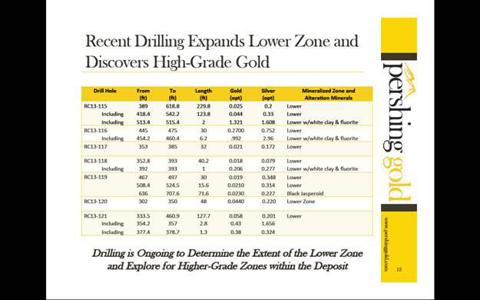 Click to enlarge
The most recent of those announcements was released on September 19:
Pershing Gold Corporation (OTCBB:PGLC) is pleased to announce that seven diamond core holes recently completed at its Relief Canyon Mine in Pershing County, Nevada have confirmed that the Lower Zone has continuity that management anticipates will increase the Relief Canyon gold resource. As previously reported in 2012, Pershing geologists recognized the Lower Zone as a new style of mineralization below the Main Breccia Zone - the deposit mined by previous operators. As currently defined by drilling, the Lower Zone underlies an area that extends North for a distance of about 1,500 feet from the North Pit and is roughly 650 feet wide in an east-west direction. The Lower Zone is open in all directions.

Additionally, four of the seven core holes have high-grade gold intercepts with assays higher than 0.20 ounces per ton ("opt"). The highest grade intercepts include a 2-foot ("ft") zone of 1.321 opt gold contained within a 123.8-ft intercept that averages 0.044 opt gold in RC13-115, and a 6.2-ft intercept of 0.992 opt gold contained within a 30-ft intercept of 0.27 opt gold in RC13-116.
The reaction from the market to this news release was muted. I think this is a mistake and that we need to pay attention to the comments from Pershing CEO Stephen Alfers:
"These holes could be a game-changer that may significantly expand and upgrade the Relief Canyon gold deposit," stated Stephen D. Alfers, Pershing Gold's CEO and President. "First, the Lower Zone is emerging as an exciting new opportunity to increase the size of the deposit. The January 2013 resource estimate included only a limited part of the Lower Zone. Based on our initial results, we expect material from the Lower Zone to add significantly to the gold resource. Secondly, we have encountered high-grade gold in four holes within the Lower Zone mineralization. The expansion of the Lower Zone and the high-grade intercepts represent landmark events in the exploration history of this project."
I've followed this company for more than a year and I'm familiar enough with Alfers to know that he is consistently very conservative with his communication to the market. His obvious excitement about these results and their potential to increase Pershing's resource base is great news for shareholders.
This announcement follows the nearly fivefold increase in mineralized material at the Relief Canyon Mine that Pershing disclosed earlier this year.
Pershing Gold has been a very strong performer in a very weak sector. The weakness in the sector though has still overwhelmed the operational success this company has made in 2013.
At some point that has to change.
Disclosure: I am long PGLC. I wrote this article myself, and it expresses my own opinions. I am not receiving compensation for it (other than from Seeking Alpha). I have no business relationship with any company whose stock is mentioned in this article.