The Exxon Mobil Corporation (NYSE:XOM) has paid dividends for 131 consecutive years with the operational performance and cash flows to pay for another 131 years. Beyond a dividend and repurchase policy that returned almost 8% to investors last year, the company has significant advantages in operational performance and emerging market growth. Based on current price multiples and expectations for next year's earnings, I am setting a target price of $96 per share.
Rumors of the demise of oil are greatly exaggerated
Long-running fears of peak oil and the decline of the major integrated oil companies have obviously been overblown. Global energy demand is expected to increase by 35% by 2040, with almost 225 quadrillion BTUs of demand from oil and 175 quadrillion BTUs from gas. While some demand growth is expected to shift to alternative sources, demand for energy from oil should grow by 0.8% a year and demand for gas at 1.7% per year over the period.
As of the end of fiscal 2012, Exxon Mobil reported 25 billion oil-equivalent barrels (BOEB) of proved reserves with 27 BOEB in design and development stages and 35 BOEB in future development. Earnings from its three segments, shown in the graphic below, have been volatile but rising since the end of the financial recession.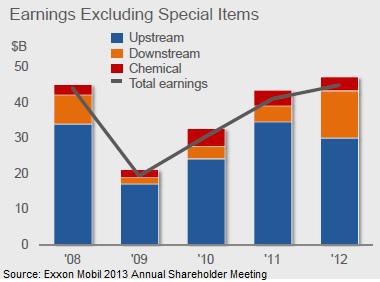 The company has always seen most of its earnings from upstream exploration but its investment in downstream and chemicals is paying off in earnings and operational efficiency. By integrating the assets, the company is able to produce at lower costs than competitors. Exxon spent $34 billion in capital expenditures in 2012, up almost 11% from the prior year, and is on pace to spend upwards of about $37 billion this year.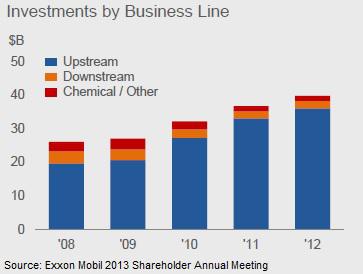 The constant increase in capital expenditures, combined with a record for operational efficiency, has helped the company increase operational cash flows by an annualized 7.5% over the last decade. This has allowed Exxon Mobil to continue its strong history of dividend payments with a compound growth rate of 9.7% over the last 10 years and a current yield of 2.9%. The growth rate in dividends has historically beaten increases in the consumer price index and has recently beaten payout increases in the broader market as well.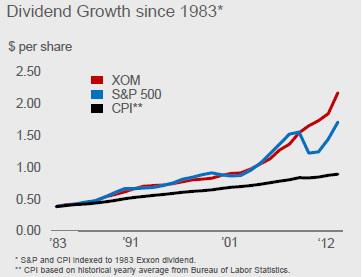 Beyond the strong dividend yield, the company has a history of returning profits to shareholders in the form of buybacks. The company has repurchased $210 billion of its own shares over the last 10 years with repurchases of between $4 billion and $5 billion per quarter. Including dividends and repurchases, the company returned $30.1 billion to shareholders in 2012, for a return of 7.8% on its $380 billion market capitalization.
Exxon Mobil and Rosneft agreed in February to expand an agreement under their 2011 strategic cooperation pact to include an additional 150 million acres within 7 blocks of the Russian arctic. The deal underscores one of the biggest growth drivers for Exxon. Outside the developed world, most oil assets are owned by national oil companies, which have neither the expertise nor the capital to develop their own fields. Exxon has an industry-leading record for operational performance and will be first in line for partnerships across the developing markets.
Exxon Mobil recently secured another $1.5 billion in financing for its $19 billion project in Papua New Guinea, estimated to produce 6.9 million tons per year. Despite some cost overruns, the project should come on line in 2014.
Recent sell-off presents a buying opportunity
Not all is rainbows and sunshine though with free cash flow falling last year and a shutdown of the THUMS pipeline in California this week. In fact, Seeking Alpha contributor Achilles Research recently recommended selling shares for better opportunities in the industry.
Exxon Mobil missed earnings expectations last quarter by more than 18%, reporting $1.55 in profits on a consensus view for $1.90 per share. The company is expected to post $1.86 in earnings when it reports on October 30, an 11% decline over the same period last year. Full-year earnings are expected at $7.54 on $443.5 billion in revenue.
I think the recent drop in shares, down more than 8% since July, presents an opportunity to add to a position in a long-term income portfolio. The company has only missed expectations in four of the last 10 quarters but last quarter's miss was a big one and brought revisions down. Expectations for the current quarter have come down more than 5% over the last 90 days and may be too low.
Shares of Exxon Mobil trade relatively cheaply at 10.6 times trailing earnings relative to their five-year average multiple of 11.1 times earnings. Against the rest of the industry, shares trade at a slight premium with an enterprise value 6.0 times trailing earnings before interest, taxes, depreciation and amortization (EBITDA). I am looking for $70.4 billion in EBITDA for 2014, which would lead to a target price of $96 per share in the next year.
You will probably not see the upside potential in Exxon Mobil that is possible in smaller names like Apache (NYSE:APA) but you get a stable play on energy and a strong cash return for the lower growth. The company is able to use its scale and integrated segments to achieve high margins and has a century-long record of returning profits to shareholders through dividends and repurchases. Stable long-term growth is intact with significant opportunities to partner with national oil companies in emerging markets.
Disclosure: I have no positions in any stocks mentioned, and no plans to initiate any positions within the next 72 hours. I wrote this article myself, and it expresses my own opinions. I am not receiving compensation for it (other than from Seeking Alpha). I have no business relationship with any company whose stock is mentioned in this article.