Credit card debt is financial poison. Should it grow unchecked, it can quickly destroy an individual's net worth. Given the amount of fees and high interest rates incurred by consumers, it makes no sense to incur credit card debt. However, since the trend of using credit card debt shows no sign of stopping, it makes perfect sense to profit from it by investing in credit card companies. Discover (NYSE:DFS) card appears to be the best choice in the industry due to its valuation, products and growth prospects. By owning credit card companies, investors can profit from the never ending debt U.S. consumers struggle to pay off.
Industry Overview
Credit card companies can generate income as payment processors or as issuers. American Express (NYSE:AXP), Discover, MasterCard (NYSE:MA), and Visa (NYSE:V) are typically thought of as the leading credit card companies, however there are differences between the business models. Discover and American Express are both issuers and payment processors, while Visa and MasterCard are only payment processors. An issuer is the bank that actually extends a line of credit to an individual. They receive interest on this loan if it is not paid back in full by the end of the month. By issuing their own cards, Discover is exposed to repayment risks in exchange for the ability to profit from interest. A payment processor simply verifies the card being used and transfers money to the merchant. For performing this service the companies typically receive a fee that is a percentage of the transaction. Discover maximizes revenue by being both an issuer and a payment processor.
Strong Fundamentals
When looking at fundamentals, Discover is a bargain compared to other credit card companies. Discover has a P/E of 11.8 and its earnings are expected to grow at 8.43% for the next five years. This compares favorably to the 18.5 P/E of American Express. MasterCard and Visa have P/E ratios of 28.5 and 23.5. However, since MasterCard and Visa are only payment processors, it can be expected that they will have higher P/E ratios because their earnings are more secure. Discover's dividend yield, while low at 1.55%, dwarfs that of the competition as seen in the dividend table below. Furthermore, its low payout ratio of 10% guarantees that the dividend is safe and has room to grow.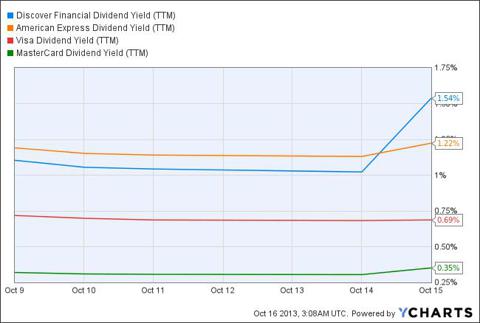 Discover's loan portfolio generates almost all of the companies' income. At the end of the second quarter, Discover had $61.7 billion in loans outstanding. Of this, $49.8 billion is made up of credit card loans. These loans have an 11.97% interest rate. The 30-day delinquency rate on these loans reached an all-time low of 1.58% at the end of Q2. Discover also has other sizable lending operations. While most of its money is made from credit card loans, Discover also offers personal loans and student loans. Discover has $7.9 billion in student loans with an average interest rate of 6.52%. It also has $3.6 billion dollars in personal loans that have a 12.51% average interest rate.
Due to the scope of its lending operations, Discover is as much a bank as it is a credit card processor. At the end of Q2 2013, pre tax income from Discover's direct banking segment was $1 billion, up 26% from the previous year. Discover now offers savings accounts and other financial products typically offered by banks. To that end, Discover has to maintain strong regulatory capital ratios to ensure that it has adequate capital on hand. At the end of the second quarter, Discover had a Tier 1 risk based capital ratio of 15.5% and a Tier 1 leverage ratio of 13.4%. In the past year, these numbers increased from 13.9% and 11.9% respectively. Discover has a strong balance sheet that ensures the future success of the company.
Student Loan Concerns
The only part of Discover's business that warrants a second look is student lending. As mentioned earlier, Discover currently has over 7.8 billion in outstanding student loans. Student loans comprise 12.6% of its loan portfolio. Something to consider is that the net charge off rate on these loans has increased by 44 basis points from Q2 2012, to Q2 2013. While this may seem small, it more than doubled the charge off rate from .24% to .68%. This same time period has also seen the 30-day delinquency rate on these loans rise 35 basis points to 1.38%. This is especially troubling in light of the fact that there have been recent attempts to discharge student loan debt in court. Since student loans are unsecured, the primary source of security for the lender is that the loans usually cannot be discharged in bankruptcy. Should this standard change at any point, it would negatively impact the value of any outstanding student loans. While student loans are only a small part of Discover's business and the net charge off rate is still considerably under 1%, investors should keep a close eye on Discover's student loan division.
Increasing Acceptance
Years ago, Discover had a reputation of not being widely accepted. Largely due to this, Discover currently has only about 5% of the credit purchase volume in the United States. As recently as 2007, Discover Card was only accepted at 77% of the merchants who accept Visa and MasterCard. That number has now grown to over 90%, making Discover as widely accepted as its competitors. With a high acceptance rate, not being accepted becomes the fault of the individual merchant instead of the credit card company. Now that Discover is on equal footing with the other major credit card companies, it should be able to win market share due to its excellent products and service. Furthermore, Discover controls the large PULSE network of debit cards and ATMs. Discover is quickly becoming equal to its major competitors in terms of acceptance.
Discover has also struggled in the past outside of the United States. Recently, Discover has attempted to fix this through a series of acquisitions and partnerships. In 2008, Discover purchased Diners Club, an international charge card that is widely accepted in Europe. This acquisition will enable Discover greater acceptance in European markets. Discover is becoming more accepted in China due to its partnership with China UnionPay. This partnership has given it access to a large amount of ATMs as well as widespread merchant acceptance in China. Increasing international acceptance will help Discover Card in the future.
The It Factor
Discover's It Card is an innovative cash rewards card. The It Card offers 1% cash back on all purchases and also 5% cash back on certain categories that change every quarter. The 5% cash back is an exceptional premium to other cash rewards cards. To top it off, all these benefits come with no annual fee. Another benefit that comes with any Discover product is access to its U.S.-based customer service. These features have earned the It Card a place on NerdWallet's list of the four best cash back credit cards. The benefits and features of the It Card will enable Discover to capitalize on its newfound acceptance.
Conclusion
Credit cards are an incredibly profitable product for their issuers. Discover has fixed problems it once had with acceptance and is now issuing an innovative cash rewards card. These two changes will undoubtedly cause Discover to gain market share. Discover has a strong loan portfolio and balance sheet. The student lending division has the potential to be problematic and investors should stay up to date on its performance. Currently, student loans are performing well, but the situation should be monitored even though it is only a small part of Discover's loan portfolio. Discover seems to be a sound way to profit from credit card usage.
Disclosure: I have no positions in any stocks mentioned, and no plans to initiate any positions within the next 72 hours. I wrote this article myself, and it expresses my own opinions. I am not receiving compensation for it (other than from Seeking Alpha). I have no business relationship with any company whose stock is mentioned in this article.