Let's start with two premises: First, global diversification is an important stabilizing element for any portfolio. Second, equity-dividend income investors tend to be less globally diversified than a portfolio manager who follows the first premise would consider ideal.
The first premise is, I suppose, arguable, but I don't think I'm going very far out on a limb to say that all the best contemporary thinking on portfolio management supports the statement. The second is more speculative on my part. I base it largely on having read many articles written by self-described dividend growth investors here at Seeking Alpha. A small and completely non-random sample to be sure, but I have a sense that these anecdotal data points do represent a significant broader reality.
To go a step further, I submit that to the extent that equity-dividend income investors consider themselves to be globally diversified, much of that diversification is less real than apparent. Many will hold international energy giants such as British Petroleum (NYSE:BP) or Royal Dutch Shell (NYSE:RDS.A) (NYSE:RDS.B) for example. Now, please do not misunderstand me here, these are reasonable positions, but I would argue that any global diversification they provide is illusory. There is not really much difference in the impacts on one's portfolio from an energy giant with a home base in the USA (say, Exxon Mobil (NYSE:XOM) or Chevron (NYSE:CVX)) and one based in The UK or Netherlands that follows as a consequence of their home countries.
Another sector that provides global diversification in a typical DGI portfolio is Healthcare, specifically BigPharma. Again, these are mainly global industries with global markets. The impact they generate on portfolio behavior that derives from their home locations is minimal. Consider, for example, the likes of Merck (NYSE:MRK), Eli Lilly (NYSE:LLY), Novartis (NYSE:NVS), AstraZeneca (NYSE:AZN), GlaxoSmithKline (NYSE:GSK) and Pfizer (NYSE:PFE). Can anyone give me a good reason why one would choose among them based on any geographical diversification they bring to a portfolio?
Yet, when I review my asset class allocations, I routinely check off a RDSA or NVS as international holdings, as though they are somehow different in any real way from positions in domestic CVX and BAX.
Where geographic diversification begins to impact a portfolio appreciably is in sectors where a typical DG investor is heavily or exclusively invested in US companies: Financials, Utilities, Industrials, Telecommunications, Consumer Staples and Consumer Discretionary. These sectors are difficult for a US investor to invest in and follow closely when the company is beyond our shores. Some can be purchased through American Depositary Receipts, but such are typically traded on pink sheets and have low liquidity relative to the underlying companies. For many investors, it's simply easier and, perhaps, wiser to avoid them.
Real estate is another favored sector among equity-income investors and another key element in diversification of portfolios. Can one reasonably obtain further diversification by adding international exposure to real estate equities by purchasing, for example, REITs with a global scope? Not easily.
So, what's an equity-dividend income investor to do if she wants to diversify her portfolio globally? The clearest route has to be via ETFs. I appreciate that many DG investors shun ETFs, preferring to do their own stock picking. There are pros and cons to that approach that I won't even begin to address here, but I will submit that ETFs are far and away the vehicle of choice for providing international diversification.
With that in mind, I'll discuss here some opportunities for the equity-income investor among international dividend ETFs. In keeping with the theme, I am going to focus on ETFs that provide reasonably high yields.
International Dividend ETFs
| | | | | | | |
| --- | --- | --- | --- | --- | --- | --- |
| ETF | Inception Date | Net Assets | Avg. Daily Vol. | Current Yield | 52Wk Total Return | Std. Dev. (1yr) |
| SPDR S&P International Dividend ETF ([[DWX]]) | 02/12/2008 | $1.3B | 219,724 | 6.74% | 12.32% | 1.79% |
| First Trust Dow Jones Global Select Dividend Index Fund (FGD) | 11/21/2007 | $358.6M | 78,235 | 4.80% | 17.20% | 0.96% |
| Global X Superdividend (SDIV) | 06/08/2011 | $724.3M | 266,557 | 7.87% | 15.19% | 0.45% |
| Guggenheim S&P Global Dividend Opps Idx (LVL) | 06/25/2007 | $83.7M | 34,278 | 6.53% | 10.39% | 0.99% |
| EGShares Low Volatility EM Dividend ETF (HILO) | 08/04/2011 | $102.5M | 111,144 | 5.18% | 4.90% | 0.92% |
| SPDR S&P Emerging Markets Dividend ETF (EDIV) | 2/23/2011 | $553.0M | 35,306 | 5.03% | 2.16% | 2.40% |
| SPDR Dow Jones Intl Real Estate (RWX) | 12/15/2006 | $4.05B | 407,985 | 6.22% | 4.47% | 0.45% |
DWX
DWX holds positions from 30 countries. Australia leads the list by far with a weighting of 21.35%, nearly two-and-a-half times that of the 2nd or 3rd weighted countries, Canada and the UK. Spain, France, Sweden, Italy, Netherlands, Belgium and Singapore round out the top 10. The fund is mid-cap heavy (69.01%). Financials (23.89%, including 9% REITs), Telecomm (18.42%) and Utilities (12.88%) lead the sector allocation list.
There is exposure to emerging markets as well with about 18-20% of the fund invested in emerging market countries.
DWX currently (mid-day 15 October) sells at a modest premium to NAV: 0.19%. The discount/premium varies considerably ranging from about +1.8% premium to -0.8% discount (averaging +0.31%) to NAV over the last year.
The fund tends to underperform its benchmark (MSCI EAFE) which is not unexpected, I suppose, given the high yield.
FGD
First Trust limits companies included in FGD to those "having a current-year dividend-per-share ratio that is greater than or equal to its five-year average annual dividend-per-share ratio and a five-year average payout ratio of less than or equal to 60% for U.S. and European companies; or less than or equal to 80% for all other countries." These criteria should certainly appeal to an equity income investor, and might well bear investigating as a guide for managing one's own portfolio.
FGD is a global ETF, not an ex-US fund, and the US is its largest country weight at 17.02% of holdings, slightly more than Australia (15.98%) and the UK (13.55%). Rounding out the top ten are France, Spain, Canada, Sweden, Italy, New Zealand and Germany. The fund is mid-cap heavy with 60.37% of its assets in that category. Sector exposure is led by Telecomm (24.47%) followed by Industrials (18.87%), Financials (18.4%, including 2.56% REITs) and Utilities (13.34%). There is no exposure to emerging markets here.
At the time of this writing, FGD is selling nearly exactly at par value. Its premium/discount has ranged from 0.95% to -0.3% over the past year with an average premium of 0.25%.
Like DWX, FGD tends to underperform the MSCI EAFE benchmark.
SDIV
SDIV is another global fund and it, too, has the U.S. as its largest country weight (24.39%). Australia (20.67%) and the UK (12.05%) follow. Sector exposure is led by Financials (38.4%), Utilities (16.87%) and Telecomm (11.88%). There is also a fairly heavy 19.51% exposure to REITs (under Financials).
SDIV has had an average premium to NAV of about 0.3% for the last year. It has sold for as high as 1.2% premium and as low as -0.45% discount. It, like the other international dividend funds above, lags the MSCI EAFE benchmark. At 7.87%, its yield is the highest of the group.
LVL
Again we have a global fund that includes the US. And, again the US is the largest-weighted country in the fund (17.52%) with Australia the largest ex. US holding (15.90%). Canada (7.51%), Spain (5.57%) and the UK (4.42%) round out the top five. LVL also includes emerging market countries in its index; Brazil is the 6th largest weighting at 4.21%. Sectors that comprise the portfolio are led by Financials (24.09%, including 9.03% REITs) and Telecomm (20.78%).
The fund lags its benchmark and lags its peers as well in most metrics. That coupled with its low volume, and consequent low liquidity, makes the ETF an unlikely choice for our purposes.
RWX
RWX is an international real estate fund. It tracks the Dow Jones Global ex-U.S. Select Real Estate Securities Index, a float-adjusted, market-cap-weighted index of international real estate securities. RWX is a Morningstar 5 star fund, unique in this list. Compared to other international real estate funds, RWX is more heavily invested in REITs with a lesser concentration in real estate developers. This produces higher distributions yields, but tends to depress NAV growth.
Asia represents over half of the fund's portfolio. Japan and Europe account for 45% of holdings. The REIT structure is popular in Australia and Japan where the real estate market is mature and involves less property development than some other Asian countries. This is reflected in the country weightings with highest being Japan (22.60%) and Australia (14.28%). The UK (12.27%), Hong Kong (10.58%), Canada (9.92%), France (9.14%), Singapore (7.85%) complete the top 7. All other countries represent 2% or less of the country weightings of the fund.
RWX does not own Chinese stocks, but has a large stake in Singapore and Hong Kong (nearly a fifth of the portfolio), so it is exposed to the impacts of the Chinese economy.
HILO
HILO invests in emerging markets. The fund has a total of 31 positions. Regional holdings are weighted to Asia (42.98%), Europe (34.50%), Africa (16.56%) and Latin America (5.97%).
The largest country weightings are South Africa (16.56%), Thailand (16.56%), Turkey (12.29%), India (9.38%) and Russia (9.38%). Cap size is mid (56.24%) to small (24.78%).
Sector weighting has about equal weights to Energy, Financials, Industrials, Telecomm and Utilities (14-16% each). REITs comprise 10% of the portfolio's holdings.
As the name Implies, the fund strives for low volatility in an asset class marked by high volatility. It sports a beta of 0.96 and a standard deviation of 0.45%. I suspect that this accounts for its relatively low commitment to the materials sector.
EDIV
LVL is a second emerging-market dividend ETF but holds a portfolio well differentiated from HILO's. The fund has a total of 100 positions. Regional emphasis leads with Asia (36.92%) and Europe (32.21%) again. But LVL is more heavily weighted to Latin America (21.47%) than Africa (6.49%) compared to HILO.
Sector weighting also differs from HILO. Financials lead at 25.67%, including real estate management and development (5.9%) but no REIT investments. Utilities carry a 19.5% weight and Materials are weighted at 16.43%.
Correlation Analysis
If we are going to look at these funds as opportunities for diversifying a dividend-income portfolio, it necessarily raises the question of how much diversification do they supply? The covariance and correlation matrices below use SDY as a proxy for a domestic dividend portfolio in an effort to address this question. The matrices were generated using data from the 4 August 2011 inception date of the youngest fund through 15 October 2013.
Obviously, one would like to have more than 2 years' data. I considered omitting HILO from the analysis for that reason, but it is not that much younger than SDIV or EDIV, so I decided to leave it in. One should, however, be cautious in interpreting these data.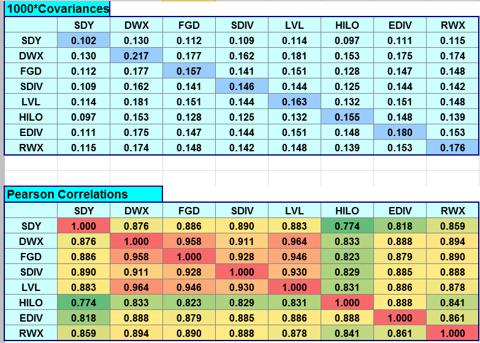 Click to enlarge
The correlation matrix breaks down much as one might predict. The ETFs representing primarily developed countries are most closely correlated with SDY; correlation coefficients range from 0.883 to 0.890. Those exposed to emerging markets exclusively fall into a second rank with correlation coefficients of 0.774 and 0.818. The international real estate fund, perhaps surprisingly, fits between those two asset classes at 0.859.
Summarizing
If one's objective is to diversify an equity-dividend income portfolio by adding international exposure, it would seem reasonable that one would eschew those funds that include domestic equities among their holdings. This is borne out by the correlation matrix where DWX, the only ex-US fund in our list of developed world dividend funds has the lowest correlation coefficient of that cohort. Again, this is not surprising. In essence, what this fund represents relative to the others in its group, is a substitution of US holdings for emerging market holdings. Of course, it has a lower correlation with the US fund.
Add the fact that its dividend yield beats all but SDIV, it would seem to be the fund of choice from this group. Unfortunately, as is often the case with ETFs, there is minimal history here. Furthermore, it is a history marked by relatively poor returns from developed countries ex. US and sketchy returns from the emerging markets. It is, therefore, uncertain how confidently one can weigh the data here.
Many, but not all, adherents of the well-diversified-by-asset-class school of portfolio management will recommend allocating a portion of your portfolio to emerging markets. Of the two candidates here, HILO would be my choice to fill this role in an equity income portfolio. It is appreciably less correlated with the US and developed world ETFs. It returns a slightly better dividend yield than EDIV and although its 52 week total return is not especially thrilling, it does beat EDIV handily. Its low beta and standard deviation is an appealing aspect for a fund in this volatile asset class as well. If, however, an investor sees emerging markets as a partial surrogate for exposure to materials sector, EDIV could be a better fit.
Consider another way to get the emerging market exposure though. With DWX, there is a significant emerging market component to be garnered in the fund, perhaps sufficient to fulfill both asset class allocations in a single holding. If, for example, an investor's asset allocation scheme includes 15% developed markets and 5% emerging markets, this ETF alone at 20% of the portfolio comes quite close to meeting that goal, slightly overweighting the developed sector at the expense of emerging market sector. One could add a small position in EDIV to round out the emerging market asset class and, in the process, get some exposure to the materials sector that HILO lacks.
Finally there is the real estate fund, RWX. Real estate is a solid choice for portfolio diversity. I include exposure to real estate in both my income and capital growth portfolios. I would argue that exposure to real estate should include an international component. Although I have not covered any other international real estate funds here, if the objective is distribution yield, RWX is the pick of the lot. Readers who have an interest may want to explore other options here.
Lastly, I should add a word on taxes. Most, likely all, of these funds withhold foreign taxes. Some of those withheld funds can be recovered as tax credits on US income tax returns. This does not apply to tax-deferred accounts, so it may reduce their attractiveness in such accounts. I am not remotely expert in tax matters. If this is a concern of yours, you need to discuss the details with your tax advisor.
As always, I remind readers that I am an individual investor. I have no claims to professional expertise of any sort in stock evaluation (or tax matters). I am simply sharing my own research in the hope that it may be useful to others. Any actions a reader may want to take based on this research must necessarily include his or her own careful due diligence and full consideration of his or her individual goals and need.
Disclosure: I am long RWX, BP, CVX, NVS, BAX. I wrote this article myself, and it expresses my own opinions. I am not receiving compensation for it (other than from Seeking Alpha). I have no business relationship with any company whose stock is mentioned in this article.
Additional disclosure: I may initiate a long position in DWX over the next 72 hours.