Tuesday's Empire Manufacturing report for the month of October is one of the first economic indicators that we have gotten that covers the period including the government shutdown. If first impressions are any indication, the shutdown is having a greater than expected negative impact on the economy. While economists were expecting the headline reading to come in at a level of 7.0, the actual reading was just barely positive at 1.5. This was the weakest reading seen since May.
While NY manufacturers were less optimistic in terms of general business conditions, the outlook for the next six months actually increased slightly from 40.64 to 40.76. This spread of 39.2 between the outlook for six months out and current conditions is the widest since July 2011. The fact that this period also coincided with the last major stalemate in Washington over the debt ceiling shows that once again partisan bickering in Washington is having a negative impact on economic growth. Thanks DC!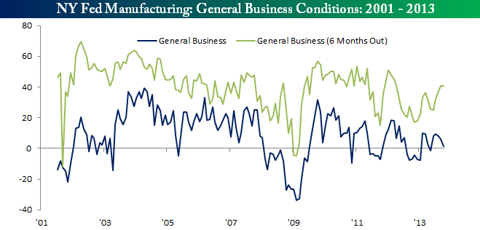 The table below shows the breakdown of each of the Empire Manufacturing report's components. As shown, four of the nine components increased this month, with the biggest gains coming from New Orders and Average Workweek. On the downside, the biggest declines came from Delivery Times and Prices Received. On the right hand side of the table, we show what manufacturers expectations are looking out six months from now.
As mentioned above, the widest spread between current conditions and expectations for the next six months is in General Business conditions, but there is also a wide spread between now and six months from now in New Orders, Prices Paid, and Prices Received. On the downside, manufacturers are actually less optimistic about Delivery Times, Inventories, and Average Workweek.