Pharmaceutical and diagnostics development company, OPKO Health (NYSEMKT:OPK), continued its parabolic trajectory off of a recent announcement that the company made an strategic investment in Zebra Biologics, Inc. on October 10. Over the last month, shares have climbed an impressive 43.68%. This gain was further emphasized on October 15 when the company's shares soared an additional 12.56%, despite the overall market being down nearly 1%.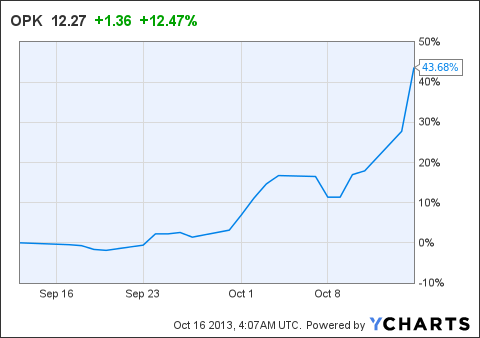 Is It Really About Zebra?
However, those more attuned to the price action of OPKO Health are more likely to be skeptical about whether the announcement of Zebra Biologics actually played a significant role at all. Indeed, the undisclosed investment appears to be a rather speculative endeavor on the part of the company. Engaged in the development of next generation antibodies, the science behind the company appears many years away before being able to contribute meaningfully to OPKO's top or bottom lines. Indeed, despite the impressive credentials of its founders, the company website itself still bears the term "Site Under Construction" on its home page.
Despite these thoughts, it would be foolish to be ignore the more meaningful implication of the OPKO's latest rise in share price. Investors must inevitably turn their attention back onto the company CEO himself, a self-made billionaire who's investment savvy has earned him the spot of #166 on The Forbes 400. OPKO Chairman and CEO, Dr. Phillip Frost, remains a rather unusual investment beacon for investors seeking the reassurance of persistent insider confidence.
Ongoing Insider Confidence
Dr. Frost continues to buy shares of OPKO Health. The leading officer continues to exert his confidence in the company by purchasing shares on a regular basis. Since assuming the role as CEO of the company in 2007, Frost has habitually established a long paper trail of purchases in the company he leads. Already made reputable by establishing pharmaceutical maker Ivax Corporation and selling the company to Teva Pharmaceuticals in 2006 for $7.4 billion, Frost earned a reputation for discovering overlooked investments. He has continued to attract ongoing investment interest into his current positions.
Frost's latest purchase occurred on October 11 according to the filed Form 4 found here. Frost purchased an additional 7,000 shares at an average price of $10.03. According to the filing, the company CEO now controls a total of 152.3 million shares of OPKO Health. According to the Schedule 13D found here, there were 403.6 million shares outstanding as of September 10. This suggests that Frost controls a rough 37.7% of the company's outstanding shares, and continues to significantly reduce the public float.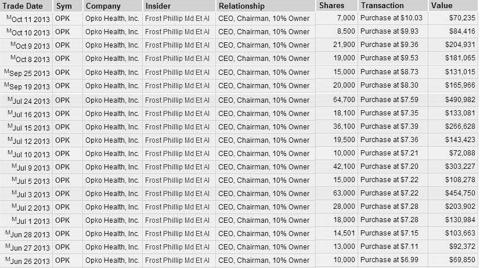 Is A Short Squeeze Underway?
Why any of this matters, comes down to the fact that OPKO Health carries a relatively large short interest. As of September 30, the company had a short interest of 35.1 million shares. With the average daily volume of 3.03 million shares at the time, this suggests a short ratio of 11.57. As a result, there is a significant amount of days needed for short positions to cover. Could a short squeeze now be underway?
A Look At The Company's Financials
At the closing price of $12.28 as of October 15, OPKO Health now trades with a market capitalization of $4.96 billion. Still operating as a development company, OPKO has yet to generate a profit, despite conducting $23.8 million in revenue for the quarter ending in June 2013. Over the same time period, the company carried $314.5 million in total shareholder equity. It is noteworthy to mention that the company completed its acquisition of PROLOR Biotech over this last quarter. The original acquisition notice suggested a transaction value of $480 million in an all-stock transfer. Yet, even with these consolidated figures, it remains clear that OPKO trades with a significant premium under its current valuation.
Final Thoughts
While the latest investment into Zebra Biologics may have helped sparked a rally for OPKO Health, there is a much bigger picture at hand for investors in this company. Dr. Frost continues to attract a great amount of investment interest due to his heavy-handed insider purchases and proven capability of piecing together effective companies.
In the last year alone, the company has made many acquisitions and investments into companies that can help to expand OPKO's development pipeline. In many of these cases, company stock was utilized in lieu of the limited cash on hand carried by OPKO. As such, we see that Frost has effectively utilized his own wealth in order to leverage the purchasing power of a public entity.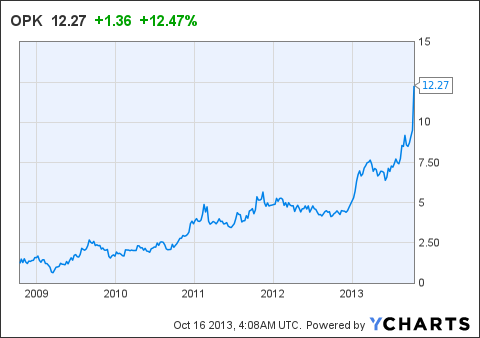 In many ways, Frost has essentially followed through in one of the most effective ways to build a public company. With the majority of his fortune now invested into his holding in OPKO Health, Frost's strong insider confidence continues to attract investor interest. Although the company's short position has significantly grown as well, the stock itself has continued to trend higher.
Investors with a short position would be wise to trade with caution. While OPKO's valuation appears to be trading at a significant premium when compared to its lack of earnings and low book valuation, the company continues to trade on the hope of future expectations. More importantly, investors continue to fortify their confidence in the resolve of Dr. Frost. As long as his insider purchases continue to occur, it will be difficult to shake the resolve of those who believe the company's potential has yet to be priced accordingly.
Disclosure: I am long OPK. I wrote this article myself, and it expresses my own opinions. I am not receiving compensation for it (other than from Seeking Alpha). I have no business relationship with any company whose stock is mentioned in this article.