By Brad Zigler
Sometimes it's nice to revisit your old hangouts and reminisce. Investors in first-generation corn ethanol producers, however, just wish they could revisit their money.
The three publicly traded refiners we've been tracking over the past 18 months are moribund. Two—VeraSun Energy Corp. (Pink Sheets: VSUNQ) and Aventine Renewable Energy Holdings, Inc. (Pink Sheets: AVRNQ)—are bankrupt. The other, Pacific Ethanol, Inc. (Nasdaq: PEIX), is solvent in name only; its four operating subsidiaries have all filed Chapter 11 petitions, while the holding company stares at the prospect of standing before the bankruptcy bench itself. So what happened?
Margins Improving, Revenues Still Falling
It's ironic that one of the major factors leading to these companies' woes has improved over the past six months. Since May, the gross dollar yield obtained from the conversion of corn into fuel has risen fourfold, but it's too little, too late.
That's because the margins were so thin at the outset. Crushing corn into ethanol yielded only 37 cents a bushel[1] at the beginning of May, when corn was contracted at $4.14 a bushel, leading to a gross margin of just under 9 percent. But the price of ethanol has since risen 28 percent, while corn's price has fallen six percent, so margins have improved. At last look, the gross yield was $1.88 per bushel, or 48 percent.
Ethanol Vs. Corn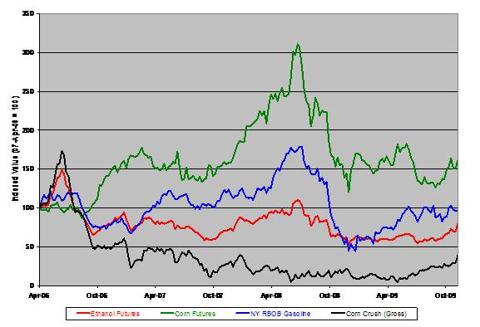 But although margins may be wider now (yet still nowhere near the spreads obtained when these refiners first came online), much of those revenues aren't being realized, due to production shutdowns or asset sales.
For example, seven of VeraSun's ethanol plants are now cranking out blending components for Valero Energy Corp. (NYSE: VLO). In a deal that closed this May, the nation's largest oil refiner swooped in to snatch the ethanol plants from VeraSun's bankruptcy estate.
Valero's not the first of the oil majors to embrace biofuels; big oil has been looking at adding integrative ethanol components to its operations for some time. For example, Royal Dutch Shell plc (NYSE: RDS-B) stepped into the biofuels arena back in 2002 with an investment in a Canadian company that brewed ethanol from plant waste. Chevron Corp. (NYSE: CVX) has partnered up with a forest products company to make fuel out of wood waste. Although ethanol currently represents about 9 percent of the nation's liquid fuel supply, that share is bound to expand in future years, due to federal mandates.
There's a fair amount of caution exercised in these deals, however, especially for projects devoted to so-called conventional ethanol made from corn. Corn-based fuel is energy inefficient, in part because it corrodes pipelines and therefore must be trucked to be blended with gasoline for motor fuel use. Valero, for its part, believes the former VeraSun facilities can be converted to accommodate the production of newer ethanol blends, including those made from feedstocks other than corn.
The Cellulosic Competition
In essence, first-generation refiners like VeraSun, Aventine and Pacific Ethanol were pitched three strikes: In the rush to meet production commitments in the pre-crash environment, they overpaid for plants and facilities; rising corn costs and sluggish ethanol prices squeezed their margins; and now, they're being marginalized by newer, more efficient technologies, such as cellulosic ethanol.
An example of the competition is South Dakota-based POET Ethanol Products, the nation's largest producer of corn-based ethanol, which recently announced that it nearly halved the cost of producing cellulosic ethanol from corncobs. By slashing capital costs and utilizing an improved enzyme mix at its pilot plant, privately held POET says it reduced the per-gallon cost of making ethanol from $4.13 to $2.35.
What's more, the company now predicts it will be able to compete head-to-head with gasoline in just two years.
Ethanol Refiners: Where Are They Now?
So, what does all this mean for these first-generation ethanol firms? Well, look fast; they're not likely to be around much longer:
VeraSun Energy Corp. (Pink Sheets: VSUNQ), which last traded at $0.005, recently won approval from the U.S. Bankruptcy Court to liquidate the company under Chapter 11. All 158 million shares of the outstanding common stock will be cancelled, and shareholders will not receive any distribution, property or other securities. Several class action lawsuits have been filed against VeraSun executives, claiming they misrepresented the company's financial condition to investors.
Pacific Ethanol, Inc. (Nasdaq: PEIX), which last traded at $0.3825, faces delisting from Nasdaq for failing to comply with the marketplace's $1 bid requirement. Subsidiaries of the Sacramento-based company, which house its four production facilities, filed for bankruptcy protection back in May. A $1.9 million judgment payment, due this month from Pacific, could wipe out what remains of the company's liquidity.
Even Aventine Renewable Energy Holdings, Inc. (Pink Sheets: AVRNQ) has seen better days. The company, which last traded at $0.47, filed a voluntary Chapter 11 petition for reorganization in April.
---
Endnote
1. Ethanol refiners may realize yields deviating from those depicted here. For the sake of simplicity, revenue from the sale of co-products, such as distillers' grains and the receipt of subsidies, are not reflected in these figures. Co-product revenues may constitute 20-25 percent of the cost of delivered corn.