Zynga Inc. (NASDAQ:ZNGA), a leading social game developer, will report third quarter earning results on October 24, 2013, after the market closes. Following the results, a conference call will take place to discuss the financial results of its recent quarter at 5:00 p.m. ET / 2:00 p.m. PT.
After beating analyst expectations the last couple of quarters, will Zynga be able to beat expectations once again? Let's take a look at the numbers.
Wall Street Expects:
Revenue: $189 Million
EPS: -0.04
So how has Zynga performed over the last year or so with its earnings reports? Let's take a look at the table below to see Zynga's top line (revenue) numbers.
| | | | | |
| --- | --- | --- | --- | --- |
| Revenue History | October 2012 Q3 | February 2013 Q4 | April 2013 Q1 | July 2013 Q2 |
| Revenue Estimates: | $292.9M | $240.7M | $209.7M | $227.2M |
| Actual Revenue: | $316.6M | $311.2M | $263.6M | $230.7M |
| Difference: | +$23.7M | +$70.5M | +$53.6M | +$3.5M |
| Total/Average: | | | | =+$37.8M |
As we can see from the table above, Zynga has consecutively beaten the top line (revenue) for the last four quarters. Adding up the difference between all of the earnings reports, we can see that Zynga beats the top line by an average of $37-$38 million. Does this mean that Zynga is going to beat expectations once again? While it appears so, there is never a guarantee in the markets.
I can't help but notice either that the difference seems to be getting smaller with every passing quarter. Are analysts finally catching on to what has been happening, or is Zynga not producing like it used to do? The answer most likely lies in the middle.
Looking over the bottom line figures [EPS] we can see that Zynga has done pretty good job over the last couple of quarters, thanks in large part to better revenue results than analysts expected.

While we can see that Zynga has posted positive surprises on the day of earnings, the real question for investors is how has the stock price reacted to the news? Well the answer is not what most investors want to hear. Not very well at all! The graph below tells the story.
*October 4, Zynga released preliminary earnings. Stock falls -17%
** October 24, Zynga released official earnings. Stock jumps +15%
So if Zynga has beaten expectations the last four quarters, why has the share price tumbled? There are a couple of reasons why. Let's take a look at them.
October 2012: Zynga announces (bad) preliminary financial results for the third quarter. The company also updated its outlook for 2012, lowering guidance on bookings and adjusted earnings.
April 2013: Zynga's guidance for the upcoming quarter was a net loss of $26.5 million to $36.5 million. That's 3X-4X more than the average estimate of a loss of $9.2 million. Another big concern was Zynga's monthly active users slipped 13% from a year ago in the first quarter.
July 2013: Zynga's announces the company will give up on real-money gaming efforts in the U.S. This was a big blow as analysts felt it would become a big revenue driver for the company. News only got worse as bookings tumbled 38% in the second quarter.
One of the major measures that investors should be paying close attention to are Zynga's bookings. So what exactly are "bookings"? Bookings represent the dollar amount of virtual goods Zynga sold to its game players. Unlike revenue, bookings provide a real measure of the direction that Zynga is headed. If Zynga cannot monetize its games and users, then Zynga will have problems, as you can already see.
So where does Zynga currently stand? According to Zynga's Chief Executive officer Don Mattrick, they have improvement to do. During the last earnings report Mattrick said,
There is no denying we are not where we want to be. We have not met our investors' expectations. We have not met our own expectations and, most importantly, we have not met our players' expectations.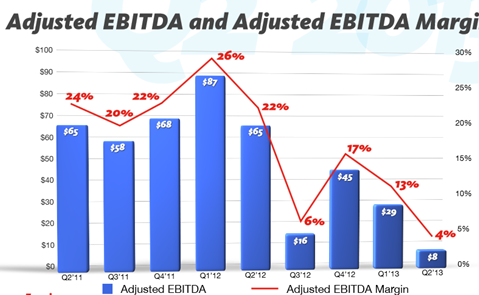 Conclusion
There is no doubt that Zynga is in a period of change right now. Will Zynga be able to make a turnaround? It's tough to say right now, but they certainly have a good chance. Why do I say this? A couple of reasons. Zynga has over a billion in cash, a share repurchase plan in place, and a CEO that looks to be making the right moves.
Now don't get me wrong, just because I say they have a good chance doesn't mean I am bullish on the stock. As an investor, I would certainly stay away from Zynga for many reasons, as I've explained above. If you are playing earnings, there are much better stocks out there to play as well.
Of Wall Street recommendations, the average opinion on Zynga is hold, with a price target average of $3.23. Investors are always reminded that before making any investment, you should do your own proper diligence on any stock mentioned in this article. Have a great day and as always, I look forward to hearing your thoughts or questions that you might have.
Disclaimer: All images were from Zynga's second quarter earnings slides. The information that I used came from CNNMoney, Yahoo!Finance, USA Today, MarketWatch and The Wall Street Journal.
Disclosure: I have no positions in any stocks mentioned, and no plans to initiate any positions within the next 72 hours. I wrote this article myself, and it expresses my own opinions. I am not receiving compensation for it (other than from Seeking Alpha). I have no business relationship with any company whose stock is mentioned in this article.