Most of the time I am looking for companies that are going through hard times and are cheap because they experience some sort of short-term challenge that isn't impacting their long-term prospects. Oftentimes those challenges relate to operational and financial restructurings, debt rollovers, pricing issues, market consolidation etc. Sometimes stocks remain hidden from the investing public and do not have strong profiles to catch the attention of investors. Other times a company remains cheap although its share price has performed well. Marathon Oil (NYSE:MRO) is such a company. Marathon Oil is an independent oil and gas producer providing liquids driven growth with additional natural gas activities. Marathon Oil is one of those companies that increase in value but don't get more expensive.
Industry background
I have previously opined that the commodity sector is deeply undervalued. Independent oil and gas producers in the U.S. are well positioned to profit from increases in oil and gas production and historically high drilling activity. Higher oil production offers domestic but also export opportunities that the market currently discounts. Having a diversified pool of mature assets supplemented by new high impact wells sets Marathon Oil up to profit from an ongoing energy boom in the United States.
Marathon Oil prospers in current oil production climate
I hold a considerable amount of oil and gas exploration companies in my portfolio but I am bullish the most about Marathon Oil because of its vast oil and gas assets: Marathon has proven reserves of around 2 billion BOE with a potential reserve replacement above 100% (potential resources 2.8 billion BOE). In addition, Marathon Oil's production in the U.S. continues to boom (68% y-o-y increase in U.S. Lower 48 onshore oil production) and the company follows a solid portfolio management strategy divesting non-core assets such as its operations in Angola (proceeds roughly $1.5 billion). I also remain very optimistic about future production levels from Marathon's Bakken operations. The more the company is drilling and exploring the larger production projections tend to become. Substantial shareholder value is going to be driven by Marathon's Bakken fields. Larger fields with higher potential/proven reserves and longer-lasting drilling inventories could be outstanding catalysts for Marathon's share price.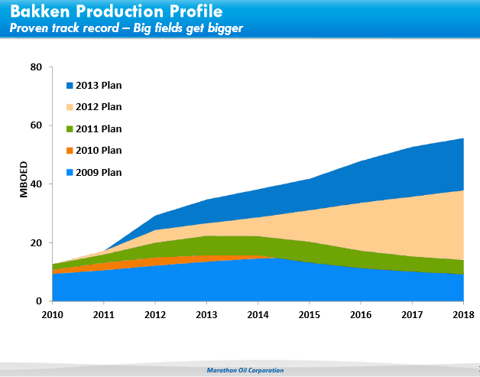 The attractive oil and gas outlook in the U.S. is complemented by Marathon's convincing oil production record. Production growth in the Lower 48 onshore United States has increased 150% over the last two years with impressive quarterly growth rates.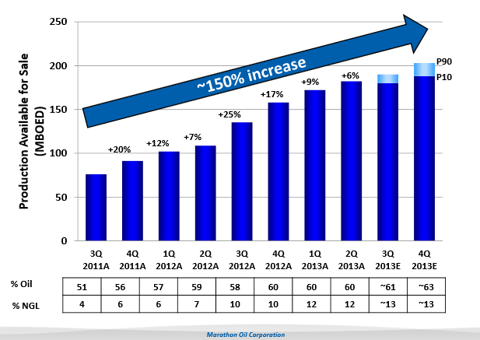 Share performance
Marathon Oil has been doing well for shareholders with the second best performance in the peer group. Anadarko Petroleum (NYSE:APC), which I have rated as a Sell recently because the share price has run away from its fundamentals, has returned 186% over five years. Marathon Oil achieved 124%, Occidental Petroleum (NYSE:OXY) 105%, Suncor Energy (NYSE:SU) 63%, Apache Corp. (NYSE:APA) 20% and Devon Energy (NYSE:DVN) 14%. As a value investor with a contrarian tilt I naturally look at underperformers because they often offer the best risk/reward ratio and asymmetric pay-off profiles. I also just recently added to my positions in Devon Energy and Apache Corp. as they are just too cheap to ignore (thesis here and here). Apache was extraordinarily hit on overblown fears of potential oil production interruptions in Egypt and corresponding asset sales.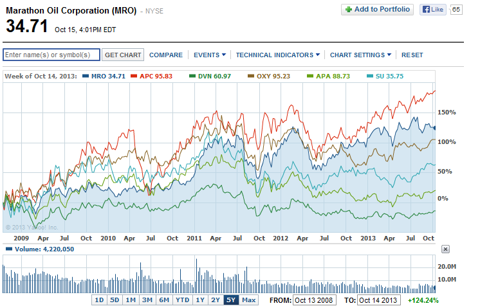 Market valuation
What's astounding is that Marathon has the second best five year share performance but remains the cheapest company in the peer group with a forward P/E of 10.97. Anadarko had a similarly strong run-up in price but trades at nearly 18 times forward earnings, which should give investors second thoughts about selling Anadarko Petroleum and purchasing much cheaper but equally interesting firms in the sector. Above-average share price appreciation and lowest peer group valuation are a combination not often witnessed in the stock market. However, it is an accurate reflection of Marathon's strong production and reserve growth. Market-leading drilling performance in its Bakken fields paired with positive surprises in production/reserves could further drive Marathon's share price up north.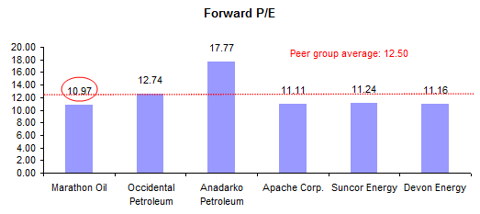 Independent oil and gas companies do not lend themselves to income-oriented investors. Since dividends represent shareholder remuneration, an evaluation solely based on share performance and earnings valuation would be incomplete. Marathon Oil currently pays investors a 2.19% dividend, which is above the peer group average dividend yield of 1.68%. Not surprisingly, Anadarko Petroleum just has a dividend yield of 0.75%, which results from its high share price.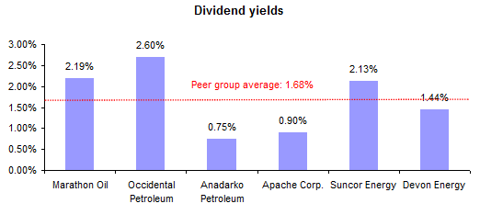 I have summarized and updated a few valuation metrics in the table below. Marathon Oil currently trades at a 12.24% discount to the peer group average P/E and commands a 30.36% premium to the average dividend yield.

Summary
Investors who desire exposure to an outperforming oil and gas production company with above-average production growth should consider Marathon Oil. The company has a track record in bringing resources to the market and its Bakken assets provide huge upside potential should estimated reserves grow bigger as drilling continues.
Marathon Oil also remains one of the cheapest explorers in the sector with a forward P/E ratio of only 11. The company has further divested $7.5 billion in assets since 2006 to streamline operations and concentrate on the most promising assets. Completed and announced sales of Angolan assets amount to $2.1 billion and are part of Marathon's ongoing portfolio optimization and will eventually benefit shareholders in the form of share repurchases. Marathon remains committed to building a high-quality oil and gas portfolio that will deliver meaningful production growth in a presently booming industry environment. The low valuation indicates that Marathon's share price has not run away from the underlying fundamentals and I rate Marathon a Strong long-term Buy.
Disclosure: I am long DVN, APA, OXY. I wrote this article myself, and it expresses my own opinions. I am not receiving compensation for it (other than from Seeking Alpha). I have no business relationship with any company whose stock is mentioned in this article.