For over 5 years now I have been writing about why natural gas transportation is the solution to the economic, environmental, and national security problems brought on as a result of America's reliance on foreign oil. Nothing would bring the issue into focus quicker than a US default on its debt obligations. A recent article, Government Shutdown Threatens US Dollar World Reserve Currency Status, explains how even the threat of a default has hastened the transition away from the US dollar toward an SDR (Special Drawing Rights) as the global reserve currency. An SDR would be a basket of currencies like the US dollar, the Euro, and the currencies of countries like China, Brazil, Russia, and India along with some gold and silver. But the point is, the US dollar would play less of a role and would weaken in value. And this means foreign oil imports would cost more.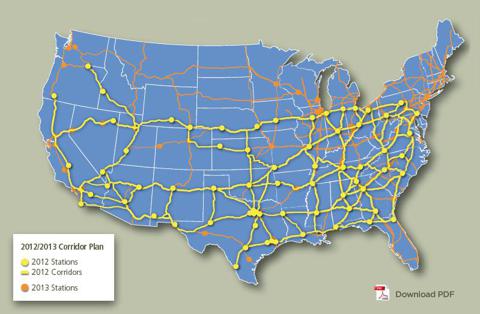 Click to enlarge
Clean Energy Fuels: America's Natural Gas Highway
Nothing brings the issue into focus more than recent comments by a Chinese official that the world needs to "de-Americanize":
It (China) added that emerging economies should have a greater say in major international financial institutions (the World Bank and International Monetary Fund) and proposed a new international reserve currency that is to be created to replace the dominant US dollar.
China is the biggest foreign holder of US Treasury bonds, worth a total of $1.28 trillion according to US government data. Clearly, gone are the days when China's opinions could be ignored.
US Still Importing Foreign Oil
Despite impressive growth in domestic oil & gas production, the US is still importing massive amounts of foreign oil. In August of this year, the US imported 308 million barrels of foreign oil: 52% of total consumption. The average cost/barrel was $111.28 and the total price tag in August alone was $34.3 billion. While I concede the US is exporting more refined product, net-net the US is still an importer by a very large margin. Foreign oil is still the largest component of the trade deficit and has been for decades.
A weaker US dollar combined with a huge foreign oil import bill means the US would be forced to transition to natural gas transportation - something it should have been doing anyway. Since a move to SDRs would mean the US would have to pay for its foreign oil imports with a basket of currencies, no longer could the US simply print US dollars to pay for foreign oil. Like all other countries, the US would be forced to fix its oil dominated trade deficit or suffer severe consequences.
Who Benefits?
Clean Energy Fuels (NASDAQ:CLNE), creator of America's Natural Gas Highway, would be an obvious winner. So would all the stocks in my 2013 Natural Gas Transportation Portfolio:
GE and Chart make the natural gas refueling infrastructure and delivery systems. Cummins and Westport make natural gas engines. And ConocoPhillips is the #7 producer of natural gas in the US. COP also produces a lot of oil from non-US locations, which brings up another interesting point. Were the US to lose its global reserve currency status, foreign oil production by US companies like COP, Chevron (NYSE:CVX) and Exxon Mobil (NYSE:XOM) would be worth more because of a weakening US dollar and because of the foreign reserves these barrels would earn.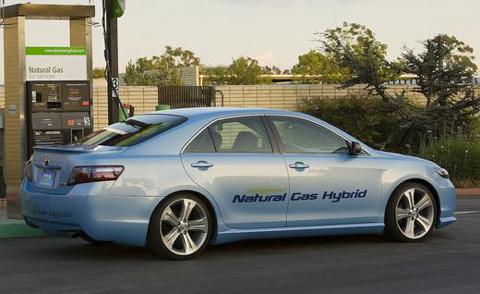 Click to enlarge
The Toyota Camry : A Natural Gas/Electric Hybrid
Summary & Conclusion
I doubt even the far-right Republicans in the House of Representatives are foolish enough to allow the US default on its debt obligations (but you never know!). However, the issue has brought the foreign oil import problem back into focus. While China, the EU, Brazil and Russia have all implemented strategic long-term energy policies that prioritize natural gas transportation, the US has not. And no country needs natural gas transportation more than the US. Even if the country does not default, the transition to natural gas transportation will continue to gain momentum. If a default does happen, that transition will have to accelerate and the companies mentioned in this article will benefit. Either way, running its car and truck fleets off domestically produced natural gas will solve the economic, environmental, and national security problems the US has suffered for years as a result of its dependence on imported foreign oil.
Disclosure: I am long COP, CVX, XOM. I wrote this article myself, and it expresses my own opinions. I am not receiving compensation for it (other than from Seeking Alpha). I have no business relationship with any company whose stock is mentioned in this article.
Additional disclosure: I am an engineer, not a CFA. The information and data presented in this article was obtained from company documents and/or sources believed to be reliable, but has not been independently verified. Therefore, the author cannot guarantee its accuracy. Please do your own research and contact a qualified investment advisor. I am not responsible for investment decisions you make. Thanks for reading and good luck!