Ecolab Inc. (NYSE:ECL) develops and markets products and services for the energy, healthcare, industrial, hospitality, and food service sectors worldwide. In this year's annual meeting proxy statement (May 2013), Cascade Investments LLC held 27.9 million shares of Ecolab. Cascade is an asset management business owned by Bill Gates. In addition, Gates owns another 4.37 million shares via the Bill & Melinda Gates Foundation. Combined, Gates is the largest shareholder in ECL with a 10.9% stake. What does Bill Gates like so much about Ecolab and should you consider investing in the company?
The Business: From Anti-Microbial Fruit & Vegetable Treatments, to Bed Bug Extermination, to Fracking
Ecolab can best be described as a specialty chemicals company. It develops new products to do everything from dealing with deadly microbes in hospitals, killing bed bugs in hotels, keeping sheets clean and soft, and chemically treating water to improve quality. In Q2, Ecolab introduced a new anti-microbial fruit & vegetable treatment that was very well received. Ecolab even treats water and wastewater from oil & gas extraction.
Ecolab works very closely with its customers to reduce their labor, water, and energy costs and boost profitability. According to a recent article in the Economist, about 25,000 of the company's 44,000 employees work directly with customers on training and advice on how to dispense chemicals properly and most efficiently.
To get a handle on all the types of businesses Ecolab is involved in, it's informative to read through the company's news releases. The following chart from ECL's Q2 presentation indicates segment sales growth: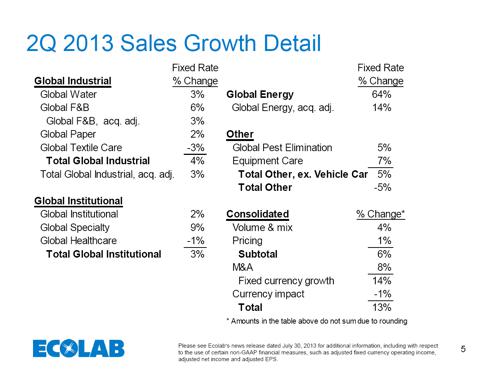 Click to enlarge
Dramatic Change Through Energy Related Acquisitions
While hygiene and healthcare oriented products may have been ECL's focus in the past, Ecolab is now very involved in the energy business. In July of 2011, Ecolab dramatically changed its profile with its $8.1 billion acquisition of Nalco, a water treatment and energy services business. A few months later Ecolab paid $2.2 billion to buy Champion Technologies, a specialty chemicals firm that treats fracking wastewater from oil & gas wells. Following the Champion acquisition, Ecolab said energy sector sales will account for ~25% of revenues. Ecolab now has excellent exposure to oil and gas drilling - especially the fast growing hydraulic fracturing shale market. About 70% of Champion's sales were in the North American market. As shown above, the energy business is the company's fastest growing segment.
From the Q2 transcript, Senior VP Michael Monahan said:
We enjoyed double-digit acquisition adjusted gains in our Global Energy segment and strong growth in our Global Specialty business. These and other gains were leveraged by good margin expansion. Our newly-acquired Champion business also showed strong growth, and its outperformance versus our expectations led to EPS exceeding our forecast in the second quarter.
Ecolab's upstream business saw double-digit growth in Q2, resulting from market share gains from the company's focus on higher-growth energy production sources, including very strong growth in deepwater, shale and oil sands. The company said its downstream business sales grew nicely, resulting from a pickup in North America refining and strong market share gains. CEO Douglas Baker said the company was not materially affected by the price of WTI:
So whether it's trading at $83 or $108, it isn't going to have a big impact on our volume or the production.
Business Model
Ecolab's business model is an annuity-type company - about 90% of its customers are recurring. ECL is able to consistently deliver high margins because customers routinely consume and reorder Ecolab's products. This is exactly the kind of company Warren Buffett likes, so it is no surprise his bridge partner Bill Gates has invested so heavily in shares of ECL.
Financials
Full year 2012 revenues were $11.8 billion; adjusted EPS was +17% to $2.98/share.
In the most recent quarter, Q2 2013, ECL posted adjusted net earnings of $0.86/share, up 19% year over year. Sales were up 13%. According to the Seeking Alpha Q2 transcript, margins are on the rise:
Second quarter gross margins were 45.2%. Adjusted for acquisitions and special charges, second quarter 2013 gross margins increased 50 basis points versus a year ago. The improvement primarily reflected the benefits of volume and pricing gains, as well as merger synergies and cost efficiencies offsetting the business mix of higher Energy sales.
Six month cash flow from operations increased to $393 million from $211 million in 2012, up 86%. Long-term debt stands at $6.6 billion and net debt-to-capital is on the high side: 51.4%.
Outlook
According to the company's Q2 presentation, available here, the company predicts it will continue to deliver integration synergies which should expand margins. It sees continuing momentum and strong performance through year-end in its Food Safety, Clean Water, Abundant Energy, and Healthy Environments businesses.
In the Q2 presentation, management raised 2013 EPS guidance - indicating a 17% to 19% increase year-on-year. That equates to $3.48-3.56 per share. At its current price of $99.62, if the company comes in at the midpoint of guidance it works out to a P/E = 28.3.
Risks include unexpected weakness in the hospitality, travel, food and food service, and energy businesses.
Summary & Conclusion
Ecolab is a specialty chemicals company offering a diverse range of products in many different sectors all of which are growing nicely. The company is well diversified and its business model is focused on recurring customers - customer who routinely consume and reorder its products. But the big kicker for Ecolab is its recently acquired energy businesses. The purchases of Champion and Nalco have boosted Ecolab's growth profile and justify a premium valuation.
Ecolab is richly priced with a 2013 year-end P/E of 28.3 based on the current price and the company's full year EPS guidance. This valuation is high in light of the company's ~50% net debt to capital ratio. However, the company does pay a $0.92 dividend (0.9%), has committed to finishing the $280 million remaining on its $1 billion share buyback program by year end, and is solidly profitable. Cash flow from operations are increasing and the company has the potential to increase margins as it continues to integrate its two recent energy acquisitions.
Ecolab is not a flashy high growth company. However, the company is positioned to deliver solid EPS growth approaching 20% for the next 3-5 years. S&P estimates 2014 earnings will be $4.14, 18% higher than ECL's 2013 guidance.
Ecolab is a buy and hold type solid growth company. While the company has had a strong run in 2013, an investor buying shares today in the $100 range could easily look up in 4 years and own a $200 stock. Ecolab is a long-term BUY and hold.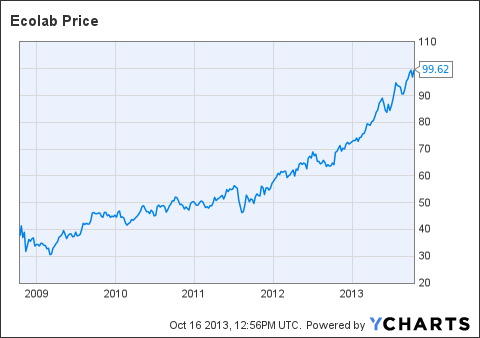 Disclosure: I have no positions in any stocks mentioned, but may initiate a long position in ECL over the next 72 hours. I wrote this article myself, and it expresses my own opinions. I am not receiving compensation for it (other than from Seeking Alpha). I have no business relationship with any company whose stock is mentioned in this article.
Additional disclosure: I am an engineer, not a CFA. The information and data presented in this article was obtained from company documents and/or sources believed to be reliable, but has not been independently verified. Therefore, the author cannot guarantee its accuracy. Please do your own research and contact a qualified investment advisor. I am not responsible for investment decisions you make. Thanks for reading and good luck!