Brandon Odenath
Market Analyst, J.P. Morgan Funds
Overview:
Since late last year, investors have seen periods of strong outperformance by assets from the most impacted parts of Europe, leaving many observers wondering if Europe is turning a corner.
Intervention by the ECB and the ability of those liquidity injections to stop the bleeding in the economy has helped.
The reduction of austerity and drag coming from fiscal policy should be the key to faster economic growth
Economic growth bottoming
After the second recession in five years, the European economy is showing signs of life. Even though this recent economic downturn was a product of European-based sovereign debt issues, growth around the world along with a lack of excesses needing to be worked out, meant the recession was not nearly as deep as that seen during the global financial crisis.
The shallow recession might not leave enough pent-up demand to produce a snap-back economic recovery, but the actions of the European Central Bank (ECB) have done enough to stop the bleeding and provide a platform for positive growth to find its footing.
Furthermore, the ECB may be encouraged to do more to help stimulate the economy by the lack of inflation in the broad economy.
Economic activity in peripheral countries remains most depressed, with elevated unemployment rates signaling both weakness and room for improvement.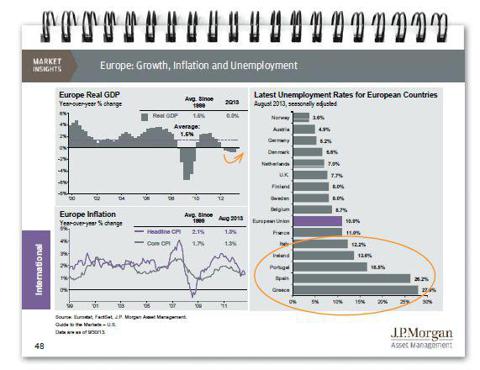 Source: Guide to the Markets, page 48
Growth seems to have bottomed and inflation remains well under control, leaving room for more monetary stimulus
Elevated unemployment rates in the periphery leave plenty of room for improvement.
Less fiscal drag will boost growth
With the ECB able to stem the sovereign debt crisis with liquidity injections and stepping in as a lender of last resort, the real economy seems to have found its footing. However, over the course of the recession, fiscal policy remained highly restrictive, with governments demanding austerity instead of taking their traditional role of providing stimulus to jump-start the economy.
The cut to government spending pushed some of the hardest hit countries and economies further into recession over the last couple years.
Less restrictive fiscal policy in the form of less austerity should help both the core and periphery move into positive growth territory.
Because of intra-European trade, a recession in the periphery proved contagious and pulled the region into recession; however, a pick up in growth should have a similar effect with growth feeding on itself.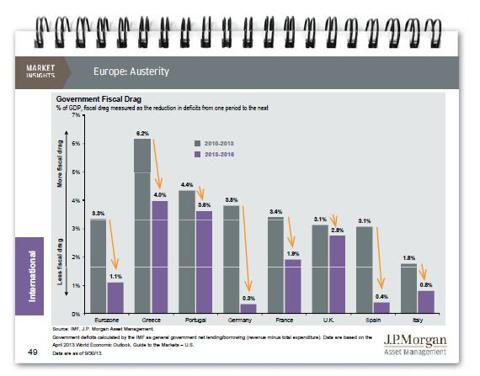 Source: Guide to the Markets, page 49
As the purple bars on the chart above fall, the drag on the economy fades.
The expectation for less fiscal drag should provide a needed boost for economic growth going forward.
Investment implications
European assets have rallied over the last year, on the prospect of less downside risk for the economy.
Both European fixed income and equities are attractively valued relative to many other global peers and should benefit from the economy going from
DISCLOSURES:
Contact JPMorgan Distribution Services, Inc. at 1-800-480-4111 for a fund prospectus. You can also visit us at jpmorganfunds.com. Investors should carefully consider the investment objectives and risks as well as charges and expenses of the mutual fund before investing. The prospectus contains this and other information about the mutual fund. Read the prospectus carefully before investing.
Any performance quoted is past performance and is not a guarantee of future results.
Diversification does not guarantee investment returns and does not eliminate risk of loss.
Opinions and estimates offered constitute our judgment and are subject to change without notice, as are statements of financial market trends, which are based on current market conditions. We believe the information provided here is reliable, but do not warrant its accuracy or completeness. This material is not intended as an offer or solicitation for the purchase or sale of any financial instrument. The views and strategies described may not be suitable for all investors. This material has been prepared for informational purposes only, and is not intended to provide, and should not be relied on for, accounting, legal or tax advice. References to future returns are not promises or even estimates of actual returns a client portfolio may achieve. Reference to specific securities, asset classes and financial markets are for illustrative purposes only and are not intended to be, and should not be interpreted as, recommendations. Any forecasts contained herein are for illustrative purposes only and are not to be relied upon as advice or interpreted as a recommendation.
J.P. Morgan Funds are distributed by JPMorgan Distribution Services, Inc., which is an affiliate of JPMorgan Chase & Co. Affiliates of JPMorgan Chase & Co. receive fees for providing various services to the funds. JPMorgan Distribution Services, Inc. is a member of FINRA/SIPC.
J.P. Morgan Asset Management is the marketing name for the asset management businesses of JPMorgan Chase & Co. Those businesses include, but are not limited to, J.P. Morgan Investment Management Inc., Security Capital Research & Management Incorporated and J.P. Morgan Alternative Asset Management, Inc.
JPMorgan Distribution Services, Inc., member FINRA/SIPC
© JPMorgan Chase & Co., October, 2013
Disclosure: I have no positions in any stocks mentioned, and no plans to initiate any positions within the next 72 hours.
Business relationship disclosure: This article was written by Brandon Odenath, Market Analyst, J.P. Morgan Funds, and submitted on his behalf via the J.P. Morgan Funds' Seeking Alpha profile.