You may not realize it but independent energy stocks have been moving higher since summer and may offer additional strength as we move into winter.
According to the Seasonal Investor database, the S&P energy ETF (NYSEARCA:XLE) has gained ground in seven of the past 10 Q4s, returning a median 6.33%.

Click to enlarge
But, that may understate the investment opportunity. The basket tends to really begin generating upside in November and average monthly returns since 2002 are best during the six month period ending April.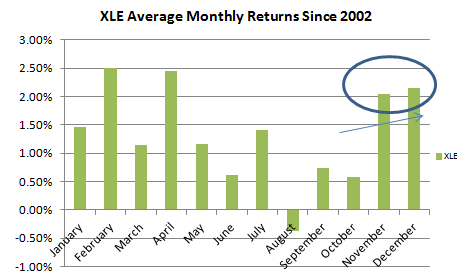 And, excess returns to the S&P 500 are typically strongest in the first 2 months of the year. That suggests investors buying shares in the final quarter are setting themselves up nicely for the New Year.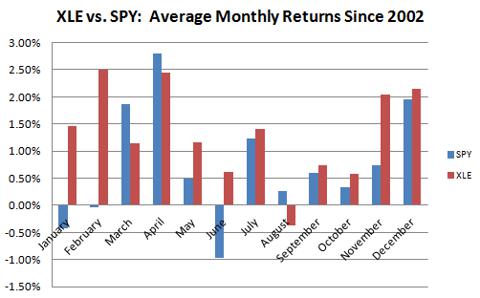 Click to enlarge
If you prefer owning individual companies rather than the energy basket, four independent oil and gas stocks tracked by my firm offer robust tailwinds into the end of the year.
Noble Energy (NYSE:NBL) plans to spend $10 billion over the next five years building out production in the Niobrara Basin. Production activity in Niobrara helped drive Colorado's oil production up 26% in 2012, adding conviction to Noble's plans to spend 43% of its 2013 capital budget in the play. Those investments are expected to help Noble's production expand 17% annually through 2017. If so, Noble's production will double to 540k barrels of oil equivalent.
Over at Pioneer (NYSE:PXD), the company thinks Spraberry Wolfcamp in Texas may be the second largest oilfield in the world. If so, Pioneer is perfectly positioned with more than 800k acres. Even better, the stacked nature of the play provides significant leverage across those acres for long-term production growth.
Range Resources (NYSE:RRC) has been ramping up low cost production in the prolific Marcellus Shale for years. As a result, production increased 27% in Q2 and the company reported GAAP earnings per share growth of 159% to $0.88 per share and non-GAAP earnings per share climbed 204% to $0.34. The company's cost of production fell 7%. The high payout Marcellus is expected to fuel 20-25% annual production growth for Range over the coming years. And this means the company is nicely positioned to benefit from peak natural gas demand this winter.
In Q2, SM Energy (NYSE:SM) upped its full year production guidance by 10% to 47.9 MMBOE. The lift comes after higher production helped the company record earnings per share of 1.13 per share, well above the 0.37 generated in the weak natural gas price market of 2012. Non-GAAP earnings came in at 0.76 per share, versus 0.09 last year. The company's success is tied to rising Eagle Ford production, which was up 27% quarter-over-quarter in Q2. Those Eagle Ford wells offer SM margin friendly production. Going forward, SM forecasts production will climb 15% annually through 2015.

Click to enlarge
If these four independents can execute their development strategy and pricing hangs tough, shares may follow their historically strong winter performance pattern again this year.
Disclosure: I have no positions in any stocks mentioned, but may initiate a long position in PXD, NBL over the next 72 hours. I wrote this article myself, and it expresses my own opinions. I am not receiving compensation for it (other than from Seeking Alpha). I have no business relationship with any company whose stock is mentioned in this article.