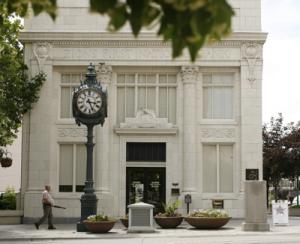 Anyone who was watching trading in Zions Bancorporation (NASDAQ:ZION) yesterday can be forgiven for refreshing their screens as at one point the stock leaped around 16 percent higher than Friday's closing price. The reason for such a huge jump — which constituted nearly $200 million in additional value by market close — was even more bizarre: Utah's biggest bank said that it is offering to exchange 5.6 million preferred shares with common stock.
Common stock is perceived as a riskier asset than preferred stock, since holders of the latter tend to get paid out something in the event of the bankruptcy, whereas common stockholders do not. The division between the two has been especially wide in the event of hundreds of small- and medium-sized lender bankruptcies this year, most spectacularly in the case of CIT Group (CITGQ.PK).
Given that the bank has lost money consecutively for the past four quarters, the deal is a tremendous display of confidence by preferred shareholders in Zion's ability to weather what's left of U.S. economic storms. The point is all the more prescient given that midsize banks have the worst credit quality overall in the financial services industry.
Apparently however, shareholders of Zions have reason to be comfortable taking on the additional bet of owning common stock: the bank has a 10 percent Tier 1 capital ratio vs. the financial regulators' "well capitalized" definition of 6 percent.
Still, that credit quality comes at a pretty price for the preferred shareholders who want to engage in the swap: the $140 million offer represents a premium of 25 percent to Friday's market value. (Those hungry for the technical details of the offer can view them here.)
Apart from its sheer brazenness, the reason this deal is so unusual is that it is rumored that the bank may need to raise up to $500 million in additional cash if the credit crisis continues to wage a war on commercial real estate prices. No matter how you slice the numbers, commercial real estate doesn't look like it is going to get better anytime soon. If Zions is forced to raise more capital, it is highly likely to be at a lower valuation than yesterday's deal.
The only reasonable explanation for why preferred shareholders would agree to the deal is that they want to become participants in the Fed-funded asset bubble that is inflating value pretty much everywhere you look right now. If left to go on, the problem with this situation is that it creates a greater disconnect between the Salt Lake City bancorp's valuation and its real financial health status.
Zions has lost $1.05 billion in the first three quarters of this year — even as other banks have managed to return to profitability. It's not as if things are getting much better for the bank, either: in the most recent quarter, Zions lost three times as much as it did in the second quarter this year.
In order to weather the crisis, Zions needs to make sure that it always has plenty of money to fill in its losses. If left to get out of hand, premature confidence such as yesterday's action could mean that when it comes to crunch time, no one is around to help it leap the final hurdle.