After the market closed on Wednesday, October 16, 2013, Dynavax (NASDAQ:DVAX) reported the design of its next large-scale clinical study for its lead drug HEPLISAV, an investigational adult hepatitis B vaccine. According to the company: "[T]he planned study, HBV-23, is intended to provide a sufficiently sized safety database for the Agency to complete its review of Dynavax's Biologics License Application (BLA). It will be an 8,000 subject, Phase 3, observer-blinded, randomized, active-controlled, multicenter trial of the safety and immunogenicity of HEPLISAV compared with Engerix-B in adults 18 to 70 years of age." Of the 8,000 subjects, 5,500 will be treated with HEPLISAV while 2,500 will be treated with GlaxoSmithKline's (NYSE:GSK) Engerix-B, randomized 2:1 and stratified by age and diabetes diagnosis. As was the case in prior studies, HEPLISAV subjects will receive two doses at 0 and 1 month, while Engerix-B subjects will receive three doses at 0, 1 and 6 months.
The use of 8,000 subjects will, I think, be viewed with relief by investors, many of whom feared, perhaps, the FDA might want 10,000 or more subjects in any trial required to substantiate the safety profile of Dynavax's vaccine.
According to the company, the primary objectives of HBV-23 will be twofold:
To evaluate the overall safety of HEPLISAV with respect to clinically significant adverse events; and
To demonstrate the non-inferiority of the peak seroprotection rate (NYSE:SPR) induced by HEPLISAV to Engerix-B in subjects with type 2 diabetes mellitus.
For background, I previously discussed the situation vis-à-vis Dynavax and the FDA regarding HEPLISAV on June 10, 2013. On that morning, Dynavax reported feedback from the company's meeting with the FDA, which was related to the receipt of a complete response letter (NYSE:CRL) by the company last February regarding its biologic license application (BLA) for HEPLISAV. The meeting with the FDA resulted in the following 'messages:'
The safety database does indeed need additional subjects;
The Vaccines and Related Biological Products Advisory Committee's (VRBPAC) strong endorsement of HEPLISAV's demonstrated immunogenicity was acknowledged;
Analyzing the benefit/risk of HEPLISAV's use in discrete patient populations did not fundamentally address the shortfall in the safety database. It was concluded that to do so would unnecessarily restrict the patient population that could benefit from HEPLISAV's approval;
The additional safety data collected would facilitate review for an indication in adults 18-70 years of age.
HEPLISAV is a vastly superior treatment for both Hep B and chronic kidney disease ((CKD), especially in hard-to-treat populations. Compared to GSK's Engerix-B, for example, the current standard of care, HEPLISAV provides faster, higher, and longer lasting protection. You can see actual data here comparing the two treatments. Note, by the way, that in the FDA briefing documents for the November 15, 2012 advisory committee meeting, the FDA stated: "HEPLISAV has a favorable benefit/risk provide for the vaccination of adults at risk for hepatitis B infection." [p. 90 of 144] And: "The safety profile of HEPLISAV was similar to that of Engerix-B with respect to [adverse effects] AEs." [p. 92 of 144] So, let us be clear: nothing the FDA has seen says HEPLISAV presents a greater risk to patients than does the current standard of care. What the agency wants is additional safety data upon which to base approval.
Dynavax intends to initiate HBV-23 in the first quarter of 2014 and conclude subject visits by the end of 2015 and estimates the external costs of the study to be in the range of $50-55 million.
Finally, regarding the company's filing with the European Medicines Agency (NYSEMKT:EMA), the company had this to say: "Dynavax's Marketing Authorization Application for HEPLISAV remains on file in Europe. The Company is currently preparing its response to the European Medicines Agency's (EMA) 120-Day List of Questions to be submitted in the fourth quarter of 2013, following which the EMA will provide Dynavax its 180-Day List of Outstanding Issues expected in the first quarter 2014."
Technical Analysis
The Daily chart, courtesy StockChart.com, show the stock languishing around $1.20, with resistance at $1.25. The Relative Strength and MACD indicators are neutral.
On the Weekly chart, the stock is Oversold, with the MACD slightly positive.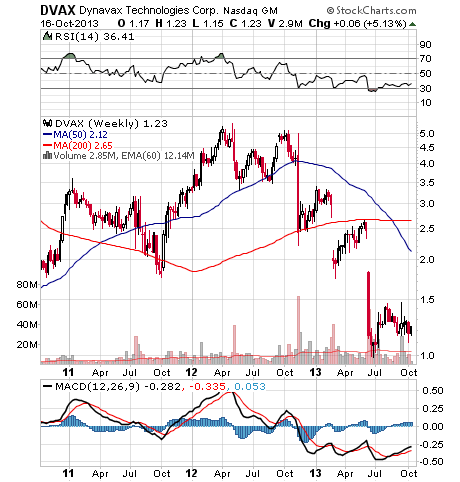 Disclosure: I am long DVAX. I wrote this article myself, and it expresses my own opinions. I am not receiving compensation for it (other than from Seeking Alpha). I have no business relationship with any company whose stock is mentioned in this article.
Additional disclosure: I am long DVAX. I am not a registered investment advisor and do not provide specific investment advice. The information contained herein is for informational purposes only. Nothing in this article should be taken as a solicitation to purchase or sell securities. Before buying or selling any stock you should do your own research and reach your own conclusion. It is up to investors to make the correct decision after necessary research. Investing includes risks, including loss of principal.