Western Union (NYSE:WU) holds the enviable position as the world's largest international money transfer company with 437,000 agent locations spread over 200 countries worldwide generating over $5.5 billion in revenues. The company dates back to 1851, with humble roots as a telegraph operator. Western Union was recently spun off First Data Corp. (NYSE:FDC) in 2006, and enjoys a huge competitive advantage in the international money transfer business that it derives from its huge operational scale. The company enjoys exceptionally good profit margins- $0.18 for every dollar of revenue.
Western Union seems to be flourishing since it severed links with FDC. The firm has managed to increase its dividends each year since 2006, the only exception being 2008 when the global economy was in the throes of a historic economic recession. Western Union hiked its dividend in 2012 by a huge 25%. The company managed a 2.77% dividend yield in the second-quarter of the current year. The firm's dividends have tripled in the last five years alone.
Stock still undervalued
Despite the fact that Western Union recently capped its 52-week high of $19.11 and now trades at $18.53, the stock still has considerable upside potential. According to Morning Star's estimates, most stocks currently trade at a 2% premium to their fair market value. Western Union, on the other hand, is deeply discounted, with the current share price representing more than a 25% discount to Morning Stars' $25.39 fair market value for Western Union (calculated using the discounted cash flow model, average future growth rate of 6% and the firm's weighted average cost of capital). Western Union is one of 20 holdings in Market Vectors Wide Moat ETF.
Stocks trading at deep discounts are usually indicative of some underlying trouble. Western Union's Achilles Heel happens to be last October's miss on the operating line. The company's management admitted that 2013 was going to be a huge revenue and profit slog for the company as it intensified its cost-cutting and austerity measures, and also accelerated its movement into new digital app platforms. A huge selloff ensued the minute the news hit Wall Street, with the shares tanking a massive 33%. Western Union's one-year trailing P/E ratio of 12 is 25% lower than the market average.
Company still a work-in-progress
While Western Union has managed to grow its revenues, its DEPS (Diluted Earnings per Share) remains stagnant. This is attributable to the company's reduction in consumer-to-consumer prices, in a bid to maintain market share in the face of growing competition. The operating and EBITDA margins have both taken a nosedive. The firm's operating and profit margins stand at roughly 24.7% and 21.8% respectively. Expect Western Union's increasing transaction volume to send its share price soaring in the medium-term and long-term.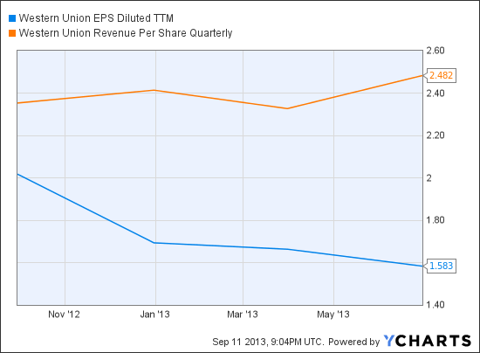 Click to enlarge
New deals to draw in more revenues
The good news to investors is that Western Union has been working hard to grow its revenues in a bid to offset its margins compression. The company now operates in the all-important Chinese market. Western Union enabled money transfers into China from 197 countries around the world in 2012. In the second-quarter of 2013, the Asia-Pacific market made up 12% of Western Union's new sales in the consumer-to-consumer market segment. Expect this figure to continue growing in the coming quarters.
Western Union clinched a deal with China's leading Bankcard Association that will enable it to facilitate direct transfers from 23 countries to Chinese bank accounts. This will give the company a 95% reach into personal Chinese bank accounts. A companion deal between Western Union and Industrial & Commercial Bank, China, will enable the firm to make direct account-based transfers from about 200 countries to the bank's accounts through online transactions.
Great cash flow
Even during this relatively turbulent trading period, Western Union has comes off as a decent cash cow, having maintained great cash flow. Even though the firm has been steadily increasing its dividends, its payout ratio is still below 30%, and the healthy FCF gives the company ample room for even further increases in the future. The firm's management expects to deliver a $1 billion FCF this year.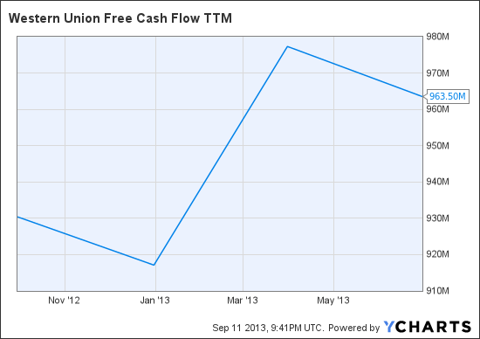 Click to enlarge
Robust future growth expected
Western Union currently holds a 15% share of the cross border funds transfer market. The company expects this important segment to grow 6% this year and 7% in 2014 and 2015. Additionally,the global trade market is expected to grow 6% this year, and between 8% - 9% in 2014 and 2015. Western Union's business solutions should help it take advantage of this growth.
The small and medium business cross border transfer segment looks very promising for Western Union. The firm currently has a 2% share of this market and there is plenty of room to run. Although the company's online channel (wu.com) represents a small percentage of its total business ($150m million revenues in 2012), the segment has been growing phenomenally (41% growth in 2012), and is expected to continue doing so (revenues in 2015 expected to hit $500 million). Its major competition in the online segment is Xoom (NASDAQ:XOOM), a company that is yet to turn a profit.
Western Union's Peers
Compared to its peers, Western Union's earning multiple is the lowest, with many cases where it is significantly so. Its return on equity far exceeds that of its peers. And of course its dividend yield is simply peerless (many offer no dividend at all).
The recent proliferation of alternative payment methods, such as the recent unveiling of Ripple Lab Inc.'s money transfer software should not worry Western Union investors too much. These platforms have a very limited reach (currently only 27,000 Americans own Ripple Wallet accounts) and can only be used in a limited number of transactions. Security concerns are also at the top of most customers' minds when using these services, something that Western Union hardly worries about. Despite being cheaper than Western Union, there will have to be massive adoption of these new platforms before they can begin to threaten its dominance in the money transfer market.
Conclusion
Western Union is a highly trusted brand name with a global footprint in the money transfer business, and from the look of things this will remain this way for a long time. The company has been lowering its consumer-to-consumer transfer fees and this is expected to significantly increase its transaction volume. The shares still look greatly undervalued. The company is still generating great FCF, even in the midst of the transition. The future can only be bright for Western Union and its investors. Definitely a great stock to own for long-term investors.
Disclosure: I have no positions in any stocks mentioned, and no plans to initiate any positions within the next 72 hours.
Business relationship disclosure: Syncopy Research is a team of financial analysts. This article was written by Alex Kimani, the company's Senior Analyst. We did not receive compensation for this article (other than from Seeking Alpha), and we have no business relationship with any company whose stock is mentioned in this article.