Editors' Note: This article covers one or more micro-cap stocks. Please be aware of the risks associated with these stocks.
Since June 2012, I have published results from Yahoo Finance for monthly paying (mopay) dividend stocks tallied as of market closing prices each month compared with analyst mean target price results one year hence. This effort has raised three obvious questions: (1) Does the dog strategy work for mopay stocks? (2) How accurate were analyst mean target price estimates? (3) Which stocks, if any, were the best picks?
The Dog Strategy
This report presumed yield (dividend / price) dividend dog methodology applied to any index, sector, survey, or list. This article's 22 entities paying out monthly dividends were ranked as of July 12, 2012. Historically, dividend dog investors used this ranking system to select portfolios of five or ten stocks in any one index, sector, survey, or list to trade. They awaited the results from their investments in the lowest priced, highest yielding stocks and prayed that the price of every stock they now owned climbed higher (having locked in a high yield divided percentage at purchase).
The List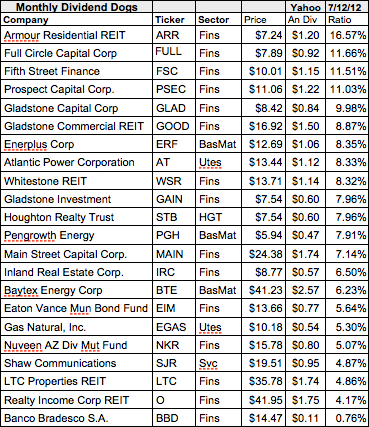 Ten monthly dividend stocks showing the biggest yields as of July 12, 2012 included equities representing just three of nine market sectors. The top yielding stock as revealed by Yahoo Finance data, was one of eight in the financial sector, ARMOUR Residential REIT (NYSE:ARR). The other seven financial firms were: Full Circle Capital Corp (FULL), Fifth Street Finance Corp (NYSE:FSC), Prospect Capital Corp (NASDAQ:PSEC), Gladstone Capital Corp (NASDAQ:GLAD), Gladstone Commercial Corp (NASDAQ:GOOD), Whitestone REIT (NYSEMKT:WSR), Gladstone Investment Co (NASDAQ:GAIN). The balance of the top ten included: one basic materials firm, Enerplus Corporation (NYSE:ERF); one utility, Atlantic Power Corporation (NYSE:AT) representing the sectors.
Did The Dog Strategy Work?
The chart and graphs below show market book values as of July 12, 2013 for each stock defined as dividends collected since purchase plus current share price times the number of shares originally purchased for $1k.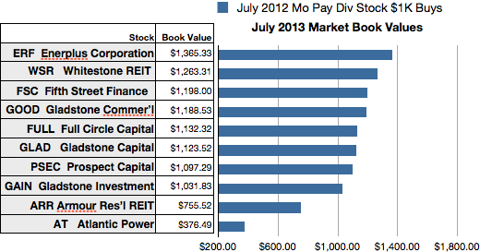 Click to enlarge
Eight of the top ten mopay dividogs gained 3% to 36% on the $1k original investment from July 12, 2012 to July 12, 2013. The two big losers were Armour Residential REIT losing 24.5% and Atlantic Power losing 62.4%. So the mopay dividog strategy score was 80%.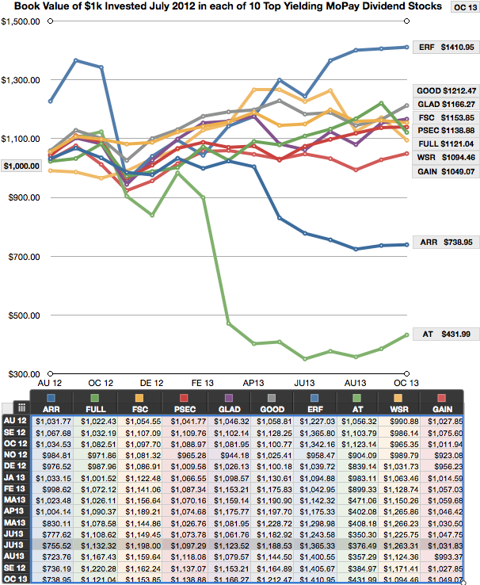 Click to enlarge
This progress chart in color showed the monthly gyrations of the pack of ten mopay dogs from August 12, 2012 to October 12, 2013.
Were Analyst 1 yr. Mean Target Prices Accurate?
The chart and graphs below compare July 2013 market book values with analyst 1 yr mean target prices listed in July 2012.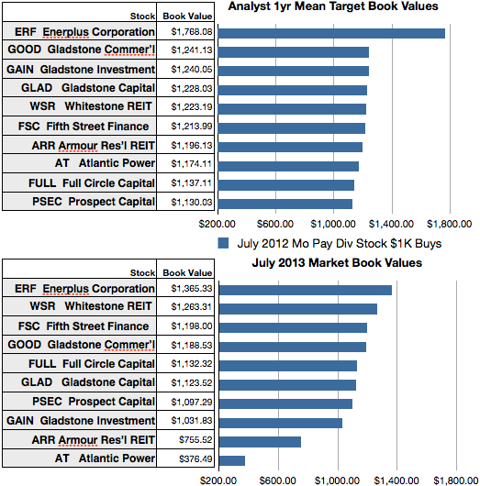 Click to enlarge
Analysts successfully estimated that Enerplus Corporation would lead the field. The analysts annual mean target prices showed upsides for all ten and so failed to recognize the two big losers or even name them as the bottom two picks.

Click to enlarge
Analysts errors were 90% to the upside. While they successfully estimated that Enerplus Corporation would lead the field, their mean target pricing overshot the mark by 23%. If price predictions plus or minus 10% were counted, then six analyst mean target prices were within range of the mark. So the mopay dividog analyst mean target pricing was 10% to 60% accurate depending on your standards.
Which Stocks Were the Best Picks?
Six of the ten July 2012 mopay dividogs had annual net gains in dividends and price over 12% by July 2013. They were: Enerplus Corporation 36.5%; Whitestone REIT 26.3%; Fifth Street Finance 19.8%; Gladstone Commercial 18.9%; Full Circle Capital 13.2%; Gladstone Capital 12.4%.
Holding the pack to October 2013 showed mostly the same six stocks with net gains over 12%: Enerplus Corporation 41.1%; Gladstone Commercial 21.2%; Gladstone Capital 16.6%; Fifth Street Finance 15.4%; Prospect Capital 13.9%; Full Circle Capital 12.1%.
Personally I was only 50% successful with this mopay list. I bought four: ERF; FSC; ARR; AT. However, my losses on AT and ARR were not made up by gains on FSC and ERF. So financially with these mopay dividogs I have (so far) failed the Buffett rule one test: "Don't lose money." Stupid me.
Disclaimer: This article is for informational and educational purposes only and should not be construed to constitute investment advice. Nothing contained herein shall constitute a solicitation, recommendation or endorsement to buy or sell any security. Prices and returns on equities in this article except as noted are listed without consideration of fees, commissions, taxes, penalties, or interest payable due to purchasing, holding, or selling same.
Disclosure: I am long ARR, AT, ERF, FSC. I wrote this article myself, and it expresses my own opinions. I am not receiving compensation for it (other than from Seeking Alpha). I have no business relationship with any company whose stock is mentioned in this article.