As with most investors, I have been spending a lot of time lately thinking about the events in Washington and how they will affect my various portfolios. As a news junkie, I have spent a good deal of time following news with a Washington filter. During these news trolling days, another "Washington" scrolled by, Washington REIT.
Washington Real Estate Investment Trust (NYSE:WRE) ("WRIT") is a self-administered, self-managed REIT founded in 1960 which owns and operates income-producing real estate properties in the greater Washington, D.C. region. WRIT invests in a diversified portfolio that includes office, medical office (until recently, as explained below), retail and residential properties and land for development.
WRIT is in the process of an asset optimization and change in portfolio focus. Evidence of this is that the REIT recently announced that it has entered into a contract to sell their medical office properties:
...entered into four separate contracts with a single buyer to sell a 100% interest in its medical office portfolio and two office assets (both of which have significant medical office tenancy) comprising a total of approximately 1.5 million square feet. The combined sale price is $500,750,000, or $329 per square foot.
The portfolio consists of 17 medical office assets and two suburban office buildings, 6565 Arlington Boulevard and Woodholme Center, as well as a land parcel located in Alexandria, Virginia which is being utilized as off-site/overflow parking for one of the medical office buildings in the portfolio. The sale will be structured as four independent transactions, each of which will close pursuant to a separate purchase and sale agreement. The projected closing date for the first two transactions is November 12, 2013 and the outside closing date for the second two transactions is January 31, 2014.
The medical office portfolio represents the largest portfolio of institutional quality medical office assets in the Washington, DC region, with all of the assets located near major medical centers such as Inova Fairfax Hospital, Shady Grove Adventist Hospital and George Washington Hospital or near affluent communities and urban centers.
And more recently, WRIT announced that it was purchasing a mixed use building with some of the proceeds of their medical office sale.
Washington Real Estate Investment Trust announced that it has acquired The Paramount, an apartment building with 135 units and 3,600 square feet of retail space. The building is located in Arlington, Virginia and was purchased for $48.2 million in an all cash transaction. The purchase price values the units at approximately $345,000 per unit, based on an average unit size of 1,015 square feet. The capitalization rate for the transaction is estimated to be 5.2%.

WRIT initially funded the acquisition with available capacity on its line of credit. With the recent announcement of the Medical Office Portfolio sale, WRIT will have the ability to repay the outstanding line balance with sale proceeds.
Washington REIT is, essentially, narrowing their focus while still remaining a diversified REIT. Let's take a look inside this beltway REIT.
As previously mentioned, Washington REIT is the only REIT singularly focused on the greater Washington metro region: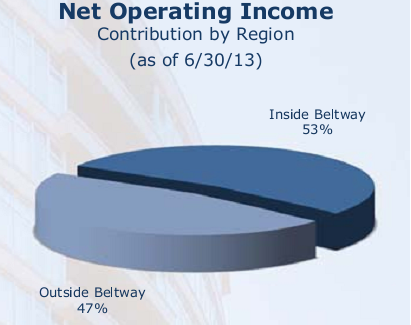 Why focus on the Washington region?
Fourth largest metro economy,
Lowest unemployment rate of any major U.S. metro region,
No. 2 median income in United States,
Highly educated workforce,
Highest net new job growth in the U.S. over the last decade,
Ranked third best U.S. market and fourth best international market for real estate investment according to the 2013 Association of Foreign Investors in Real Estate survey
Given the rationale for investing inside the DC metro region, the tenant roster should reflect these reasons, and in fact they do:

WRIT's single largest tenant is the World Bank, an exposure I am comfortable with as they are a highly rated tenant with deep resources.
A REIT that has been around as long as Washington REIT (they still own properties acquired in 1963) has to be conservative to survive. Part of this is a conservative capital structure: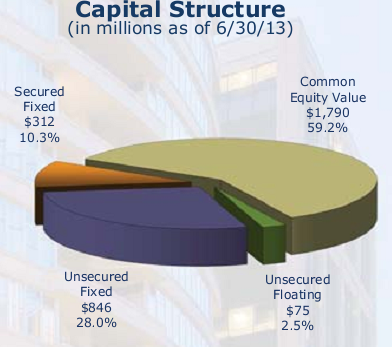 That is the big capital structure picture, but a REIT has to be able to pay back or refund their debt. Washington REIT's debt distribution is likewise conservative and readily financeable: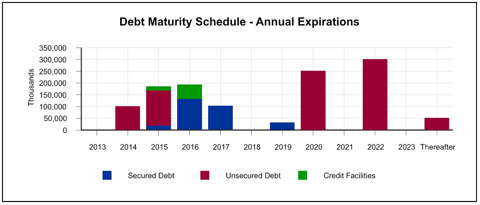 So we have a REIT that has been around for a very long time, is focused in a higher growth MSA that has favorable demographics, an enviable tenant line-up and a conservative financial profile. What could be better for an investor, one might say. Well, let's take a look.
Washington REIT stacks up well against diversified peers Duke Realty (NYSE:DRE), Winthrop Realty (NYSE:FUR), Vornado Realty (NYSE:VNO), Liberty Property Trust (LRY) and Whitestone REIT (NYSEMKT:WSR).

It looks good, but here is what troubles me:
1. The dividend cut. In July of 2012, the dividend was cut to, as the company phrased it "retain this capital in order to enhance our ability to grow earnings as well as take advantage of opportunistic investments that we expect will emerge in the years ahead" Why does this bother me? What took so long for them to realize that capital retention and the need to re-deploy was necessary? As the chart below shows, most of their peers reacted quickly in 2009 and cut the dividend to retain precious capital.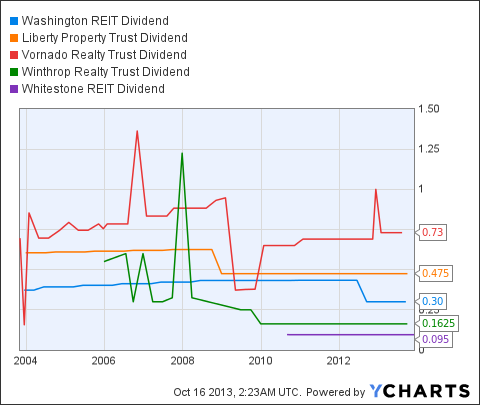 WRE Dividend data by YCharts
2. The share Price. In theory, the capital being retained through the dividend cut should be able to be deployed into assets that should increase the REITs FFO generating ability and lead to a corresponding increase in the share price (prices being forward looking). However, since the cut the price has lagged its peers.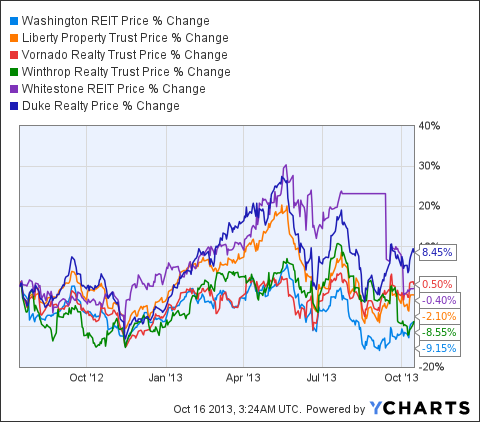 3. Portfolio repositioning. This is not the first time the REIT has sought to reposition their portfolio. In August 2011, the REIT exited their industrial portfolio saying it would allow them to focus on buying assets that better fit their long term strategy. The result thus far: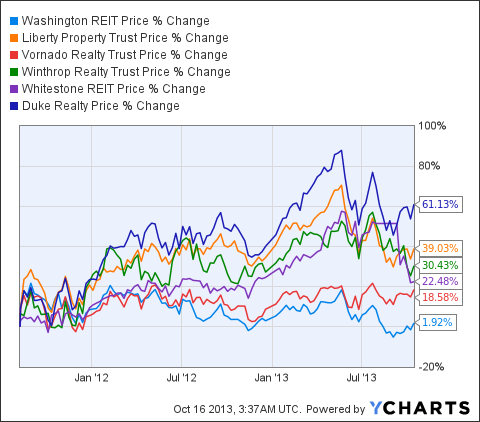 While only two years later, it doesn't appear to be working. Now add in the most recent purchase has a cap rate of 5.2% (estimated), just marginally above their current dividend yield.
And finally,
4. Stagnant FFO. As the chart below shows, the conservative financial posture, favorable demographics and portfolio repositioning have not only eluded the share price, but the REIT's ability to generate funds from operations.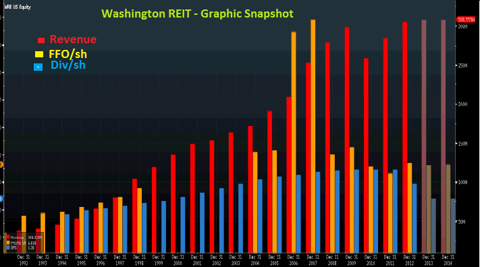 Bottom line: Washington REIT has a long history in their market, a conservative financial profile and stalwart tenants, but it has not been able to translate that into FFO growth or share performance. The REIT has room to raise its dividend given its conservative payout ratio and debt capacity, and I would expect a marginal increase in the coming quarters. Should the REIT raise its dividend and show continued favorable growth in new lease and renewals, the P/FFO multiple could expand to near the peer 16x, giving the REIT a share price of approximately $29, or an approximate 10% gain. That said, I am not seeing the growth or the catalyst for multiple expansion, so I view the shares as near dead money (intermediate term). Given the conservative nature of the REIT and the payout capacity, however, an investor focused on current yield might find this attractive although I think there are better opportunities elsewhere.
Interesting tidbit: WRIT is the oldest existing publicly-traded REIT in the United States: an investment of $10,000 in WRIT in December 1971, with dividends reinvested, would be worth $3.2 million as of December 2012.
Disclosure: I have no positions in any stocks mentioned, and no plans to initiate any positions within the next 72 hours. I wrote this article myself, and it expresses my own opinions. I am not receiving compensation for it (other than from Seeking Alpha). I have no business relationship with any company whose stock is mentioned in this article.