Bank of America (NYSE:BAC) just reported Q3 2013 results and slightly missed estimates: Revenues came in at $21.7 billion compared to a consensus estimate of $22 billion. Third quarter earnings stood at $2.5 billion or $0.20 a share versus analysts estimates of $0.21 per share. Bank of America continued to strengthen its capital base with a Basel 1 Tier 1 common capital ratio of 11.08% and a Basel 3 Tier 1 common capital ratio of 9.94%. Strengthening capital ratios is an ongoing sector trend that also showed in Citigroup's (NYSE:C) Q3 and Wells Fargo's (NYSE:WFC) Q2 results (here and here).
Fundamental growth trends intact
Some investors might focus solely on BofA's marginal EPS miss but a broader look at the underlying trends indicate that the company is on a good way to return to its core earnings potential.
BofA's total loans and leases have increased to $934.4 billion and are up 1.4% compared to Q2 2013 and up 4.6% compared to Q3 2012. Total deposits stand at $1,110.1 billion compared to $1,080.8 billion in Q2 2013 (up 2.7%) and $1,063.3 billion in Q3 2012 (up 4.4%). The BofA franchise still manages decent deposit growth. Besides loan and deposit growth I look at BofA's underlying trends that signal asset- and loan quality. It is no secret that BofA had serious problems with loans that had gone bad because of poor underwriting standards. Net charge-offs, however, have gradually declined and stood at $1.7 billion in the third quarter 2013: A significant improvement of 59% and the trend is probably going to continue. Provision for credit losses also declined sharply: Q3 2013 losses came in at $0.3 billion which compares to $1.8 billion in the same quarter last year (minus 83%) or to the extraordinarily high losses of $2.2 billion in Q4 2012 (minus 86%). Compared to the second quarter of 2013 credit losses have declined 75%. BofA has made respectable progress in working through its asset quality problems.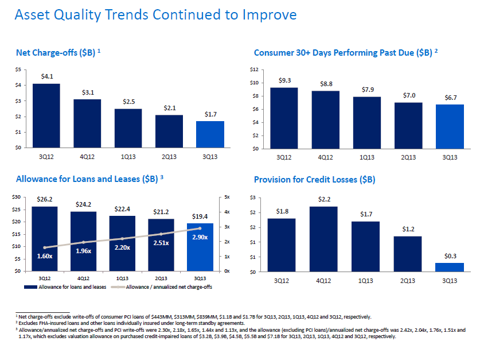 Click to enlarge
Notable segment results
CBB
BofA's Consumer and Business Banking unit posted higher revenues and lower provision expenses compared to the second quarter 2013 raising net income 28% to $1.8 billion. Mobile banking customers increased to 14 million compared to 11.1 million in Q3 2012 (plus 26.1%). New card accounts in BofA's credit card service line were up 22.1% to 1.05 million in Q3 2013 compared to 0.86 million in Q3 2012. Its net charge-off ratio declined to 3.47% from 4.60% last year.
CRES
BofA's Consumer Real Estate Service unit posted a $1 billion net loss driven by lower mortgage banking revenues (not BofA specific) and higher litigation costs. Provision expenses came in $599 million lower than in the previous quarter. I do not expect significant changes in results in the next couple of quarters as long as litigation expenses stay high.
GWIM
BofA's Global Wealth and Investment Management practice delivered $4.4 billion in revenues and $0.7 billion in net income. Lower client activity caused results to decrease by $39 million compared to Q2 2013 but to increase $148 million compared to Q3 2012. GWIM results are highly volatile and exhibit high correlation to stock market movements.
Global Banking
This business contributed $1,134 million in net income which is mostly in line with Q3 2012 results. Average loans and leases were up 17.6% to $260.1 billion in Q3 2013 compared to $221.2 billion in Q3 2012. Average deposits increased 5.5% y-o-y to $239.8 billion.
Global Markets
The Global Markets segment basically includes BofA's Sales and Trading operations. Equity revenues increased 36% (+$255 million) y-o-y while FICC revenues decreased 20% (minus $501 million).
Share performance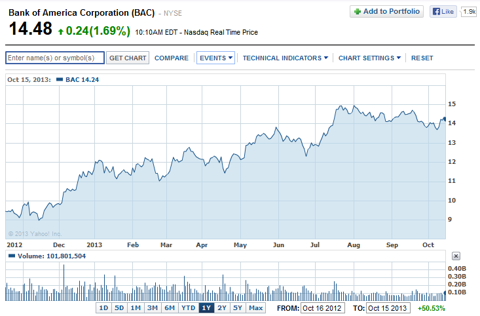 Click to enlarge
Bank of America shares have increased 51% over the last year and are trading now at a premium to tangible book value per share. Both Bank of America and Citigroup, two of the largest deposit-catching banking franchises in the US financial industry, have fallen on particularly hard times based on extraordinary provision expenses and charge-offs. Bank of America's Countrywide acquisition certainly did not help book value growth and share performance. Benchmarking Bank of America against a variety of large-cap financial firms reveals that the company still has to catch up even though BofA shares have increased 51% over the last year. Goldman Sachs (NYSE:GS), Wells Fargo and J.P. Morgan (NYSE:JPM) have done much better than the two laggards Citigroup and BofA. Both companies exhibit extremely attractive risk-reward ratios (Citigroup even more so than Bank of America):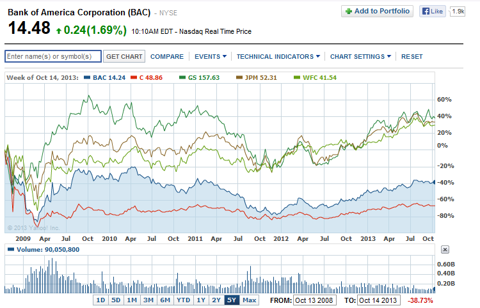 Click to enlarge
Book value per share
BofA's tangible book value per share stood at $13.62 in Q3 2013 and is up 2.3% compared to last quarter and up 1% compared to Q3 2012. Total book value per share for the third quarter came in at $20.50 up 1.6% compared to last quarter and up 0.5% compared to Q3 2012. With a current share price of $14.48 BofA trades at a 6.3% premium to tangible book value and at a 29.4% discount to total book value per share. Citigroup still manages to trade at a 9% discount to tangible book value. Both stocks still have decent upside potential based on their discounts to total book value. Many investors consider only tangible assets, however, intangible assets still sit on BofA's balance sheet and should be considered.
Summary
Bank of America is still comparatively cheap trading at 10.5 times forward earnings. The cumulative decline in share price over the last five years is staggering. The underlying trends (deposit- and loan growth, declining provision expenses and net-charge offs) should set the path for future shareholder value generation. In the third quarter 2013 BofA has repurchased 60 million common shares and 140 million shares in the last nine month. Ongoing share repurchases, which I think are going to happen, provide an additional catalyst for rising share prices. I also expect BofA to initiate a competitive dividend in 2014/2015 that might parallel Wells Fargo's dividend yield of 2-3%. Bank of America represents a cyclical bet on a buoying financial sector in the United States. Long-term Buy.
Disclosure: I am long BAC, C, WFC. I wrote this article myself, and it expresses my own opinions. I am not receiving compensation for it (other than from Seeking Alpha). I have no business relationship with any company whose stock is mentioned in this article.