2013: A Breakthrough Year For The East Texas Eagle Ford
Among emerging horizontal oil plays, the Eagle Ford Shale/Eaglebine in the East Texas Basin has been one of the most confusing and perhaps misunderstood. The play has been frequently mentioned in the industry press. Several highly regarded operators, including Encana (NYSE:ECA) and Halcon Resources (NYSE:HK), have spoken repeatedly of the massive potential that the oil-bearing Eagle Ford Group of shales has to offer. Still, until this year, the play had failed to gain true momentum. Testing activity had been disappointingly slow and, for some time, no convincing evidence had been established to confirm the shales' commercial productivity. Drilling focused predominantly on horizontal redevelopment of conventional Woodbine Sands/Silts within large legacy oil fields.
All that has changed this year. Over the past twelve months, the East Texas Eagle Ford play has picked up steam and indications are building up that it may soon emerge as a major new horizontal oil play.
A New Old Play
The Eagle Ford in East Texas is part of the same stratigraphic group as the world famous Eagle Ford in South Texas. The two plays are separated by the San Marcos Arch (picture below). From a geologic perspective, the two Eagle Fords are cousins rather than identical twins: the formations are characterized by different depositional environments and, strictly speaking, are two stand-alone plays. Notwithstanding the differences, the Eagle Ford is viewed to be a highly potent source rock on both sides of the Arch. As a result, there are legitimate reasons to hope that the shale can be a producible reservoir to the east of the San Marcos Arch just as it is in South Texas, possibly offering highly economic sweet spots.
The most recent drilling results and tangible capital commitment from several important E&P operators indicate that such hopes may in fact prove true.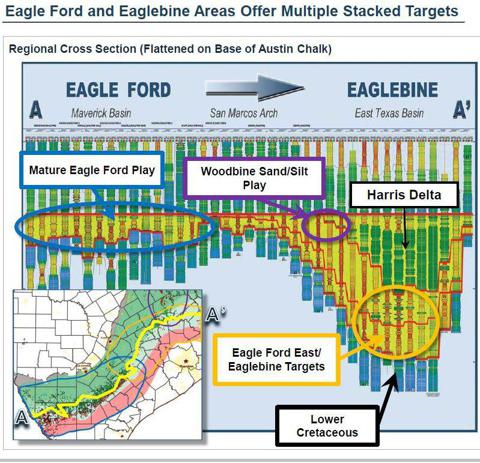 (Source: ZaZa Energy 2013 Investor Presentation)
The Eagle Ford Shale in East Texas is not a new play. In fact, Apache Corporation (NYSE:APA) extensively tested the formation in the East Texas Basin at approximately the same time when the first horizontal drilling success was established in the South Texas Eagle Ford. In 2008 alone, Apache drilled and completed over a dozen Eagle Ford wells, primarily in Burleson, Brazos and Lee Counties of East Texas. A five-year-old EIA map of the Eagle Ford play (picture below) indicates that already by mid-2010 close to two dozen wells existed in the formation to the east of the San Marcos Arch. Moreover, as discussed below, early test results were by no means discouraging. Still, until this year, the play had been unable to gain traction.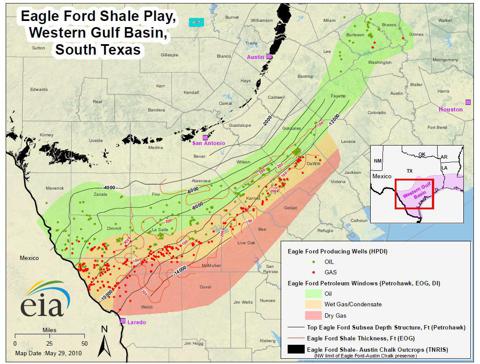 (Source: EIA, 2010)
Part of the reason for the slow progress in the evaluation of shale targets may be the highly complex stratigraphy and lithology of the Eagle Ford interval in East Texas. The formation morphs rapidly from one configuration in to another, as one moves from east to west and from north to south across the play. In fact, it would be accurate to think of the East Texas Eagle Ford as an assembly of several stacked and often interbedded plays (Upper Eagle Ford, Woodbine Sands, Eaglebine, Lower Eagle Ford, "Cheaglebine," etc.).
Another explanation may be the scarcity of capital and competition against multiple other promising shale plays that the industry has been busily testing over the past few years.
Early Tests Gave Reasons For Optimism
Perhaps the most remarkable fact is that the productivity of the Eagle Ford Shale in certain areas of the East Texas Basin should have been evident to the industry for over five years.
A review of Apache's 2008 well results in the Giddings and Giddings South Fields indicates that the company's early horizontal tests gave reasons for optimism regarding the play's commercial potential. The graph below shows production history for six horizontal wells that Apache completed in Burleson and Brazos Counties (the Hullabaloo #2H, A. B. Childers #3H, Elsik #4, W. H. Giesenschlag "C" Gas Unit #3H, Giesenschlag-Groce #2H, and Hazel J. Chachere Oil Unit #2). The depth of completion varied from 7,400 feet to 8,800 feet (it appears that all the wells targeted the Upper Eagle Ford zone). The wells have been producing for 4.5 to 5 years and have shown cumulative crude oil volumes ranging from 22,000 barrels for the weakest well to 67,000 barrels for the strongest well (the Giesenschlag-Groce). Crude oil yield has been consistently high across this well sample, ranging from ~85% to ~95%.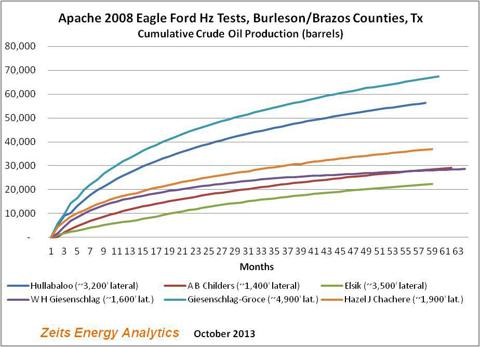 (Source: Zeits Energy Analytics, October 2013)
While on the surface these results may look unimpressive, two factors need to be taken into account. First, the six Apache's test wells varied widely by their lateral length, from ~1,400 feet for the shortest lateral to ~4,900 feet for the longest one. Once normalized for lateral length, five wells of the six show very consistent production performance. Based on this very limited sample, a "typical" well - normalized to a 4,500' lateral length - is likely to achieve a EUR of 150,000+ barrels of oil and 100-150 MMcf of liquids-rich gas. One would expect that a long-lateral well would yield substantially higher amounts (for comparison, in the Bakken, the majority of recent wells have been completed with 9,000+ foot laterals). Second, the wells were early-stage tests drilled five years ago (which in the world of oil shales is semi-eternity). One would expect significant room for improvement from optimized lateral positioning, advanced completions and future location selection. While Apache's early results fall short of what would be needed to prove the play's commerciality, the closer analysis leads to conclude that, in retrospect, they were nonetheless very encouraging.
New Generation Wells Deliver A Step Change In Productivity
As one would expect, new generation Eagle Ford wells in the East Texas Basin show a dramatic improvement in productivity compared to the early tests by Apache. As an illustration, the picture below shows well results for four recent wells that targeted the Lower Eagle Ford zone in Brazos County of Texas. Three wells, the Falcon #1H, Kodiak Unit #1, and Moose Unit #1 were drilled by Weber Energy Corporation (now operated by Halcon Resources) and one well, the Mustang #1, was drilled by Halcon.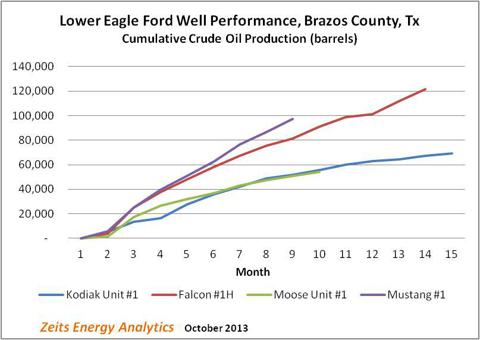 (Source: Zeits Energy Analytics, October 2013)
Two wells of the four, the Falcon #1H (~5,900 foot lateral) and Moose Unit #1 (~4,900 foot lateral), have produced more than 100,000 barrels of oil in their first year (plus some high-BTU gas) and compare favorably - on a lateral length-adjusted basis - to better wells in the Bakken.
Notably, the Lower Eagle Ford has been the primary target zone for some operators, most notably, Halcon Resources. Halcon has emphasized the importance of landing the lateral within a narrow window located immediately above the Buda, which they have identified as critical for initiating effective fractures.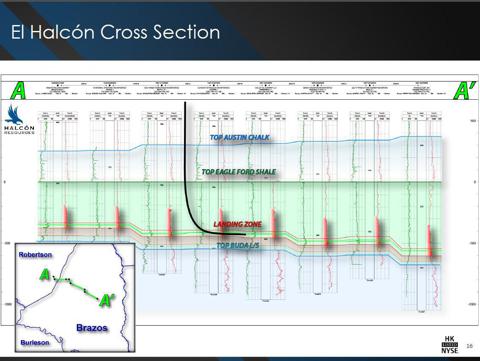 (Source: Halcon Resources' September 2013 Investor Presentation)
Perhaps even more impressive are the results of two recent vertical Eagle Ford tests drilled by EOG Resources (NYSE:EOG) in Madison and Leon Counties. As shown on the graph below, the two wells, the Blazek-Peters and Donaho Unit, have each produced over 40,000 barrels of oil in their first approximately twelve months online and continue to flow at impressive rates. The amounts are quite remarkable for vertical shale wells. The two EOG's wells show a dramatic improvement over three earlier-generation vertical Eagle Ford tests (Simms, T.C. Smith and Easterling, all operated by Rippy Energy) which are also shown on the graph.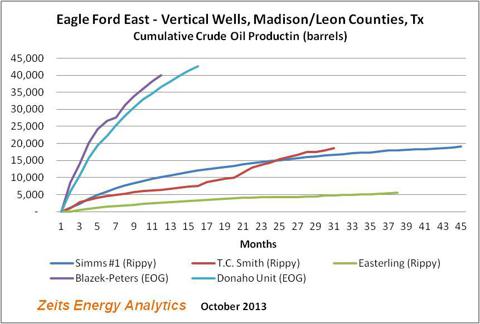 (Source: Zeits Energy Analytics, October 2013)
Halcon Resources Champions The Eagle Ford Play
Halcon Resources has quickly emerged as the most active driller in the East Texas Eagle Ford, with over 25 operated Eagle Ford wells currently flowing to sales. The majority of those wells were drilled and completed by Halcon in 2013, a truly impressive ramp up in a new area and an indication of the company's strong confidence in the play. The graph below, which shows Halcon's net production growth in the play, indicates consistently strong IP rates. As of September, the combined net production rate from these 25 wells stood at 6,000 Boe/d. Given Halcon's average 56% net revenue interest in the wells, this data point confirms very strong average well performance. The company's current EUR estimate for the play is in the 400-500 MBoe range. According to the company, most of the new wells have had IP rates between 1,000 barrels and 1,300 barrels of oil equivalent per day. Well costs have been running at about $9 million for long-lateral wells with horizontal sections in the 8,000 feet range.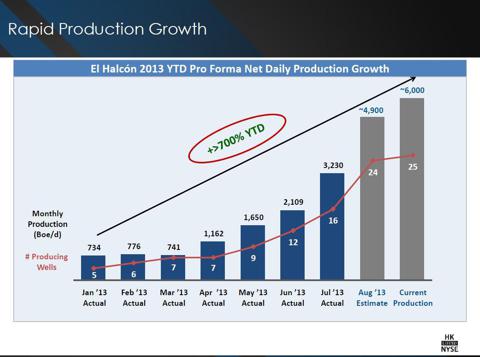 (Source: Halcon Resources' September 2013 Investor Presentation)
It is no surprise that following its strong early success in the shale, Halcon re-allocated resources from the Woodbine to the Eagle Ford (the company's focus area, which they called El Halcon, is shown on the slide below). Halcon is actively acquiring acreage in the play and is targeting to secure ~100,000 net acres already towards the end of this year.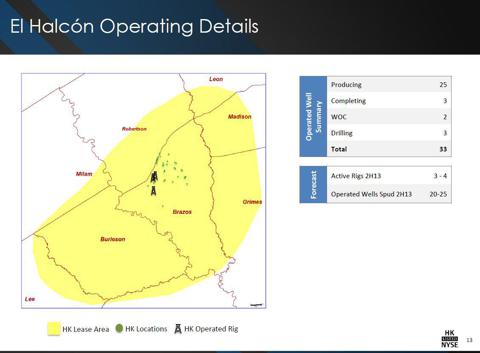 (Source: Halcon Resources' September 2013 Investor Presentation)
EOG Joins The Eagle Ford East Club
Quite notable is the recent move by EOG Resources to increase their presence in the East Texas Eagle Ford play. EOG has initially acquired ~19,000 net acres in Walker and Madison Counties. In addition, in a series of farm-in transactions, EOG acquired from ZaZa Energy (NASDAQ:ZAZA) a total of 39,000 net acres (net of acreage swaps) and has an option to acquire an additional 10,500 net acres. This brings EOG's total position in the play to at least 58,000 net acres plus 10,500 net acres under option.
EOG's total capital commitment in the play has already added up to a figure that is material even for a very large company as EOG. Adding to the amounts paid for the acreage are significant drilling commitments that EOG assumed in the ZaZa transactions (EOG is obligated to drill a total of 6 wells on the ZaZa acreage, in which ZaZa will have a 25% carried interest; three of these wells are expected to be drilled by the end of this year). Interestingly, EOG made the decision to exercise its farm-in options on ZaZa's acreage ahead of time, prior to seeing the results from the initial three test wells it planned to drill. EOG's move provided much needed financial liquidity to ZaZa and, that way, eliminated certain risks related to the farm-in. Still, EOG's decision clearly reflects the company's strong interest in the play.
SM Energy Builds Extensive Position Across The Play
SM Energy (NYSE:SM) is another significant operator with undeniable knowledge of oil shales who has been aggressively growing its presence in the East Texas Eagle Ford.
Earlier this year, SM unveiled its successful Woodbine exploration well in San Jacinto County, which substantially extended the Woodbine/Eaglebine play to the east. The Horizon Properties #2H produced approximately 740 Boe/d in a 24-hour test. Production consisted of 305 Bbl/d of 42 degree API gravity oil and 2.6 MMcf/d of 1,250-Btu gas. Taking into consideration that only 2,500 feet of the wellbore were effectively stimulated, the initial flow rate should be viewed as strong (operators often complete wells in this play with 6,000-8,000 foot laterals).
During the third quarter of this year, SM disclosed that it had increased its leasehold in the area to 195,000 net acres. While SM has not disclosed its primary geologic target, the company's extensive leasing campaign across several counties (Washington, Walker, Polk and San Jacinto) indicates its strong interest in the play. SM continues to acquire additional acreage and expects to drill test wells "targeting primarily Woodbine and Eagle Ford shale intervals" in the second half of 2013.
Full Steam Ahead
While it is still difficult to predict the trajectory of the play's future evolution, the most recent operating results provide grounds for optimism. The strong new sponsorship that the East Texas Eagle Ford has recently received from several well-capitalized and highly capable operators (Halcon, EOG and SM) suggests that drilling activity in the play will continue to accelerate and should deliver important new insights into its geology and productive potential already in the near future. Continued positive results may catalyze further inflow of capital and propel the East Texas Eagle Ford into the rank of major horizontal oil plays.
Disclaimer: Opinions expressed herein by the author are not an investment recommendation and are not meant to be relied upon in investment decisions. The author is not acting in an investment advisor capacity. This is not an investment research report. The author's opinions expressed herein address only select aspects of potential investment in securities of the companies mentioned and cannot be a substitute for comprehensive investment analysis. Any analysis presented herein is illustrative in nature, limited in scope, based on an incomplete set of information, and has limitations to its accuracy. The author recommends that potential and existing investors conduct thorough investment research of their own, including detailed review of the companies' SEC filings, and consult a qualified investment advisor. The information upon which this material is based was obtained from sources believed to be reliable, but has not been independently verified. Therefore, the author cannot guarantee its accuracy. Any opinions or estimates constitute the author's best judgment as of the date of publication, and are subject to change without notice.
Disclosure: I have no positions in any stocks mentioned, and no plans to initiate any positions within the next 72 hours. I wrote this article myself, and it expresses my own opinions. I am not receiving compensation for it (other than from Seeking Alpha). I have no business relationship with any company whose stock is mentioned in this article.