The Dress Barn Inc. (DBRN) recently reported fiscal 2010 first-quarter results. The company recorded a GAAP net income of $21.7 million, a growth of nearly 10% over GAAP net earnings of $19.7 million posted in the year-ago period. Excluding certain items, adjusted earnings per share came in at 37 cents, surpassing the Zacks Consensus Estimate by 12%, or 4 cents.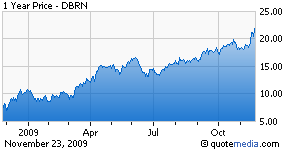 The company reported a 7.4% growth in net sales to $404.1 million during the quarter, compared to $376.4 million in the year-ago quarter. The growth was primarily driven by a 4% increase in same-store sales coupled with the addition of 47 stores in the last one-year period. In terms of divisions, same-store sales expanded by 5% in Dressbarn stores, while it grew by 4% in Maurices stores.
Dress Barn also stated that it expects the acquisition of Tween Brands Inc. (TWB), a specialty retailer focused towards preteen girls, to complete by November 25, 2009. Dress Barn announced in June this year that it has entered into an agreement to acquire Tween Brands in an all-stock deal.
Meanwhile, Dress Barn's quarterly gross profit grew by 11.3% year over year to $163.8 million, while gross margin expanded by 140 basis points (bps) to 40.5%. The increase was primarily the result of higher merchandise margins at both Dressbarn and Maurices stores. Selling, general and administrative expenses, as a percentage of sales, increased by 90 bps to 28.2% primarily on account of acquisition related expenses. Accordingly, operating income recorded a growth of 17.0% year over year to $37.8 million, while operating margin increased by 80 bps to 9.4%.
At the end of the quarter, Dress Barn had cash and cash equivalents of $283.6 million, compared to $144.3 million in the year-ago period. Total inventories ended the quarter at $181.1 million, a decline of 3% from $187.1 million in the prior-year quarter. In terms of divisions, inventories dipped by 2% and 6% at Dressbarn and Maurices stores, respectively.
Moving forward, Dress Barn lifted its earnings guidance for the fiscal year ending July 2010, citing better-than-expected quarterly results. The company now expects earnings to range between $1.20 and $1.30 per share for the full fiscal excluding the impact of the Tween Brands deal, compared to the earlier prediction of $1.10 to $1.20 per share. The guidance is in-line with the Zacks Consensus Estimate of $1.27 per share, which has climbed 7 cents over the past week.
Dress Barn is a national specialty apparel retailer offering career and casual fashion apparel through its Dress Barn and Maurice's brands. As of October 24, 2009, the company operated 846 namesake stores in 47 states and 734 Maurice's stores in 44 states.