Since our initial post regarding Sonic Foundry's Mediasite franchise on 5/1/09, shares have traded slightly lower despite the expanding franchise and positive financial progress. In our view, the Market remains irrational. At some point, value should track fundamentals -- it always does (over time). Consider this quote included at the beginning of Chapter 8 in More than You Know by Michael J. Mauboussin (shared with us by another investor - thank you):
Key point: patience can bring great rewards as the Market comes to recognize value, so long as the initial assessment is correct. Although SOFO resides in a speculative category, we believe nothing has changed since our initial analysis, which pegged fair value per share at $1.95 to $2.72 ($2.34 midpoint) based on reproduction cost.

Recent event: Sonic Foundry completed its 1 for 10 reverse split last week and SOFO is trading as SOFOD ($5.11, or $0.51 pre-split) for 20 trading days before reverting back to SOFO. We previously commented on why we think the company effected the reverse split. Aside from removing delisting risk at year-end and enabling more institutional investors to purchase the stock, we think a significant reason for the move was so existing and/or potential customers are not scared by a sub-$1 share price. The very low prior share price gave the impression that Sonic was distressed and may not be around in 2, 3, 4, 5 years (i.e. if I'm a customer, why buy/install Mediasite if the company won't be around?). However, per our prior posts, we believe such a view couldn't be further from the truth. And, we're not drinking Kool-Aid either.

Why? The balance sheet is not distressed: the company has limited debt, retains borrowing capacity, and should generate excess cash over the next year (assuming growth remains consistent with >20% expected for fiscal 2009). Importantly, we don't expect F4Q09 results next Monday to change this reality (guidance is key question). Further, favorable working capital swings in the seasonally weak December quarter should buffer a potential operating loss for the period.

Recall progress over the past year:
Next, we come back to the Mediasite franchise. While the economy remains weak and many tech companies are shrinking this year, evidence suggests the franchise continues to grow -- see customer commentary in press releases, Sonic's blog, awards, Webinars, etc. For example, Mediasite again won the Streaming Media Readers' Choice Award for best Webcasting platform (announced last Wednesday):

Webcasting/Presentations Solutions
Winner:
Sonic Foundry Mediasite 5.1 (36%)

Finalists:
Accordent Technologies Capture Station (18%)
ON24 Webcast Center (11%)

Other evidence: recent commentary in a Streaming Media article, The Government Video Boom, suggests Sonic Foundry is adding an average of 75 government customers each quarter versus perhaps 15 per quarter for competitor Accordent -- that's five times more new government customers for Sonic, revealing clear market leadership (emphasis added below):
Within the past year, a growing number of government agencies in the U.S. and Canada have made that jump, according to several providers of online streaming technology. Sean Brown, vice president of education at Sonic Foundry, Inc., says that about 50–100 agencies become customers every 90 days, while Jereme Pitts, senior vice president of sales and marketing and co-founder of Accordent Technologies, Inc., says his company has welcomed about 50–75 new government customers in the past year.
Thus, we think Mediasite's economic goodwill continues to increase. How best to measure such goodwill? As noted in our original post, Mediasite customers are diehard about how Mediasite is improving productivity within their organizations. As a result, customers become voluntary evangelists on behalf of Sonic Foundry and, therefore, drive incremental penetration. These intangibles are extremely difficult for new entrants or even large players such as Cisco (NASDAQ:CSCO) or Adobe (NASDAQ:ADBE) to replicate by simply spending millions of dollars in marketing and selling, not to mention R&D to establish a competitive solution.

Sonic is building the franchise through an array of products and services around Mediasite - slides sourced from this August 2008 presentation (worth watching for "rewind" purposes; captured with Mediasite):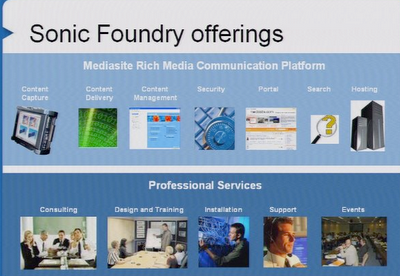 And, Mediasite economically addresses an important market need: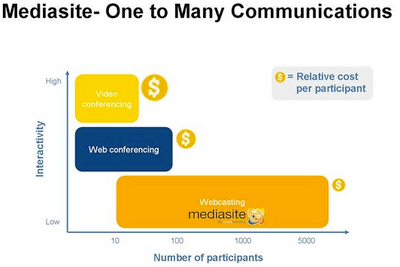 Here's what management said at the time (again, August 2008) about the outlook: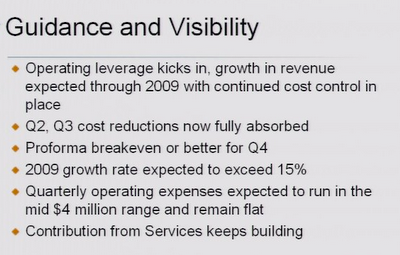 Where do we stand today? Fiscal 2009 growth is now forecast at >20% Y/Y with more recurring license and services revenue -- below slides sourced from this September 2009 conference presentation (unfortunately, NOT captured with Mediasite so no integrated video -- Wall Street Webcasting needs to get with the program):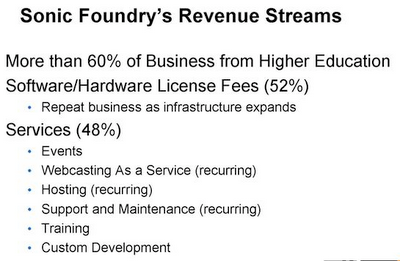 Most recent outlook (early September):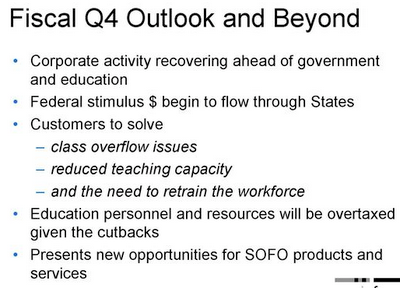 Sonic is expected to report fiscal 2009 results Monday 11/30/09, providing another update on business progress. Our analysis suggests that fundamentals are as sound as can be in a recession: growth with margin expansion. As for valuation, we still believe our reproduction analysis holds (i.e. $20 - $27), supported by the probable valuation that would be awarded by strategic buyer. On a forward basis, the valuation expands, particularly if Sonic closes additional campus-wide deployments and revenue scales further with positive earnings and cash flow generation. We're not hanging our hat on a buyout, yet more M&A deals are happening and, as noted, the Mediasite franchise appears difficult to replicate.

Finally, just for fun, let's compare the valuation of Ener1 (NASDAQ:HEV) and A123 Systems (AONE) to Sonic Foundry. We expressed caution for both HEV and AONE in our October post, Wall St. Speculation Alive and Well in Clean Tech -- Risky Business. Since that time, shares retreated, but valuation remains rich:
Ener1 trades at 21 times trailing twelve month (TTM) revenue and 6 times consensus 2010E revenue.
A123 trades at 17 times TTM revenue and 11 times consensus 2010E revenue.
The Market is infatuated with rosy growth prospects and the "clean tech" sector. Meanwhile, both companies are bleeding cash. Sonic Foundry isn't growing top-line as fast, but should be profitable over the next year. If we apply the same 6 to 11 times forward revenue multiples to estimated fiscal 2010 revenue of $22 million (+13% Y/Y growth - conservative), the implied market capitalization would be $132 million to $242 million, or $31 to $56 per share (assuming fully diluted shares outstanding of 4.3 million). We're not justifying the multiples, simply pointing out how the Market can value different assets when it is in love with an idea/trend. Note that we prefer price to earnings and price to free cash flow multiples, not price to sales multiples.

Disclosure: Long SOFO