With the deal that was passed last night the government will reopen and the debt ceiling issue has been punted to early 2014 which now gives the market about a quarter to place that particular issue on the backburner. The deal helps the financials the most, in our opinion, and we believe will help regionals and the insurers the most. This should bode well for names we like in those categories, such as Regions Financial (NYSE:RF) and American International Group (NYSE:AIG) with national players like Wells Fargo (NYSE:WFC) and Bank of America (NYSE:BAC) also participating in a rally. The one wild card we see is Goldman Sachs (NYSE:GS) and the investment banking names, especially after this morning's revenue miss.
Chart of the Day:
The U.S. 10 Year Treasury is retreating on the heels of the deal in Washington. This should create one last rush to refinance and will give investors in bond funds another opportunity to sell their holdings and invest elsewhere.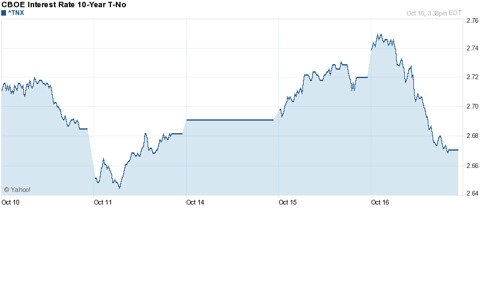 Click to enlarge
(Click to enlarge)
Source: Yahoo Finance
We have economic news today and it is as follows:
Initial Claims (8:30 a.m. EST): Est: 330k Actual: 358k
Continuing Claims (8:30 a.m. EST): Est: 2900k Actual: 2859k
Philadelphia Fed (10:00 a.m. EST): Est: 7
Natural Gas Inventories (10:30 a.m. EST): N/A
Crude Inventories (11:00 a.m. EST): N/A
Asian markets finished higher today:
All Ordinaries -- up 0.27%
Shanghai Composite -- up 0.20%
Nikkei 225 -- down 0.26%
NZSE 50 -- up 0.36%
Seoul Composite -- up 0.22%
In Europe, markets are trading lower this morning:
CAC 40 -- down 0.31%
DAX -- down 0.67%
FTSE 100 -- down 0.28%
OSE -- up 0.26%
Regional Banks Should Outperform ...
It has long been our belief that the regional banks would begin to outperform their national counterparts as the economic climate normalized and the smaller names increased advertising and their sales teams. This has happened to an extent, but for the most part we have seen an improvement in these companies' income statements and balance sheets due to them simply cleaning house, as Regions Financial has done. Thus far, we have seen little improvement in the actual growth of the regionals' various businesses but historically they lack the big banks just as the small community banks' performance lacks that of the regionals. We have said numerous times that when under $10/share Regions Financial was a buy and it is our opinion that we are about to see the financials, and Regions included, go on a run that will carry U.S. higher into the end of the year.
But National Banks Are Seeing Fewer Headwinds ...
With continued easing by the Federal Reserve we should see the refinancing market remain open for a few more months with tapering to begin in early 2014. The debt ceiling may affect this, however our belief is that the Republicans will not go this route again, they have failed every attempt thus far and the brand is damaged so negotiations will have to be more traditional than they have been over the past couple of years. The next quarter of lower interest rates should help both Wells Fargo and Bank of America as homeowners and homebuyers alike rush to refinance or close before the Federal Reserve begins to taper. Wells is the largest nationally with Bank of America second in the mortgage origination business so we see both of them as the big winners with all of this.
The chart tells the same story for both WFC and BAC and the fade which we see in the chart presents a buying opportunity in our opinion. If one is bullish the general economy then one must be bullish these names. Our bet is this has been base building before the next leg higher.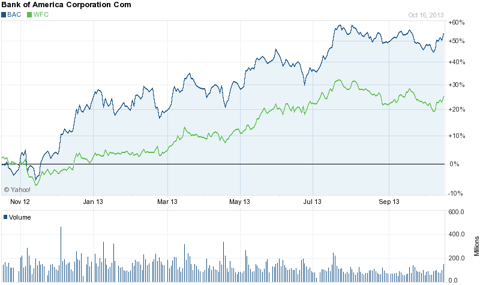 Click to enlarge
(Click to enlarge)
Source: Yahoo Finance
Other bullish factors down the road for these two names is the tapering issue. It will impact the mortgage business and cause some volatility in earnings and revenues, however the yield curve will move in the banks' favor and the big national banks will see this improve their margins. The legal issues some of these names face are daunting but with the consolidation that took place during the 'Great Recession' many of the banks which did acquisitions will be powerful earnings machines as businesses buy into the economic recovery and begin expanding their businesses again.
And Insurers Look More Attractive Than Investment Banks ...
With Goldman Sachs missing their revenue numbers this quarter (see press release here), along with what other investment banks have said regarding the bond market, we think that this might be one of the areas in the financial sector which underperforms relative to the others. The insurers, especially American International Group, we are much more bullish on. We have seen an increase in interest among friends and family looking for various insurance coverage, or increases in the scope of their policies, over the past few months as the wealth effect has begun to trickle down from the top. We are discussing all types of insurance (life, liability, disability, etc) and not just healthcare which has been grabbing the headlines recently. We already know these various lines of insurance were seeing better margins and with an increase in volume (assuming what we are seeing is not just a regional phenomenon in the south eastern US) we would expect higher profits.
We are not that interested in the health insurers, but the other insurers sure look attractive to us, especially American International Group.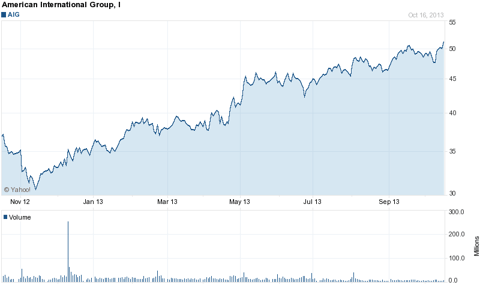 Click to enlarge
(Click to enlarge)
Source: Yahoo Finance
The big kicker here is the dividend situation, and although Goldman did say that they would be increasing their dividend by 10% it is our belief that over the next 12-18 months that the insurers (specifically AIG) will see the greatest increases in their dividends and buyback programs. These are historically great names to own with solid businesses, and now that the insurers have exited the risky derivatives business we think much better times lie ahead which is why we have been so bullish over the past year. American International Group is a buy any time it crosses below $50/share in our view.
Disclosure: I have no positions in any stocks mentioned, and no plans to initiate any positions within the next 72 hours. I wrote this article myself, and it expresses my own opinions. I am not receiving compensation for it (other than from Seeking Alpha). I have no business relationship with any company whose stock is mentioned in this article.