If you haven't already read my post-mortem on Amarin's (NASDAQ:AMRN) negative ADCOM panel vote that took place on Wednesday, you can check out my article "FDA Votes 'No' : Is This The End of Amarin?".
It's been a gut wrenching Thursday for Amarin longs, as Amarin opened up trading down over 60% on the news that the FDA ADCOM panel did not offer a positive recommendation for Amarin's one drug - Vascepa - in its ANCHOR indication; an indication that would have exponentially increased the potential patient population for Amarin's only drug.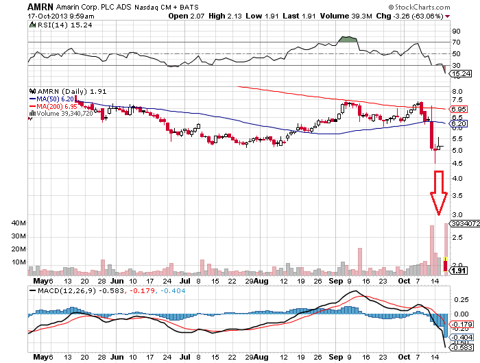 In addition, to add salt to the wound, the ADCOM panel on Wednesday seemed to focus - yet again - on the safety and efficacy of Vascepa, in addition to questioning how the mineral oil placebo used in Amarin's studies could have potentially made Vascepa seem more effective than it really is.
A rough day, for certain - and I know how Amarin longs feel - they can't believe it and they want answers. I know, because I lost a similar battle with Celsion's (NASDAQ:CLSN) Phase III HEAT trials early in 2013. Lucky for me, I hedged a bit - but, like with Amarin, I missed a couple of big signs that told me the hurt was on its way.
I penned an article after the disappointment and ensuing 80% stock decimation called "Celsion's 'Bad Beat' : 4 'Tells' That Longs Missed".
Hence, the title of this article.
With Amarin's case, there were actually very similar circumstances to Celsion's - so, let's take a minute and review the signs that longs missed, and where Amarin goes from here:
1. Major Selling on Heavy Volume on No News
Folks, there are no coincidences in the markets. Nothing screams that somebody knows something bad is coming more than a "typical" pre-binary event biotech uptrend being slashed with heavy selling on no news - just days before a "game changing" decision is about to be issued for the company.
Those that write this off as a "conspiracy theory" are not realists. The facts are that people may have had an inside look at the briefing documents before they were made public. Who those people are and where they are - we may never know. But, those documents, I assure you, were not kept under lock and key in some underground bunker before being released.
It is not a coincidence that Yahoo! reported on October 10th:
Unusual short-term put trading dominates today's option action in biopharmaceutical company Amarin.

optionMONSTER systems detected the purchase of more than 10,000 October Weekly 5.50 puts that expire at the end of tomorrow's session. A trader bought a block of 4,500 for the bid price of $0.15 and another block of 5,000 a few minutes later for $0.19. The previous open interest in the strike was just 730 contracts, so this is fresh buying.

These are very short-term contracts with a delta of just 0.18 , suggesting just an 18 percent probability that they will expire in the money . The implied volatility of those puts is 282 percent, while the 20-day historical volatility is 50 percent. (See our Education section)
These were not long term positions speculating on the future of Amarin - these were precisely placed, heavily leveraged puts that expired in a VERY short term. They were just about one of the biggest risk for reward positions you can possibly take with options. 9500 contracts represents 95,000 shares of Amarin.
With the slaughter to end last week, this position yielded someone hundreds of thousands of dollars.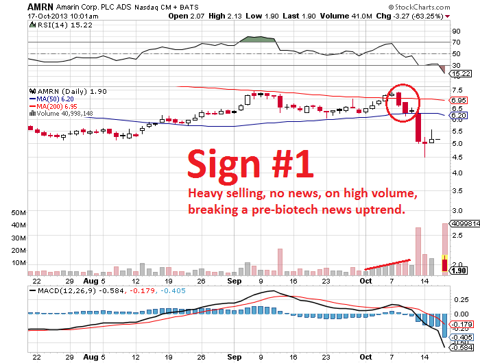 As I wrote in an article at the end of last week:
We'll probably never know who the person was that bought all of the puts right before Friday's FDA information was released on Amarin's coming advisory meeting. One thing is for sure, I was more than likely right when I penned my article "Does Someone Have Bad News About Amarin?"
2. Major Selling on Heavy Volume on FDA Briefing Docs Release
In this case, we actually had the information in hand. The bears argued that the focus in the briefing was inherently bearish. The briefing showed us that there was going to be a focus on the mineral oil placebo and the safety of Vascepa.
It alluded enough to tough questions that serious Amarin longs knew could spell trouble. The people that took the time to read through this document had made up their mind - and they did it on heavy volume, which is the key.
I wrote about the briefing document, days after its release:
I've penned a couple of articles this past week, the first based on whether or not someone had advance notice of the "bad" news coming on Friday, and most recently an article pointing out some of the "negatives" in the FDA briefing document. It's worth noting that a fair share of Amarin bulls that I've spoken with seem to think that the briefing is exactly what they expected, and without negative sentiment. If so, the potential upside for longs just got a lot nicer. If not, they're heading straight into a brick wall.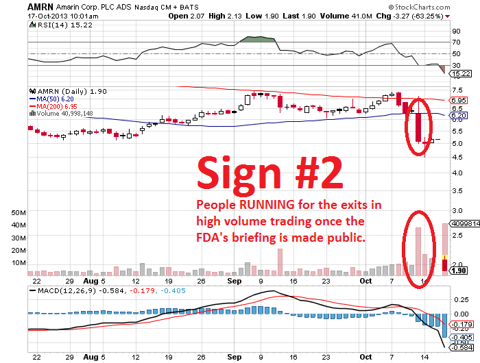 3. Adam Feuerstein, Love Him or Hate Him, Knows His Stuff
Sure, I thought Adam was the boogieman when we fell on different sides of the aisle on Celsion. I was sure Celsion was going to be the company that proved him and his "rule" wrong. Eventually, I wound up conceding to Mr. Feuerstein. Rather than cross him again on ANCHOR, I was anxious to see how his predictions turned out.
It's easy to make Adam out to be the bad guy - he's got a cheeky attitude, sometimes appears to be a sadist when biotechs crumble, and is often on the bearish side of a lot of companies. He does it in the face of intense flack from many bulls, and he generally responds in kind to savvy, eloquent, financial based adult insults like "you're smoking crack". So, he's not the toughest guy in the world to hate.

But, he knows his stuff. And you can bet that Amarin longs will be added to a list of people that follow what AF has to say about biotechs for a long time coming - similar to the way he caught my attention after Celsion's implosion. Though we stand on different sides of the aisle going forward on Celsion still, I respect his opinion and his knowledge of the biotech field.
On May 24th of this year - nearly 6 months ago - Mr. Feuerstein seemed very sure of what the decision would be, come December:
FDA will reject Vascepa for the "Anchor" indication because Amarin lacks clinical data demonstrating a cardiovascular benefit for its prescription-grade fish oil in this mixed dyslipidemia population. There is no urgent or unmet medical need for these people, but there is considerable doubt raised by recent published studies showing fish oil does nothing to reduce death, heart attacks or strokes.
He was right. All the bulls had to do was listen.
Conclusion
Like I said in "My Definitive 17 Cardinal Rules for Investing Success":
The market is chaos, this is true, but there is a cause and an effect to everything that happens in the stock market. Pay attention to these "coincidences" and follow in the direction they lead you.
Amarin has a long road ahead of it. With the REDUCE-IT study not finishing until 2016-17 and being a major cornerstone of the company moving forward, it's likely to be a long year and a half. The company has 6,000 of 8,000 patients necessary enrolled in the study. Because it's so crucial, Amarin's going to have to see it through - it's really their only hope as a company.
As I stated in my last article, the cash situation isn't good at Amarin either. With the stock trading at $2, any equity financing is going to dilute the shareholders severely.
The facts are that Amarin, unfortunately, doesn't seem to have much of a future.
I hope that this article does well to take the blinders off for some traders - coincidences are few and far between on Wall Street, and I hope this opens up perspective for traders on their next trade. I wish all Amarin longs the best of luck moving forward from here.
"You still got the truck?"

"Sure. Come on."

"You don't hear much about guys who take their shot and miss,
but I'll tell you what happens to 'em. They end up humping crappy jobs on graveyard shifts, trying to figure out how they came up short. See, I had this picture in my head. Me sitting at the big table, Joe Z to my left, the ADCOM panel to my right, helping disseminate Vascepa to millions of new patients. And I let that vision blind me at the table against the shorts and warning signs. Now, the closest I get to profits are playing Amarin as a bounce play, driving this lousy route handed down from Knish...to traders who forget the cardinal rule : always leave yourself outs."
Disclosure: I have no positions in any stocks mentioned, and no plans to initiate any positions within the next 72 hours. I wrote this article myself, and it expresses my own opinions. I am not receiving compensation for it (other than from Seeking Alpha). I have no business relationship with any company whose stock is mentioned in this article.