This morning we have seen a couple articles/mentions on the general credit markets. Here is a piece from the WSJ:
U.S. corporate bond sales reached an annual record of $1.171 trillion as borrowers took advantage of low interest rates and surging demand for debt securities following last year's credit freeze.

Sales of investment-grade and high-yield, high-risk debt compare with the more than $1.167 trillion that companies sold in all of 2007, the previous record, according to data compiled by Bloomberg. Last year, the total was $874 billion.

Sales of investment-grade bonds reached $1.031 trillion as of Nov. 23, compared with $930.5 billion in the similar period in 2007. High-yield sales are $139.6 billion, compared with $149.1 billion in all of 2006, the record year for junk-bond issuance.

Financial-services companies issued $199.9 billion of debt guaranteed by the FDIC this year before the program ended on Oct. 31, Bloomberg data shows.
So if we strip out government gifts, we are at 2007 full year volume. I find this interesting, as economic and, hence, corporate conditions currently are not in the same shape as was (widely) believed in 2007. A brief look at spread levels confirms the credit party that is occurring (courtesy Morgan Stanley):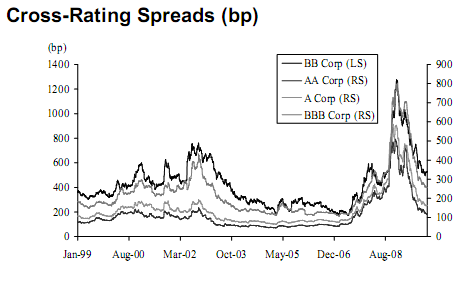 Now, in the face of this supply and tighter spreads, new issues typically will be issued at a decent concession to existing (trading secondary) issues. But when there is strong demand for credit, concessions naturally come in. Witness (courtesy BofA/Merrill):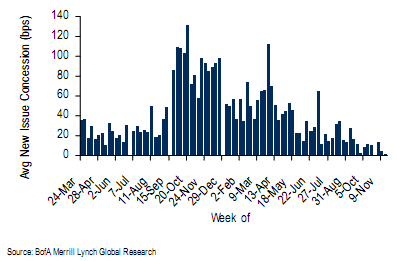 OK, lets combine the two: record issuance and miniscule concessions.
Yep, its a party. There is a decent slug of money sitting on the sidelines trying to get in on the credit train (which, unfortunately for them, has left the station). "A" rated debt (questionable ratings notwithstanding) has significant demand from those who have been burned through the recent debacle (insurance companies perhaps), but I would expect they will begin to travel to "BBB" rated debt in order to overcome anemic yields offered in "A" (10-year near a whopping 4.35%). This typically would imply the risk/reward is skewed to the downside. Don't forget, bonds have an asymmetric return profile - you could get back par, maybe 102/103 on a tender/call or significantly less under an adverse scenario (during a period of rising defaults, something to consider).
In my humble opinion, upside from here is limited. There will be some opportunities in "off the run" names, so credit work is key. Remember: "Hope isn't a strategy".
Disclosure: Long various corporate bonds.