Introduction
The Xbox segment is heavily criticized by many skeptics. They believe that Microsoft (NASDAQ:MSFT) should sell it as it isn't earning any money.
While I won't go into a discussion of what Microsoft should do with the division in this article, I will instead look at some of the drivers that impact Xbox earnings. Then I will take a look at the future, where I will assess whether the Xbox One will be beneficial or not for Microsoft.
How Microsoft monetizes the Xbox platform
In order to estimate earnings of the Xbox platform, I will first take a look at the different ways Microsoft can earn money through the Xbox. I see four different sources of revenue:
Console sales
Kinect sales
Xbox live service
Royalties from game publishers
Historically, the Xbox has been sold at a loss as the bills of material were higher than the selling price of the Xbox. The Xbox One, however, will be different from the Xbox 360 as Microsoft actually plans to earn a bit of money on the console itself. Analysts have estimated BOM of $325. Adding the costs of Kinect on top of that, it will cost roughly $400 to produce an Xbox One. That is somewhat below the selling price of $500, and while other costs need to be subtracted before the gross profit can be calculated (such as royalty payments to Sony), the gross margin will still be positive.
The Kinect business will also benefit from the launch of the Xbox One. Over the last 2 years, sales of Xbox consoles have been roughly two times higher than Kinect sales (below graph). Thus, with the launch of the Xbox One, we can expect a 50% increase in the ratio of Kinect sales to Xbox sales.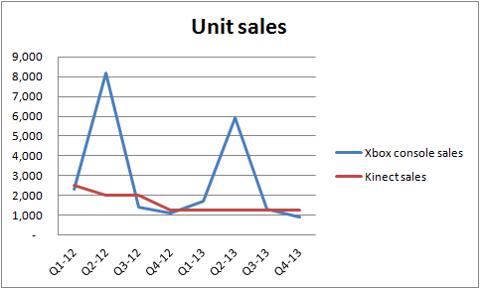 Source: Microsoft's 10Q reports.
Microsoft also has an online service called Xbox Live. Currently it has a total of 46M subscribers. Roughly half of them are paying $60 on an annual basis to gain "gold" status, which makes it possible for them to play Xbox games online.
At last, Microsoft also earns royalty from publishers of Xbox games. The royalty fee typically ranges from $3 to $10. Over the lifetime of the Xbox 360, more than 384M games have been sold. Assuming an average royalty of $7 per game, royalties has grossed up to $3.2B since 2005.
Giving my estimations for the profitability of each revenue source, I have made a diagram (below), which shows the gross profit distribution over the last twelve months. Xbox Live is biggest generator of gross profit as it has low costs related to the subscription service.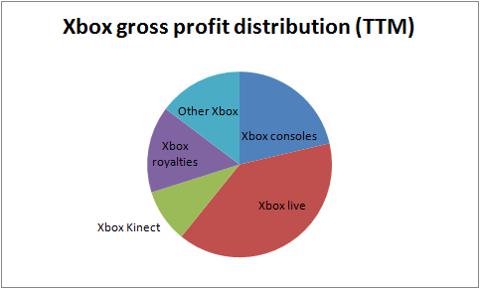 Xbox earnings for fiscal Q1 (September quarter)
During the next earnings release, Microsoft will change its segment structure, which means that the Xbox along with the Surface are part of a new hardware segment. For fiscal Q1 (September quarter), I expect that the segment will post a negative operating margin for two reasons:
Surface isn't really very profitable.
Sales of Xbox 360 will be extremely low as consumers will delay their purchases ahead of the Xbox One launch. This increases the ratio of operating expenses to revenue.
When that is said, I think the earnings for the quarter should be taken with a grain of salt as Xbox 360 doesn't really matter at this point. Instead, it is a lot more important to assess what will happen to Microsoft after it has launched the Xbox One. But be prepared for critics who will use the opportunity to prematurely conclude that the hardware transition is a failure.
Xbox One earnings (fiscal Q2 - December quarter)
Microsoft has a target of selling 1 billion Xbox consoles over the next five years. It's quite an ambitious goal, and I don't think it will get anywhere near that amount for two reasons;
The outlook for the console gaming industry isn't very bright.
It is competing against the cheaper PS4. Stereotype-gamers are more likely to purchase a PS4 than an Xbox as they do not care about Kinect or TV integration. According to pre-orders, PS4 is easily surpassing the Xbox One by a large margin.
Looking specifically at fiscal Q2, I see two other factors which make me believe that sales won't be that impressive:
Localization issues are delaying launch in several countries, which will reduce sales for the December-quarter.
The Xbox isn't a particularly popular search term on Google according to the below graph from Google Trends. Though it is worth pointing out that the graph could be slightly deceiving as some users are searching for "Xbox One" instead of just "

Xbox."

Adding up all of the factors, I estimate that 9M units will be sold in the December quarter, which is roughly 3M more than for the same quarter last year.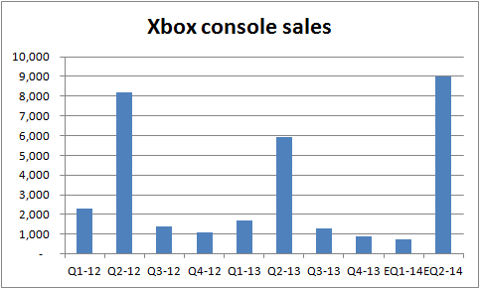 Source: Microsoft quarterly earnings reports and my own estimations.
In the below table, I have quantified the effects of my estimations. In fiscal Q2 (the December quarter), I expect an operating profit of $831M which is quite a bit above last year's result of $246M.
Also notice, how I expect gross margin and operating margin to change. In Q1 I expect a gross margin of 34% and an operating margin of -14%. In Q2 I expect a much lower gross margin of 23%, but a higher operating margin of 16%.
The logic behind the reverse correlation is actually quite simple. Sales of Xbox consoles have a lower gross margin than the average gross margin for the platform, and since I expect an increase in console sales, it will cause the average gross margins for the platform to decline. However, as operating expenses aren't particularly affected by the increased sales, the ratio of OPEX to revenue will also decline, which increases the operating margin.

Final remarks
I believe that it is quite important for (potential) investors of Microsoft to understand how the Xbox business impacts earnings. Previously it didn't really impact earnings noticeably if the Xbox 360 had a great or a medium quarter. However, since the gross margin of the Xbox One + Kinect combo is positive, it is likely that Microsoft's short-term earnings will be positively effected by the launch.
I am, however, a bit more concerned for Microsoft over the longer haul. The consequence of a higher gross margin is unfortunately that the PS4 will outsell the Xbox One. That will reduce earnings from Xbox Live and royalties from game publishers. Thus, if Microsoft wants to succeed with the Xbox over the longer haul it either needs to sacrifice some of the profitability (by reducing price) or find better ways to monetize the platform.
Disclosure: I have no positions in any stocks mentioned, and no plans to initiate any positions within the next 72 hours. I wrote this article myself, and it expresses my own opinions. I am not receiving compensation for it (other than from Seeking Alpha). I have no business relationship with any company whose stock is mentioned in this article.