On Wednesday, October 16, Lockheed Martin (NYSE:LMT) announced that it would be laying-off 600 employees in its Mission Systems and Training Division this month. The plan is not linked to the government shutdown, but instead stems from a lackluster business environment. In the wake of Wednesday's announcement, I wanted to highlight a number of the reasons why I still remain bullish on shares of Lockheed Martin.
#1 - Recapping The Planned Cuts By Lockheed Martin
On Wednesday, Lockheed Martin became the latest weapons maker in recent months to announce a series of layoffs, saying it would let go of 600 workers in its Mission Systems and Training Division later this month. The company said it would provide details by November 6 about which of its 100 locations around the country would be affected. Most of the affected workers would leave their jobs by late November. "This action is necessary to address continuing challenges in our business environment, including continued uncertain program funding, delays in contract awards and an extremely competitive market," company spokesman, Keith Little, said in a statement.
Lockheed has already cut its workforce by over 30,000 employees since 2008 and consolidated facilities as it braced for tighter military budgets. A company spokeswoman said the workforce now totaled 116,000. Although such cuts play a key role in the overall reduction of annual spending, many investors, including myself, understand how important these cuts are when it comes to such variables as earnings growth.
#2 - Recent Performance & Trend Status
On Wednesday shares of LMT, which currently possess a market cap of $41.02 billion, a beta of 0.88, a forward P/E ratio of 13.13, and a current dividend yield of 4.16% ($5.32), settled at a price of $127.86/share.
Based on their closing price of $127.86/share, shares of LMT are trading 1.01% above their 20-day simple moving average, 2.43% above their 50-day simple moving average, and 22.32% above their 200-day simple moving average. These numbers indicate a short-term, mid-term, and long-term uptrend for the stock which generally translates into a moderate buying mode for both near-term traders and long-term investors.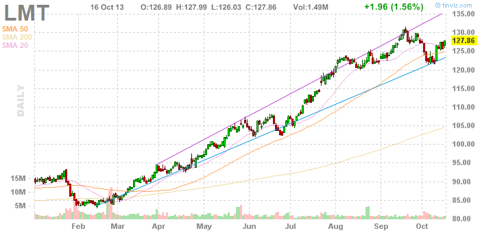 #3- Recent Dividend Behavior
Since August 30, 2011 the company has actually increased its annual dividend three times in the last 24 months. The company's forward dividend of $5.32 makes this particular aerospace play a highly considerable option, especially for those who may be in the market for a higher-yielding stream of quarterly income.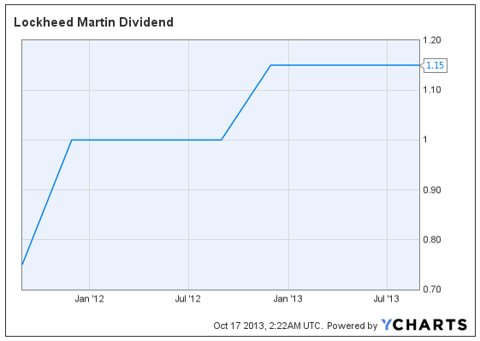 A Few Risks To Consider
Are there any risks that are associated with a long-term income-driven investment in Lockheed Martin? Clearly there are risks associated with any investment, but when it comes to establishing a position in LMT I'd look toward a two risks my fellow Seeking Alpha colleague, Dividends4Life, recently noted which are cause for concern.
The company's continued increase in both its free cash flow payout (73% up from 62% in February 2013) and high debt to total capital (90% up from 75% in February 2013).
If these numbers continue to demonstrate significant increases, there's a chance Lockheed Martin may find it hard to maintain its continued annual dividend payouts as has been the case over the last several years.
Conclusion
For those of you who may be considering a position in Lockheed, I'd keep a watchful eye on a number of catalysts over the next 12-24 months as each could play a role in the partnership's long-term growth. For example, near-term investors should focus on the company's recent trend status and long-term investors should pay close attention to any growth related to the company's cost-cutting efforts.
Although I reiterated my colleague's position that increased cash flow payouts and a high debt to total capital ratio could play a factor in the company's dividend behavior, I don't foresee Lockheed Martin significantly cutting its dividend in the next 12-18 months.
Disclosure: I am long LMT. I wrote this article myself, and it expresses my own opinions. I am not receiving compensation for it (other than from Seeking Alpha). I have no business relationship with any company whose stock is mentioned in this article.