A few weeks ago, I highlighted how Dennis Gartman of the well-known Gartman Letter had reversed himself on the prospects for gold, but as his position on the yellow commodity gets more negative, investors need to look at the overall structure of the market before allocating resources. With Deputy Janet Yellen as the probable replacement for Ben Bernanke as Chairman of the Federal Reserves, most pundits realize that easy money is here to stay. Still, Friday's sell-off puts some critical support levels squarely in the bullseye of bears, meaning that deciphering the swirling forces is the only way to get a clear picture on where gold may go from here.
Gartman's Take
Even prior to the news that the debt ceiling has been raised and the federal government was once again open for business, Gartman recommended that investors focus on steel stocks - think U.S. Steel (NYSE:X) and Nucor (NYSE:NUE) - rather than gold: "It's acting rather, how shall we say? This is a very sophisticated economic term-'crappy.' It looks awful on the charts, and it's just not doing what it should be doing." Last Friday, he explained that "Fridays have tended in recent weeks and months to be days when the long-standing bulls finally chose to give up and when the bears choose again to show their strength." Gartman made his Friday observation prior to the significant sell-off witnessed in the gold market on October 11, 2013.
The Federal Reserve
The succession of Janet Yellen to Chair of the Federal Reserve can nearly be taken as a given at this point, meaning that easy money policy is not likely to disappear any time soon. While inflation has remained out of the headline statistics reported by the U.S Bureau of Labor and Statistics, it is only reasonable to believe that if the Fed keeps pumping $85 billion per month into the economy, inflation is an eventuality. Any sign of inflation is likely to support gold trading higher.
On the other hand, the tapering that has been well covered in the media - and was almost certainly put on hold during the debt crisis - may begin to be discussed again in the next few weeks. Confidence that the plan would shelved had lent some price support to gold prices, so if chatter resumes, the deterioration of this support will further benefit the bears. When coupled with the technical factors (below), the picture for gold does look bad for the immediate term.
The Longer Term Outlook
While the technical picture for gold suggests that if the yellow commodity cannot hold the $1250 to $1245 range, it will rapidly drop to the $1100s, longer-term forces look present, but not driving the trade today. While India has clamped down on gold imports, those restrictions and disincentives are likely to lift, bringing a major gold buyer back into the market. China is reportedly buying record amounts of gold, with no signs of slowing. And ultimately, with the U.S. inflation picture not likely to be averted forever, gold will regain its appeal at some point.
On the inflation question, it is important to remember that the economy needs inflation at this point. With concerns over potential deflation, and very reasonable discussion of the economy falling into a structural trap, inflation would be welcome by anyone paying attention. When that occurs, gold is going to look increasingly attractive.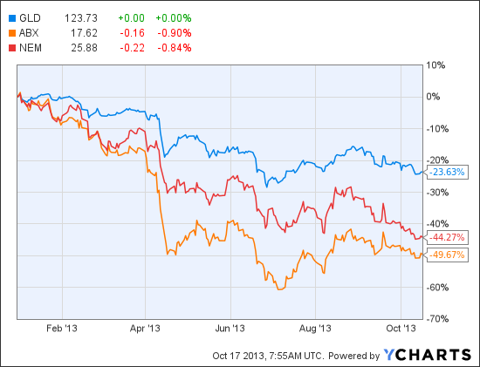 GLD data by YCharts
Ultimately then, while Gartman is right that both the chart and the asset look pretty unappealing at current levels, gold is an asset to watch because much more decline means a buying opportunity is imminent. Where gold is down over 20% this year - the SPDR Gold Trust (NYSEARCA:GLD) is down nearly 24% - some of the miners have been hit even harder. Newmont Mining (NYSE:NEM) is down roughly 45% and Barrick Gold (NYSE:ABX) is off by nearly 50%. If and when gold reverses, these stocks should benefit significantly. While it is too soon to jump in, watching gold from here should provide a great opportunity in the not too distant future.
Disclosure: I have no positions in any stocks mentioned, and no plans to initiate any positions within the next 72 hours. I wrote this article myself, and it expresses my own opinions. I am not receiving compensation for it (other than from Seeking Alpha). I have no business relationship with any company whose stock is mentioned in this article.