In the second quarter of this year, Vodafone (NASDAQ:VOD) posted a fall in revenue of 3.5% year over year. This was mainly due to the decline in revenue from its European region due to the increased competition from other players.
European decline was offset by revenue growth from emerging markets like India and South Africa, which we believe to be one of the major revenue-contributing regions in the future. Vodafone has strategized special projects aimed at penetrating these emerging markets and made an acquisition in Germany to grow its customer base and revenue flow.
Overall, these strategies support to our expectation of positive growth over the fiscal year 2013 results, in terms of revenue, by the end of this fiscal year.
Vodafone - Kabel Deutschland deal
Vodafone is all set to strengthen its operations in Germany by acquiring the largest cable company, Kabel Deutschland (OTCPK:KBDHY). Through this deal, Vodafone aims to provide multi-service entertainment through television, along with broadband and telephone services. For this takeover, Vodafone will spend around $10.3 billion. Last month, Vodafone was in confrontation with the American hedge fund manager Paul Singer, who took this deal to the German courts. The reason for this conflict was that the 69-year old investor of Kabel wasn't satisfied with the share price Vodafone offered, and as per German takeover law, if the minority shareholder doesn't find the offered price fair enough, the matter can be taken to the courts. Still, Vodafone didn't increase its bid from $118 per share, which over 76% of shareholders accepted on Oct. 10, 2013. Vodafone now has a 76.57% share holding of Kabel Deutschland, as of Mid-October this year.
Through this acquisition, Vodafone will be able to target more customers, indirectly enhancing its customer base, reduce churn rates, and offer its various services to the customers of Kabel Deutschland. Overall, Vodafone will add 32.4 million customers to its existing base. It will also be able to reduce costs, as the company won't have to rent copper lines from Deutsche Telekom (OTCQX:DTEGF), providing savings of $400 million - $680 million every year.
Given that Kabel is an over $2 billion revenue company with high margins posted in its last fiscal year, this deal will be a positive step in all ways for Vodafone.

Vodafone - Project Spring
In September this year, Vodafone announced the launch of its project spring. Through this initiative, the company aims at aggressively targeting emerging markets like South Africa and India, along with improving the network for customers in the European region. Two of the major reasons for this strategic decision are the rise of smartphone sales and growth in data usage in these regions. For this, Vodafone will be spending around $9 billion for this project over the coming three fiscal years. We expect Vodafone to continue investing in fixed-line assets, by buying them directly, through partnership, or even through renting from peer companies.
Once it initiates this strategy, Telefonica (NYSE:TEF) is expected to feel the heat in the European region, especially Telekom Italia in Italy. Vodafone will be concentrating on speeding up its 4G network technology in Italy. The cash richness post the Verizon deal, has provided a competitive edge to Vodafone over these companies. On the other side, Telefonica, and Telekom Italia, both are highly debt-ridden companies. Therefore, such a massive campaign would be extremely difficult for them.
Vodafone hasn't yet disclosed the revenue growth expectation from these regions as a result project spring. However, we believe this will definitely provide a boost, in terms of competitive advantage, leading to customer base growth and revenue growth.
Peer comparison
In order to understand the competitiveness of Vodafone's valuation, we will be comparing it with other major telecommunication giants like Verizon (VZ), and AT&T (T). First, we will consider price-to-book ratio to find out the companies' valuation standpoint. The trailing 12-month price-to-book ratio of Vodafone, Verizon and AT&T are 1.5 times, 3.96 times and 2.12 times respectively. The industry average for this ratio is 2 times. This shows that Vodafone is undervalued, while Verizon and AT&T are overvalued stocks. This can be proven as Vodafone has the lowest return on assets comparatively at 2.43%, while Verizon and AT&T have return on assets of 4.42% and 2.82%.
Next, we will consider price-to-sales ratio. The industry average of this ratio stands at 1.2 times, while Vodafone, Verizon and AT&T posted 2.5 times, 1.1 times and 1.5 times respectively, on the trailing 12-month basis. This has totally changed the scenario, making Vodafone highly overvalued, followed by AT&T, while Verizon is the only undervalued stock of the three. With the improvement expected in the revenue numbers, we believe these valuations will change to show a positive outlook by the coming fiscal year.
Dividend intensity
The U.S. telecommunication industry is highly impacted by changes in the cash distribution strategies applied by the companies. Looking at the stock price history of these companies, it is found that any change in dividend price, directly impacts its stock price. That's why this industry has always been followed by income investors. All three companies discussed here are regular dividend distributors. The dividend yields of Vodafone, Verizon and AT&T are 5.80%, 4.50% and 5.30% respectively. Verizon has the worst figure; it's even lower than the industry standards, since the average dividend yield prevailing in this industry is 5.1%.
Vodafone's investors are expected to benefit the most in the near term. Post the Verizon deal last month, Vodafone decided to distribute 71% of the sale proceedings to shareholders, nearly $84 billion. These include 30% in cash, most likely in the form of dividends, and the rest will be in the form of Verizon shares. Overall, we believe income investors should consider Vodafone as a part of their portfolio, based on the future fundamentals, and its cash distribution strategies.
Buy is the word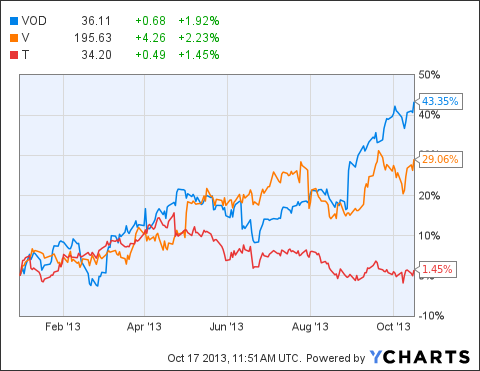 VOD data by YCharts
On the year-to-date basis, Vodafone's stock price has experienced growth of over 43%, which is higher than the S&P 500's growth of about 22%. It is even higher than Verizon and AT&T, which posted 29% and 1.45% respectively in the same period.
Post the Verizon deal, the huge cash infusion will aid Vodafone in growing at a much faster pace. In addition, investors can expect a similar dividend distribution pattern in the coming quarters as well. Based on the above discussed fundamentals, we expect the company to continue this ongoing stock price growth, along with timely cash distribution, in the coming quarters.
Disclosure: I have no positions in any stocks mentioned, and no plans to initiate any positions within the next 72 hours. I wrote this article myself, and it expresses my own opinions. I am not receiving compensation for it (other than from Seeking Alpha). I have no business relationship with any company whose stock is mentioned in this article.
Additional disclosure: Fusion Research is a team of equity analysts. This article was written by Rohit Gupta, one of our research analysts. We did not receive compensation for this article (other than from Seeking Alpha), and we have no business relationship with any company whose stock is mentioned in this article.