Question: What is more fun than being right and making a profit in the stock market?
Answer: Bring wrong and making a profit in the stock market.
In my analysis of ETF behavior and inferences about the budget stalemate ( http://seekingalpha.com/article/1734592-let-markets-tell-you-the-fate-of-the-budget-impasse-and-even-the-taper) , I argued the iShares Dow Jones US Medical Devices ETF (NYSEARCA:IHI) was breaking through to new highs because eliminating the 2.5% medical device sales tax was an essential part of the compromise, supported by both sides.
What are we to make of the 1.61% increase in IHI today (handily beating the 1.4% gain in the S&P500) even though the budget agreement did not include device tax relief?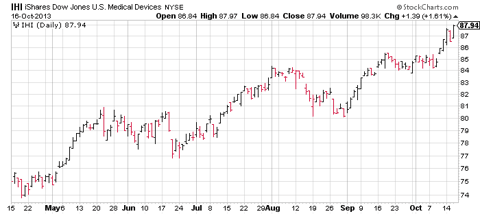 source: stockcharts.com
One obvious but slimy argument would be to say that perhaps the tax will be slashed later and markets know this. I doubt it.
On the other hand, I can salvage some face by pointing out that the Health Care Select Spyder (NYSEARCA:XLV) gained even more (2.0%!) on a day when, often overlooked, the sequester has survived intact.
Government spending is set to decrease for the second year in a row for the first time since the Korean War (back in the 1950s, for you millennials!). Such frugality on the part of our Federal Government is one reason why the deficit has shrunk so radically over the last two years.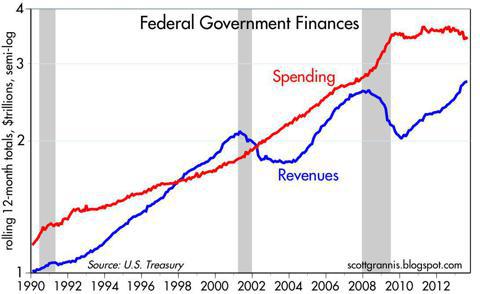 source: Scottgrannis.blogspot.com
Putting these several pieces of information together, we are perhaps better off to update our inferences:
the budget resolution will be incredibly bullish for stocks.
defeat of Republican efforts to "Defund Obamacare" appears to be very bullish for the medical sector in particular.
the continued fiscal tightness on the part of Congress does not scare the market one bit.
One thing investors should hope to see soon is better breadth: the recent advance has been more narrow than some of the rallies earlier this summer: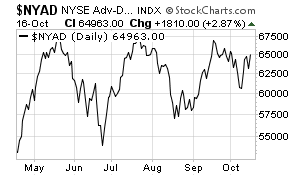 This is a red flag for investors to keep an eye on. For now, the market looks strong enough to make new highs.
Disclosure: I am long XLV, IHI. I wrote this article myself, and it expresses my own opinions. I am not receiving compensation for it (other than from Seeking Alpha). I have no business relationship with any company whose stock is mentioned in this article.
Additional disclosure: A quick reference to how market action can be used to infer outcomes, with a humorous twist.