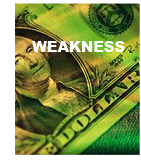 Debt Ceiling And The Dollar
Early in Thursday's session, one of the primary drivers in the global equity markets came from the currency pits. The U.S. Dollar Index (NYSEARCA:UUP) was having a rough time after politicians kicked the can down the road again relative to addressing U.S. debt. From CNBC/Yahoo:
U.S. politicians may have side-stepped a debt default at the 11th eleventh hour on Wednesday, but currency analysts have told CNBC that the dollar's status as a reserve currency will suffer long-term damage from the impasse. "I think it's part of the demise of the dollar as an international reserve currency," Chris Watling, CEO of Longview Economics, said of the U.S. government's political impasse. Alasdair MacLeod, head of research at GoldMoney Foundation, agreed saying the dollar's credibility has taken a "very, very bad hit".
Capital Flows And The Dollar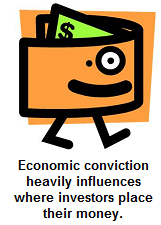 Investors of all sizes, from hedge funds to the local stock club, reveal their economic convictions with their wallets. Relative demand (buying conviction vs. selling conviction) ultimately sets asset prices. Common sense tells us when the demand for stocks is greater than the demand for bonds, the aggregate economic outlook of all market participants is "net bullish". Conversely, when the demand for conservative bonds is greater than the demand for growth-oriented stocks, the aggregate economic outlook of all market participants is "net bearish". Stocks go up under net-bullish conditions. Stock go down under net-bearish conditions.
What Is Relative Investor Demand Telling Us Now?
The answers are fairly obvious based on how investors have been voting with their wallets:
They favor stocks over bonds.
They are not that concerned about inflation.
They are concerned about debt and the dollar.
Consequently, they have been diversifying into foreign assets.
How did we arrive at those conclusions? The table below shows ETFs that have been in greater demand vs. the S&P 500. Said another way, the ETFs below have established bullish weekly trends relative to the S&P 500. The table below has a second screen; the ETF had to be outperforming the S&P 500 this week (as of Wednesday's close). Experienced traders and investors know that "risk-off" environments are not led by economically-sensitive sectors, such as energy (NYSEARCA:XLE), financials (NYSEARCA:XLF), retail (NYSEARCA:XRT), technology (NASDAQ:QQQ), and high beta stocks (NYSEARCA:SPHB). The table speaks for itself.

Debt Disruption Means Taper Later
The ETF table above and the one below show investors are migrating to "weak dollar" assets, such as emerging markets (NYSEARCA:EEM) and foreign stocks (NYSEARCA:EFA). That migration is due in part to the economic disruption caused by our elected officials. From Bloomberg:
Congress acted the day before U.S. borrowing authority was scheduled to lapse as lawmakers engaged in their fourth round of fiscal brinkmanship in less than three years. Lawmakers didn't resolve any of their long-term divides on fiscal policy and will have to return to the same issues over the next four months. "Because of the disruption, because of the uncertainty, what's likely to happen is a slower pace of tapering," Russ Koesterich, the chief investment strategist at BlackRock in New York, said in an interview on Bloomberg Television. BlackRock is the world's largest money manager with $4.1 trillion of assets.
Tier Two - Bullish, But A Little More Hesitant
In this table the longer-term bias (last few weeks) has been bullish, but unlike Tier I, the short-term bias (last 3 days) has been bearish relative to the S&P 500. The big picture economic bias in the table below is bullish. When small caps (NYSEARCA:IWM) and mid caps (NYSEARCA:MDY) are attracting more interest than the broader S&P 500 Index (intermediate-term demand), it tells us investors are confident in the future earnings power of smaller (read riskier) companies.

Defensive Assets Have To Prove It
Before we consider buying defensive assets, we ask the question are they the best place to be. The table below says "no or at least not yet". ETFs in this section have established bearish weekly demand trends relative to the S&P 500. If investors were preparing for economic hardships and/or a concerning systemic event, we would expect defensive ETFs, such as consumer staples (NYSEARCA:XLP), bonds (NYSEARCA:AGG), and shorts (NYSEARCA:SH) to be in greater demand than the S&P 500. That is not what we have. The ETFs lagging the S&P 500 from a weekly demand perspective speak volumes about the aggregate battle between economic confidence and economic fear. The tepid demand for commodities aligns with low inflation expectations.

Keeping An Open Mind On Bond Front
With tapering in the "may be pushed out" category, bonds (NYSEARCA:TLT) have been attracting some attention this week. We are open to adding some fixed income to the mix, but on our investment horizon, TLT still has some work to do. The look of the chart below over the next ten days or so will tell us quite a bit in terms of the stock market's next move.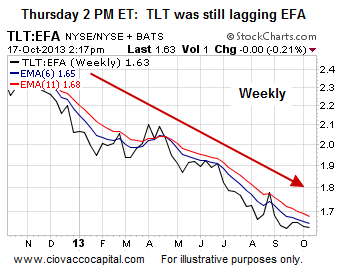 Investment Implications - Bears Need Evidence To Change
The table below summarizes the results of our examination of ETFs as of Wednesday's close. The scores are calculated by answering binary (0 or 1) questions about observable evidence related to capital flows in the markets. Binary and observable evidence speak to eliminating personal bias. We all let bias creep into our investment decisions. The market's bias, not ours, sets asset prices. The summary table meshes well with our October 11 piece which cited bullish evidence in the VIX, interest rates, and economically sensitive market sectors.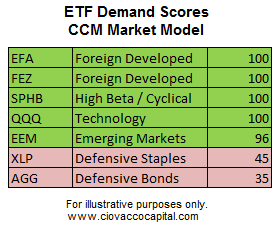 Could the tables above flip over to a bearish bias in the coming days and week? Sure they could, but we need to see evidence of waning economic conviction; something that we do not have currently. Consequently, the game plan is to stay allocated in market leaders, such as small caps , technology, financials, energy, emerging markets, and foreign stocks. When our market model detects meaningful deterioration in the aggregate tolerance for risk, we will incrementally decrease our exposure to stocks in line with the observable changes.
Disclosure: I am long SPY, IWM, MDY, QQQ, EFA, XLE, EEM. I wrote this article myself, and it expresses my own opinions. I am not receiving compensation for it (other than from Seeking Alpha). I have no business relationship with any company whose stock is mentioned in this article.