Deutsche Bank (DB), Zacks Rank No. 1 (Strong Buy), is a global universal bank. The banking sector has faced the headwinds of regulation, credit retrenchment, and slow global economic growth in recent years, but the environment looks to be improving. Positive change may be in the air. Profit estimates are working higher in the face of inexpensive valuation and a friendly technical set up.
Upward trend in earnings estimates:
Analysts have lifted their outlook for 2013 and 2014 earnings sharply over the past thirty days. The Zacks Earnings per Share Consensus has increased $0.20 to $5.99 for 2013 and $0.31 to $6.91 for 2014.
The graphic displays a changing trend in earnings estimate revisions. Estimates had been declining from the financial crisis period, but now show signs of stabilizing. The stock price has followed the trend in revisions, and the shift upward is coming at a time when the company has had years to adjust to the credit landscape, and European economic growth displays signs of improvement.
The upward revision to earnings estimates has come despite the company warning of lower debt sales and trading revenue for the quarter in a September 25 press release. DB noted that equity sales and trading had performed well and other businesses were operating in line with expectations. Given the earnings estimate revisions, it looks like any weakness in debt sales and trading is being offset by other areas of operation.
Valuation is compelling:
Measures of valuation suggest that DB is attractively valued. DB is trading at a PEG ratio of 0.62 compared to a long term median of 0.95. The market is not paying much for growth and appears to be pricing a long term weak growth outlook.
DB is priced at 7.2 times expected 12 month forward earnings. This compares to a longer term median of 9.3. Investors are cautious about growth, so the surprise could come on the upside.
DB is trading at 0.9 times tangible book value compared to a median value of 1.3. It is well above its pre Great Recession high of 2.3. The market is placing a discounted view on its assets.
Relative to some of its competitors DB looks inexpensive. For example, JP Morgan (JPM) is priced at 1.4 times tangible book, 8.7 times 12 month forward earnings, and has a PEG ratio of 1.35. Looking to Europe, Credit Suisse (CS) is priced at 1.2 times tangible book, 9.1 times 12 month forward earnings, and has a PEG ratio of 0.91.
Progression on capital building is on target:
At the end of the second quarter, Deutsche Bank's Basel 3 core Tier 1 ratio came in at 10% comfortably ahead of the company's forecast of 8.5% and above the first half 2012 level of less than 6.0%.
Technicals are constructive:
The stock has been basing in recent months and is ripe to breakout of the base to the upside on a rally over the $52.50 area. DB is also near rallying above the downward sloping trend line from the 2009 high hinting at potential trend change upward.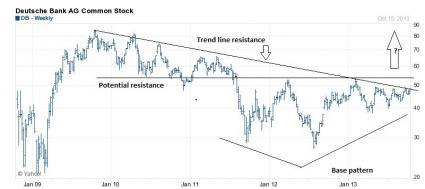 Bottom line:
Deutsche Bank offers the combination of upward earnings estimate revisions, inexpensive valuation and a favorable technical set up. Think about how it could improve the financial condition of your portfolio.
DEUTSCHE BK AG (NYSE:DB): Free Stock Analysis Report (email registration required)