As the battle over the budget rages on, pharmaceuticals giant Merck (NYSE:MRK) and German conglomerate Siemens AG (SI) announced massive job cuts targeted at reducing annual operating expenses.
Merck
On Tuesday, Merck announced a bold plan to cut $2.5 billion in annual operating expenses, with the lion's share of savings derived from marketing and R&D cuts. The firm anticipates $1 billion in cost savings by the end of 2014, with the remainder realized in 2015. 7,500 jobs have already been cut, but the firm will slash an additional 8,500 jobs in order to achieve its targeted cost savings. The restructuring is expected to result in pre-tax costs of $2.5-$3 billion, though only two-thirds of the cuts will result in cash outlays. The move also includes the decision to move Merck's headquarters and consolidate its disparate campuses.
The cost savings are likely to boost the firm's earnings profile, but Merck also seems optimistic about being able to better fund growth areas rather than having costs tied up in low-growth businesses. The new cost-cutting plan will marginally boost our fair value estimate (all else equal), but we think shares continue to look fairly valued at present levels. We are, however, big fans of its 3.5% annual dividend yield.
Siemens AG
Siemens' new CEO Joe Kaeser announced the firm would slash 4% of its 370,000 person workforce (15,000 people). The restructuring will save Siemens $8.5 billion (6.3 billion euros) over the next two years and put the firm in the direction of hitting its desired 12% operating margin, which it recently announced it would fail to meet in 2014. Although the firm's sub-8% operating margin through the first nine months of 2013 falls short of the 11% mark of rival GE (NYSE:GE), share performance of the two industrial powerhouses has been similar year-to-date.
Fitch recently downgraded Siemens' debt due to "insufficient progress" with respect to restructuring savings, but the firm's 'A' rating is solid and investment grade, and we certainly have no qualms with the pace of order expansion and book-to-bill numbers thus far at the firm through 2013 (first image below). The German conglomerate's recent ROCE (return on capital employed) and free cash flow marks are also strong (second image below).

Image Source: SI 3Q Interim Report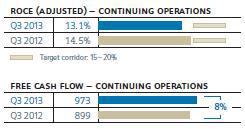 Image Source: SI 3Q Interim Report
We're optimistic Kaeser will be able to push the company towards achieving the firm's operating-margin goals, particularly if the European macroeconomic picture continues to improve. We'll be monitoring progress closely.
As with Merck, Siemens boasts a solid dividend yield (*), but shares are trading slightly above our median fair value estimate. We don't plan to add the company to the portfolio of our Dividend Growth Newsletter at this time.
(*) At the Annual Shareholders' Meeting on January 23, 2013, the Company's shareholders resolved on the appropriation of net income of Siemens AG, approving and authorizing a dividend of €3.00 per share, representing a €2.5 billion dividend payment. (Source: SI 3Q Interim Report)
Disclosure: I have no positions in any stocks mentioned, and no plans to initiate any positions within the next 72 hours. I wrote this article myself, and it expresses my own opinions. I am not receiving compensation for it (other than from Seeking Alpha). I have no business relationship with any company whose stock is mentioned in this article.