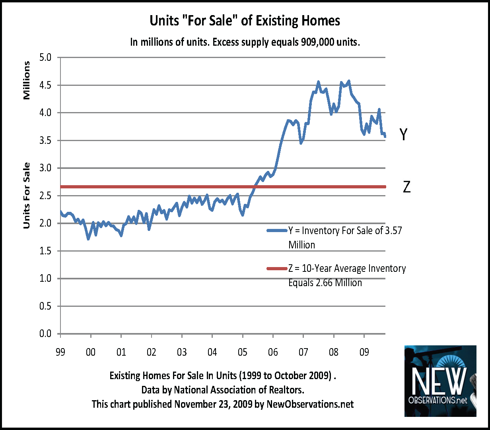 Inventory of single-family homes fell 136,000 units in October, but they remain oversupplied by 913,000 units when compared to the long-run average.
The total of existing units for sale equals 3.57 million, according to the National Association of Realtors (NAR) in its release yesterday of October data. The long-run average is 2.66 million.
The inventory fell by 3.67% from September to October. At that pace of reduction it will take 7 months to restore inventory to its average.
"Many buyers have been rushing to beat the deadline for the first-time buyer tax credit that was scheduled to expire at the end of this month, and similarly robust sales may be occurring in November," said NAR chief economist Lawrence Yun, in a release titled "Existing-Home Sales Record Another Big Gain, Inventories Continue to Shrink."
The association reported that supplies equal 7 months of sales at the current pace, which is 1.2 months greater than the long-run average.