eBay Inc (NASDAQ:EBAY) owns the payment processor PayPal. Currently PayPal is the leading e-wallet with 137 million active accounts in 193 markets and 26 currencies around the world. PayPal enables global commerce, processing almost 8 million payments every day. PayPal expects to process $20 billion in mobile payments in 2013.
PayPal, with its 137 million users, has dominated online payment services for about a decade now. Its growth has moderated in recent years, partly as a result of increased competition on mobile devices from smaller but nimbler rivals.
In response PayPal bought mobile app developer Duff Research in March to add to its technology expertise. Just recently eBay acquired the payment gateway Braintree for $800 million in cash.
Braintree is now seeing $12 billion in payments annually, with over $4 billion of that on mobile. The service is used by a number of start-ups and tech companies, including Airbnb, Fab, LivingSocial, Uber, Twilio, GitHub and others.
Braintree operates Venmo, a mobile payments solution the company bought last year for $26.2 million. Venmo allows people to pay and send money to each other for free.
Research firm IDC had last year forecast that worldwide purchases over mobile devices would exceed $1 trillion by 2017.
The company has also been expanding into the much larger offline market, working on ways to convince customers to pay through PayPal accounts instead of credit cards or debit cards.
This chart by comScore gives an idea of the strength of the PayPal brand:
Consumer Awareness and Usage of Digital Wallet Offerings
November 2012
Source: comScore Digital Wallet Road Map 2013
Digital Wallet
Percentage of Total Respondents Aware of Digital Wallet
Percentage of Total Respondents Who Used the Digital Wallet
PayPal
72%
48%
Google Wallet
41%
8%
MasterCard PayPass Wallet
13%
3%
Square Wallet
8%
2%
V.me by Visa
8%
2%
ISIS
6%
1%
Lemon Wallet
5%
1%
LevelUp
5%
2%
Leveraging First Mover Advantage
PayPal thanks its large market share to an early entry onto the scene and its partnership with eBay. The first to market or first mover advantage is not something I value very highly. By itself it does very little for a company and it can even be turned into a disadvantage.
When you are first to market after large capital investments and a year later the competition comes to market with the same product but a more efficient production facility: you are screwed.
The first mover advantage is often mistaken for a competitive advantage because it sometimes results in one. Or the company that is first to market also enjoys a real competitive advantage.
For example sometimes the first to market advantage allows a company to set up a real sustainable competitive advantage like: economy of scale, network effect or customer captivity.
I have no illusions of PayPal owning any proprietary technology or software that can't be matched by incumbents. The company will not keep the lead by investing in superior technology. Though it needs adequate technology for sure.
It does have the strongest brand in online payments right now, but that isn't a competitive advantage by itself. However payment processing allows a company to secure two real competitive advantages: network effect and customer captivity.
A payment processor needs a critical mass of merchants to accept it. One of the most important features of a e-wallet is that it must be widely accepted. It works exactly the same way as a credit card. Who is going to sign up with a credit card that's not accepted anywhere? This will also be true of mobile payment apps. Who is going to use a mobile payment app that doesn't work anywhere? No one, that's why this critical mass is really important.
The second is customer captivity. Once you commit to one e-wallet you usually stick with it. I've used several e-wallets myself but I operated only one at a time. It's annoying to have your funds spread everywhere. And you don't want to learn a new interface just so you can pay. In addition some people want their payment history in one place. A large market share by an early dominant party can result in long-term customer captivity. If you already use the PayPal e-wallet for online shopping, you are more likely to use their app for mobile payment as well.
That's why eBay's PayPal unit is very well positioned right now.
Valuation
Earnings per share of only $2 are not very impressive when you have to shell out over $50 to get it. Even after the recent pullback you have to pay up to get access to its modest current cash flow.
However the company has $8 in cash per share on the balance sheet, which amounts to $10.4 billion. Total debt stands at just $4.53 billion.
When you buy shares a significant amount is made up of cash. That puts the relationship between share price and earnings in a slightly better perspective.
Now add to that eBay's track record of achieving growth and the $2 in earnings per share are starting to look a lot better. The company managed to grow net income with an average of 26% per year over the past 10 years. That included some pretty tough years.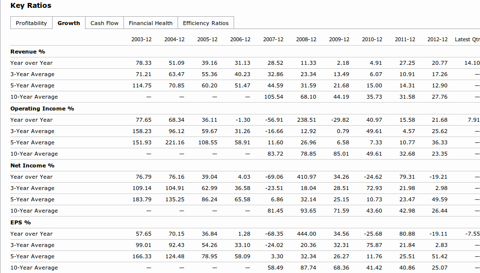 Data: Morningstar
Conclusion
Earlier this year I recommended eBay in my article PayPal and GSI are eBay's Trump Cards. The recent pullback to $51.58 makes eBay an attractive buy again. All parts of the company have interesting growth prospects but PayPal is what makes it a really exciting investment.
PayPal is well positioned to become one of the important mobile payment processors. A market estimated to be $1 trillion in size in 2017.
If the company were to spin off the PayPal unit that could unlock some shareholder value right away. However there are no indications the company plans to do so.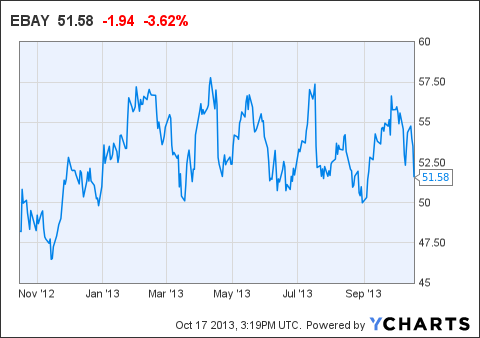 EBAY data by YCharts
Disclosure: I have no positions in any stocks mentioned, and no plans to initiate any positions within the next 72 hours. I wrote this article myself, and it expresses my own opinions. I am not receiving compensation for it (other than from Seeking Alpha). I have no business relationship with any company whose stock is mentioned in this article.