By Brian Nelson, CFA
On Thursday, Verizon (NYSE:VZ) reported better than expected top- and bottom-line performance in its third quarter, which showed impressive subscriber additions and healthy iPhone 5 sales. We continue to evaluate Verizon for addition to the portfolio of our Dividend Growth Newsletter, though we note its pursuit of Verizon Wireless has complicated matters quite a bit (given the outsize debt load it will take on). We'd like to see how the financials shake-out post-transaction, as there are quite a few moving parts that will negatively impact the firm's Valuentum Dividend Cushion score (and potentially challenge its investment-grade rating).
Verizon added 1.1 million net retail wireless connections and 927,000 net retail postpaid connections in the period, leading to quarter-end marks of 101.2 million total retail connections and 95.2 million total retail postpaid connections. Wireless service revenue advanced 8.4%, and the company's wireless operating and EBITDA margins were wonderful, coming in at 22.8% and 51.1% in the period, respectively. The firm noted that Apple's (NASDAQ:AAPL) iPhone accounted for 51% of activations in the period (up from 43% in the second quarter and 46% in the year-ago period), suggesting the smartphone maker is picking up share in the US market. The firm's wireline business saw a 1% drop in total revenue, though segment EBITDA did nudge higher from the same quarter last year. All-in, Verizon's consolidated revenue advanced 4.4%, driving adjusted earnings per share to $0.77, roughly a 20% increase compared with adjusted earnings per share of $0.64 in the prior-year period.
Valuentum's Take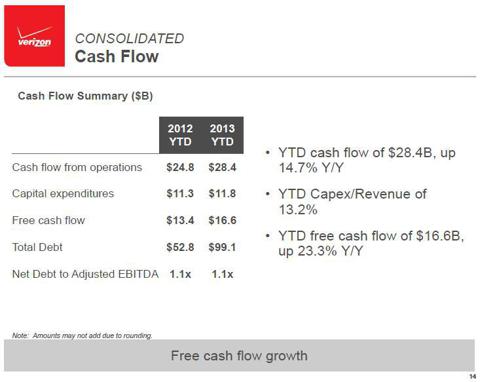 Image Source: Verizon
Verizon cash-flow metrics are absolutely phenomenal (at present) - one of the reasons that turned our heads with respect to the firm's dividend growth promise. However, Verizon will be taking on a massive amount of debt to fund its acquisition of 45% interest in Verizon Wireless. Though the firm anticipates a steady de-leveraging and return to pre-transaction credit ratings, $117 billion in pro forma debt is NOT small potatoes.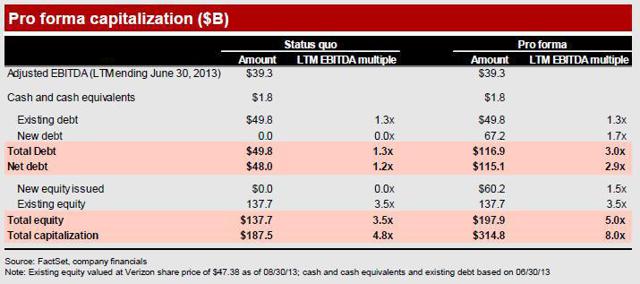 Image Source: Verizon
For example, after the transaction is completed, Verizon's debt/EBITDA (a common leverage metric used in credit analysis) will triple to roughly 3x from just over 1x. Any slip up in EBITDA that may happen as a result of execution or the occurrence of a cyclical trough more severe than "normal" could see the firm's investment-grade credit rating pulled by the rating agencies.
For example, the first column on the left (debt/EBITDA) reveals that companies at the bottom rung of investment grade (BAA) have average debt/EBITDA ratios of about 2.4. Those at the top rung of non-investment grade (junk, or a rating of Ba or below) have average debt/EBITDA ratios of 3.3. Though there are many other factors that go into rating credits, at a pro forma debt/EBITDA mark of 3x, Verizon is walking a fine line.

Image Source (pdf)
All things considered, we liked Verizon's third-quarter performance, but we're still on the sidelines with respect to adding it to the portfolio of our Dividend Growth Newsletter. If all doesn't go perfectly at Verizon, its investment-grade credit rating may be challenged at the trough of the economic cycle. We don't want to be holders of its equity if that happens.
Disclosure: I have no positions in any stocks mentioned, and no plans to initiate any positions within the next 72 hours. I wrote this article myself, and it expresses my own opinions. I am not receiving compensation for it (other than from Seeking Alpha). I have no business relationship with any company whose stock is mentioned in this article.
Additional disclosure: AAPL is included in our Best Ideas portfolio.