Eni (NYSE:E) is one of the world's oil majors, being the among the largest publicly traded integrated international oil and gas companies in the world. Currently, it offers a high-dividend yield above 6%, which is quite attractive for income investors. Moreover, with the recent rise in oil prices ENI may be able to deliver an increasing dividend over the next few months, making it a compelling high-yield investment. Eni has a market capitalization of about $88 billion, and is traded in the U.S. on the New York Stock Exchange through its ADR program with each ADR representing two ordinary shares.
Company Overview
Eni is based in Italy, but is active in 90 countries around the world with about 78,000 employees. The company operates in the sectors of oil and gas exploration and production, international gas transportation and marketing, power generation, refining and marketing, chemicals and oilfield services. The Italian state is the largest shareholder with a 30% equity stake.
Exploration and Production [E&P] is Eni's main division, being focused on finding and producing oil and gas. In 2012, it produced about 1.7 million barrels of oil equivalent [boe] per day and had about 7.2 billion boe of proved reserves. Its production increased by 7.6% during the past year, which is above the growth rates achieved by the majority of other major oil companies, such as Total (NYSE:TOT) or Exxon Mobil (NYSE:XOM). For 2013, the company expects to grow its production by more than 3%. Eni has a very good track record of new oil discoveries over the past few years. Between 2008 and 2012, Eni has discovered about 7.5 billion boe, with 3.6 billion boe being discovered in the last year. These discoveries should enable Eni to deliver organic growth over the medium- to long-term above the industry's average. Eni expects to grow its production by 4% on average over the next four years, at stable oil prices.
Eni has also gas and power, and refining and marketing activities but these two segments' contribution to the company's operating profit is negligible. Compared to other integrated oil companies, Eni's downstream operations are relatively small and aren't profitable despite its leading position in the Italian fuel retail market. Eni's strategy is to cut costs and enhance margins to return to profitability.
In 2012, Eni's net sales from continuing operations amounted to $171 billion, an increase of 18% from the previous year. Its EBITDA stood at $39.5 billion, representing an EBITDA margin of 23%. These results were driven by good performance reported by the E&P business segment on the back of a recovery in Libyan production. Eni reported net profit at $10.6 billion including Eni's share of Snam (OTCPK:SNMRY) results. Its earnings-per-share [EPS] increased by 14% to $2.92. Eni has sold during the past year the majority of its stake in Snam, an Italian electric utility, that was therefore de-consolidated from Eni's accounts. Net profit of continuing operations amounted to $5.7 billion, which excludes Snam's contribution to Group results, reclassified as discontinued operations following the ownership unbundling finalized in October 2012. Adjusted net profit, which excludes special items, was $9.7 billion, up by 2.7% from a year ago.
Dividends
Eni's dividend history is relatively good, despite its dividend cut in 2009. Like many of its peers, Eni had to cut dividends to protect its credit rating following the global financial crisis of 2008-09 and the huge drop in oil prices. Since then, it has increased its dividend two times but still remains below the 2008 level. In 2012, it paid a €1.08 ($1.47) dividend per share [DPS], an increase of 3.8% from the previous year. Eni's dividend payout ratio has been low over the past few years with 2009 being the exception, when earnings decreased significantly leading to a 82% payout ratio. In 2012, the dividend payout ratio was only 50%, which is low for a mature company like Eni, and gives the company plenty of room to deliver a growing dividend over the next few years. For 2013, Eni expects to increase its dividend by 2% to €1.10 ($1.49) per share. Moreover, the company has approved a share buyback program of up to 10% of its capital that is expected to be activated in the short term, increasing even further its shareholders' remuneration.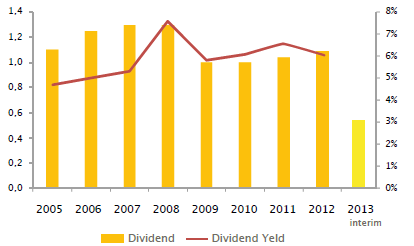 Cash flow generated by operating activities from continuing operations amounted to $16.8 billion, which were practically enough to finance capital expenditures of $17 billion. However, as the company did not generate free cash flow before dividends, it resorted to asset sales to finance dividend payments to shareholders of $5.2 billion. In the previous years the company's free cash flow was also negative due to high levels of investments, a trend that should continue for the next 2-3 years given that Eni expects cash flow from operations to increase more rapidly than capex over the next four years, and be free cash flow positive after dividends without asset disposals in 2015 or 2016.
Despite Eni's free cash flow being virtually zero in the past year, the company was able to deleverage significantly its balance sheet, through asset disposals. Eni's financial structure was strengthened by asset divestments amounting to approximately $9 billion, mainly relating to the sale of significant stakes in Snam and Galp Energia (OTCPK:GLPEY), and by the de-consolidation of Snam's financial debt of $17 billion. In 2012, its net debt decreased by 44% to $21 billion, from almost $38 billion at the end of the previous year. Eni still holds 8% of Snam and 16% of Galp, and is expected to sell its remaining stakes over the coming months.
At the end of the second quarter of 2013, Eni's net debt was $22.2 billion and its net-debt-to-EBITDA ratio was only 0.56x, showing how strong the company's balance sheet is following its asset sales. This strong balance sheet is clearly supportive for the company's dividend policy, despite its negative free cash flow generation expected over the next few years. Moreover, including proceeds from the recently announced disposal in Mozambique, Eni's net debt would decline by $4.7 billion strengthening even further its balance sheet.
Conclusion
Eni offers a very high dividend yield above 6%, which compares very well with other major integrated oil companies. It has good growth prospects that should result in a growing dividend over the next few years. The company's strong balance sheet and asset disposal program gives investors further assurance of Eni's dividend sustainability over the long term.
Disclosure: I have no positions in any stocks mentioned, and no plans to initiate any positions within the next 72 hours. I wrote this article myself, and it expresses my own opinions. I am not receiving compensation for it (other than from Seeking Alpha). I have no business relationship with any company whose stock is mentioned in this article.