Liberty All-Star Equity (NYSE:USA) is a closed end fund that uses a multi-manager approach. It is attractively priced and currently sells at a discount to NAV of 19%. The fund manages around $900 million that is divided up between the following five managers:
Matrix Asset Advisors, Inc.: David A. Katz, CFA
Pzena Investment Management, LLC: Antonio DeSpirito III
Schneider Capital Management: Arnold C. Schneider III, CFA
Chase Investment Counsel Corp.: David B. Scott, CFA, CIC
TCW Investment Management Company: Craig C. Blum, CFA
The fund has a fairly large portfolio that is not overly concentrated. As of the last month-end, the top 20 holdings comprised only 29% of the equity portfolio. Here are the top ten holdings as of the last report: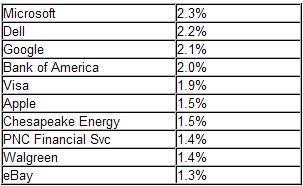 Here are some other bullet points on USA:
Reasonable expense ratio for a fund-of-fund arrangement: 1.01%.
The portfolio turnover ratio of 87% is a little higher than I like to see, but it is understandable since there are five different asset managers. On the positive side, the top holdings are highly liquid large cap stocks, so the "hidden" trading costs caused by the bid-asked spread and adverse market impact are low.
Decent, but not outstanding long term performance: USA had excellent performance in 2003 and 2004 when it ranked in the top 1% of large cap funds, but it has under-performed somewhat since 2006. Its 10-year performance puts it in the 50th percentile or right in the middle of the pack. I see it more as a reversion to the mean investment. In other words, I would consider a sale if the discount to NAV shrunk to 10% or less.
The fund uses a managed distribution plan where they pay out about 6% of its NAV each year (or 1.5% per quarter). The distributions are unrelated to the net investment income or net realized capital gains. If the total distributions exceed the Fund's net investment income and net realized capital gains, the excess is generally treated as non-taxable return of capital.
Liberty All-Star Equity pays quarterly
Total Assets: $897MM
Annual Distribution (Market) Rate: 8.15% Income Only Yield: 1.05%
Fund Expense ratio: 1.01% Discount to NAV:-19.00%
Portfolio Turnover rate: 87%
Full Disclosure: Long USA in an IRA account