Confirmed by the most recent earnings release and conference call, I suspect Intel (NASDAQ:INTC) stock remains stuck in neutral, at least for the near-term. Bland business metrics and no ready catalysts signify nothing better than slowly bottoming prospects. Nonetheless, for the time being, I have elected to keep my long-term ownership thesis unchanged.
In this article, I will update my investment view of this stock by reviewing the following key benchmarks:
Gross Margins
Average Selling Prices (ASP)
Dividend Growth
In addition, I will analyze two specific observations and takeaways from the October 16 third quarter earnings conference call that I believe are important to the longer-term narrative.
Finally, while I see no near-term catalysts, I do notice some interesting chart patterns.
Simple Benchmarks are Good
If a stock such as Intel continues to exhibit generally sound underlying fundamentals, my approach is to regularly assess the business via a few overarching metrics that can boil down the performance of a complex enterprise into something more simple. The objective is to making a reasoned, overall judgment. In the case of Intel, determining these metrics was an iterative process based upon years of owning the stock and following conference calls, investor presentations, and S.E.C. filings.
Gross Margins
What I'm looking for: Gross Margins stabilize and reverse trend
Intel's gross margin (Revenues less COGS divided by Revenue) offers insight as to the degree of success by which Intel is managing physical facilities, manufacturing processes and materials as a function of sales volume.
Gross margins appear to be bottoming after long side. A five-year chart is found below. The graph ends at 2013 2Q. The most recent data point is the 2013 3Q margin of 62.4 percent, over a 400 basis point improvement from the second quarter.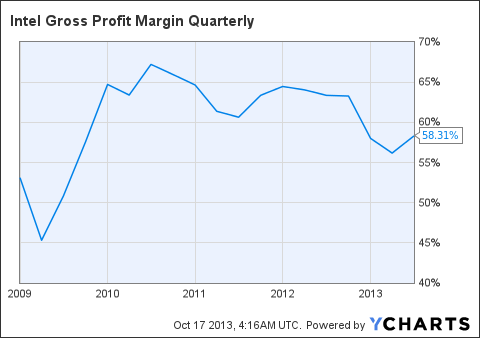 Senior management appears to have correctly called the bottom. On the April 16, 2013 first quarter conference call, CFO Stacy Smith made this forecast:
So as the gross margin improves, we expect that Q1 is the bottom. It's up a bit in Q2, and then a back half that's back into the low 60s...
Second quarter margins improved to 58 percent, following by the most recent 62 mark. A fourth quarter 60+ percent margin would further set a pattern.
Current Analysis: Neutral. Apparent margin stabilization is positive, but we have yet to see an established reversal trend. Alternatively, accelerating revenues could overshadow weaker margins. Neither confirmation is likely until sometime in 2014, at the earliest.
Average Selling Prices
What I'm looking for: ASPs cannot deteriorate without a corresponding improvement in sales
Average Selling Price offers investors a look at the inter-relationship between product prices and mix. If ASPs are falling, revenues must be increasing to offset it.
In 2013, ASPs have not deteriorated. They have improved modestly, due to product sales mix, not price increases. Here's the third quarter and YTD results, as found in the latest earnings release.


This generally good news was tempered by this comment by CEO Smith during the Q/A session of the October 16 earnings conference call:
….so as we are successful with Bay Trail, it will cause the average ASP to come down in the client group but keep in mind, we are forecasting a very robust growth rate in the data center. So you have the highest end of the Intel product family growing significantly faster than the rest.
Mr. Smith is confirming the key: ASPs may go down, but corresponding revenues must go up to compensate for it.
Current Analysis: Neutral. I continue to have confidence in Intel management. However, investors will "want proof" that the ASP/revenue picture will tip favorably. Uncertainty is not the recipe for short-term stock gains.
Dividend Growth
What I'm looking for: Leadership's confidence in the business will be reflected via dividend growth
Dividend growth is an excellent proxy for management and director long-term business optimism.
Investors have fretted over Intel directors failing to raise the dividend in over four quarters. Indeed, the final 2013 dividend declaration remained at 22.5 cents per share; the sixth in a row at that level. Some analysis is in order to better understand the underlying dynamics behind this decision.
Previously, Intel Corporation management has stated that the cash dividend target payout is 40 percent of Free Cash Flow.
Here's a table I created showing Intel Corporation FCF from 2010 to date:

Based upon management guidance provided in conjunction with the most recent earnings release, I find it difficult to project 2013 FCF/share greater than $1. Therefore, simply maintaining the current 90 cents per share annual payout has consumed significantly more than 40 percent of the company's free cash flow. I suggest it was unlikely to expect Intel's management to raise the dividend, other than a token "appeasement" increase. The board elected to not even do that.
Current Analysis: Negative. Holding the 2013 dividend payouts steady was not unexpected. A FCF analysis coupled with Intel management's dividend policy telegraphed these actions. By the same token, a reduction in the share repurchase plan may have been expected. Highly accelerated capital expenditures have utilized much of the company's recent operating cash flow. Nonetheless, these decisions will do little to excite investors and boost the share price.
Additional Observations
The third quarter earnings release and conference call offered at least two other interesting observations.
Inventory Levels
First, Intel is holding inventory levels low. For the longer-term, this is a good thing. However, comments by CFO Stacy Smith offer little hope for extra-ordinary short-term sales. Here's an excerpt from the conference call Q/A session:
Yes, I think it's a continuation, [Joe,] of what we have seen over the last four or five quarters that our customers are managing the worldwide inventory of PC supply to lean levels. I think it's a reflection of just how dynamic the industry is and in some of the markets how volatile it is, so they are keeping inventory levels low. That was true in Q2. It's true in Q3, and the expectation in Q4 is that people will continue to manage things lean. I would say for our own inventory levels, you know, we have taken $1 billion-plus out of our aggregate inventory, it was relatively flat quarter-on-quarter. Again, as I think about Q4, I think we will keep our inventory levels flat-to-down from this.
Low inventory levels forecast through year-end, coupled with "volatile" end-user demand are not a prescription for near-term sales acceleration.
The McAfee Acquisition
Lastly, while not a recent phenomenon, I continue to wonder about the value of the nearly three-year-old McAfee deal.
The $7.68 billion spent has seen almost nothing in the way of Net Operating Income. Was Intel management expecting so small a financial contribution? If so, is the McAfee acquisition expected result in direct financial contribution, strategic advantage, or both? If financial contribution was anticipated, when may investors expect to see such contribution materialize?
I posited these question to Intel Investor Relations. The answer was prompt and polite. Here's an excerpt from the written response:
The goal of the McAfee acquisition was to increase and accelerate a combination of hardware security and software security solution, thereby increasing the value of our total platform solutions....
This answer appears to indicate that the acquisition is not expected to "make money." It is expected to generate a return via pull through to other business groups. Corporate management often refers to these acquisitions as "strategic." While this may be true, I have to question the merits of paying $7.68 billion for a strategic acquisition showing little to no direct return.
The McAfee acquisition resides within the Software and Services operating segment group. This group includes the smaller Wind River purchase as well as other software and services businesses.
Here's a chart showing this group's financial performance over the past few years. The McAfee acquisition was completed at the end of February 2011:

Investment Catalysts
Not much at present. While a host of new products have been touted by the company and its supporters (current Haswell, future Broadwell, Quark, etc.), and these very well may become catalysts at some point in the future, I do not believe any are ready for prime time yet.
Likewise, I hold hope for a robust, third-party foundry business; just not today.
A Word About the Charts
While I'm a fundamental investor, I admit to being a closet technician, too.
For chart watchers, I do see several interesting patterns and studies: a potentially bullish triangle pattern has emerged on the daily chart going back to June 2013. The MACD is turning positive. The weekly chart is likewise offers a few good signals. One I watch is the Parabolic SAR, as confirmed by the Direction Movement Index (DMI). Both have turned up. The 8-week/40-week moving averages appear to be averting the dreaded "death cross," too.
Conclusion
My Intel stock investment is predicated upon single-digit earnings growth and a secure and growing dividend. Double-digit negative EPS growth in 2012 and a similar projected 2013 result have compromised reasonable expectations for near-term share price appreciation. While corporate fortunes may have reached a trough, but I see no immediate recovery or catalysts.
While I find myself in the process of actively challenging my overall investment thesis, I have no plan to sell shares yet. Forward tactics may include selling some short call options to improve what I expect to be a continued "holding pattern" into 2014.
Within a year, and absent a material change in business prospects, I may relegate INTC shares to a smaller portfolio position.
Please do your own careful due diligence before making any investment. Good luck on all your 2013 investments.
Disclosure: I am long INTC. I wrote this article myself, and it expresses my own opinions. I am not receiving compensation for it (other than from Seeking Alpha). I have no business relationship with any company whose stock is mentioned in this article.