Last week, oil drilling equipment maker Cameron International Corp. (NYSE:CAM) closed the previously announced acquisition of Texas-based fellow oilfield service provider NATCO Group for approximately $780 million, following the approval by NATCO's shareholders.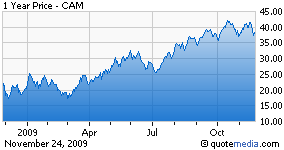 In relation to the acquisition, Cameron reached an agreement with the U.S. Department of Justice (DOJ) to divest its Edge refinery desalter business and will license, on a non-exclusive basis, NATCO's Dual Frequency electrostatic technology for refinery desalter products. This was based on the DOJ's antitrust division's view that the acquisition as originally proposed would significantly hamper U.S. refinery desalter manufacturing competition, resulting in higher prices and lower quality, service, and innovation.
Incidentally, Cameron and NATCO are the top two domestic refinery desalter suppliers. The acquiistion involved an all-stock transaction whereby, NATCO stakeholders exchanged each of their shares for 1.185 Cameron common stocks and will receive cash reflecting the value of any fractional shares. Additionally, Cameron has issued about 23.7 million shares associated with this acquisition.
The agreement was previously unanimously approved by the boards of both the companies. We believe that the NATCO acquisition will transform Houston-based Cameron into a leading supplier of separation and processing solutions worldwide as well as boost its subsea development capabilities. The new 'Cameron' will have enhanced worldwide presence, broad product offerings in both upstream and downstream markets, and additional manufacturing capabilities.
Cameron expects the transaction to add to its profitability in 2010, after adjusting for any integration costs. Cameron recently posted better-than-expected third-quarter 2009 results despite pricing pressure and reduced order flow. A healthy backlog of $5.1 billion, coupled with Cameron's strong financial health, growing international operations, and the still favorable outlook for the deepwater offshore markets should help the company weather the current downturn better than most of its peers.
However, the industry-wide slump still continues to weigh on the company's profits and the scenario is unlikely to change much during the next few quarters. Consequently, we see the stock performing in line with the broader market and rate it as Neutral.
Houston, Texas-based Cameron International Corporation, previously known as Cooper Cameron Corporation, is a leading manufacturer of pressure control equipment used in onshore, offshore, and subsea applications for oil and gas drilling, production, and transmission.