I have two thumbs up for the book "Reverse Mergers" by David N. Feldman, the second edition, published by Bloomberg. I read through this book in three days, in comparison to the three weeks for the first book I reviewed; I hope that means something.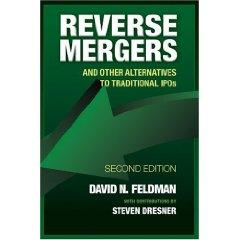 For those who don't know, a reverse merger is a technique to have companies go public without going through a formal IPO. Typically, a private company finds a public company as a shell and performs a merger, in which the shell company preserves and the private company morphs into a public company. Typically a small scale fund raising took place before, at or after the going public event.

In fact, the New York Stock Exchange (NYSE:NYX) went public this way by merging into Archipelago. Other famous examples include Texas Instruments (NYSE:TXI), Jamba Juice (NASDAQ:JMBA), Berkshire Hathaway (NYSE:BRK.A), Blockbuster (BBI) and etc. The majority of the reverse mergers are micro or small companies in recent years though, and about 200 revere mergers closed each year since 2004.

The book is written by a lawyer. Before reading this book, I did not have a good impression of anything on the legal side because those people don't really speak English from what I know. I was not expecting this book to be so free of incomprehensible jargon; the book was indeed written for people like me, who have some knowledge on business but not are sophisticated in the legal side. In many places, the author condenses his experience in one or two sentences and puts it under a "practice tip" label, making his points crystal clear.

The book is intended to be read by:
1) Company CEOs and CFOs who seeks to make the company public,
2) Professionals who advise them: lawyers, accountants, consultants, and investment bankers.

The book addresses but is not limited to the following questions:
1) Why go public?
2) What are the pro and cons of reverse mergers vs. IPOs?
3) What kind of shells are available for reverse mergers?
4) What regulations are out there governing reverse mergers?
5) What issues do you need to look out for China related reverse mergers?
6) How and when do you do financing in a reverse merger deal?
7) Why is market support important for reverse merger deals and how do you do it?
8) What caution should you have when purchasing a shell?
9) How do you avoid shareholder approval in the deal? (It is actually quite legitimate and necessary in reverse mergers)
10) What caution should you pay in due diligence?
11) How do you do self-filing?
12) What is the mechanism, history and future of SPAC, blank check companies?
13) All you need to know about Form 10 shells.
14) What is WRASP structure and how is it gaining popularity?

I do not intend to elaborate in this article on those issues that the author talked about. But if you fall into the intended audience or if you are interested in any questions I listed above, I strongly recommend that you read this book. As far as I know, this is the only book on this very special topic, and it is very informative and very well written.