Last week at this time, the S&P 500 and all ten sectors were trading in neutral territory as investors waited out the debacle in DC. With an agreement reached before the October 17th debt limit deadline, stocks have responded in a big way. As shown below, the S&P 500 and all ten sectors closed out the day in overbought territory, with the main index and Energy, Financials and Health Care at extreme levels (>2 standard deviations above the 50-day moving average). Had a deal not been reached, we would likely be talking about all ten sectors being oversold this evening instead of overbought.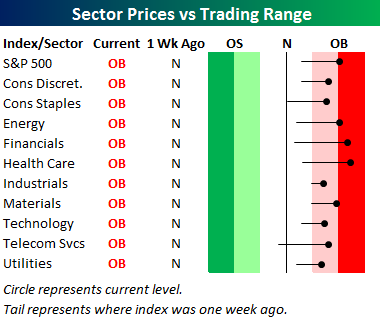 Below is a one-year trading range chart of the S&P 500. As shown, the index closed at a new one-year high today, as well as a new all-time high. And while we're overbought in the near term, this breakout is a positive formation for the long-term prospects of this bull market.
Below we have run the 30 Dow Jones Industrial Average stocks through our trading range screen. The Dow was the one index that didn't make a new high Thursday, and that's due to three of its members suffering big declines on earnings. IBM, Goldman Sachs (NYSE:GS) and UnitedHealth (NYSE:UNH) collectively cost the Dow 126 points Thursday. As shown below, IBM sticks out like a sore thumb on the oversold side, and UNH has moved into oversold territory as well. Even after Goldman's decline Thursday, though, the stock remains in neutral territory due to the rally it experienced heading into its earnings report.
While IBM, UNH and GS hurt the Dow Thursday with weak earnings reports, American Express (NYSE:AXP) delivered with its quarterly numbers and added 25 points to the index. The rally for AXP has pushed it to extreme overbought territory. Pfizer (NYSE:PFE) is another Dow stock at extreme overbought levels.
There are 75 days left in 2013, and at the moment 28 of the 30 Dow stocks are in positive territory for the year. Boeing (NYSE:BA) is up the most of any Dow stock with a YTD gain of 62.27%, while IBM has been the index's worst performer with a YTD decline of 8.73%.