"The market can stay irrational longer than you can stay solvent." -- John Maynard Keynes
Despite Advanced Micro Devices' (NYSE:AMD) return to profitability, AMD share price managed to drop around 8%, or $3.80, at the time of writing.
In this article I will dissect the financials and the negatives of the call, as well as look at the product mix coming from AMD.
Results
Overall, AMD beat expectations on both the top and the bottom line.
(click to enlarge)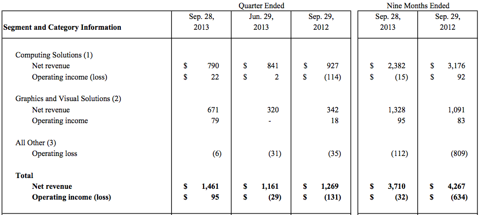 (click to enlarge)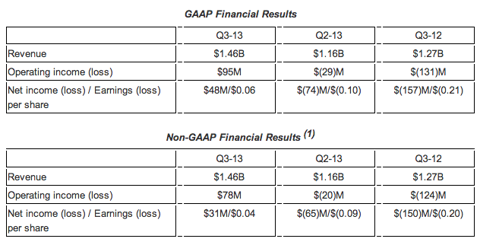 However, based on the initial share price reaction, we can see that many investors are still hesitant to believe in the turnaround play.
AMD managed the beat by growing GVS (Graphics and Visual Solutions) revenue 110% QoQ. However, it was the focus of the 6% QoQ decline in CS (Computing Solutions), along with the ~5% revenue increase outlook for Q4, that managed to send the shares sharply down; in absolutes, revenues increased by $350M for GVS, compared to a $50M decrease for CS.
Also noteworthy is that AMD actually beat their target OPEX level, coming in at ~$440M. This lower OPEX actually drove AMD's CS revenue to a higher QoQ profit of $22M in Q3 compared to $2M in Q2 in this operating segment. Even accounting for the benefit from the sell of previously written-off inventory, the profit delta between Q2 and Q3 actually increased. Subtracting the boost from the sell of this inventory, CS would have came in at a loss of $9M in Q2, compared to a profit of $3M in this quarter.
In short, despite higher revenues and higher than expected profits, the focus of the sell off seems to be the 6% decline in CS sales, stemming from lower notebook revenues.
Analyzing The Earnings Power of Semi Custom
During the previous conference call, the focus was on console margins. This was partly the reason I felt one of the main focal points of this earnings call would also revolve mainly around the console business.
The confusion seemed to stem from the departure from typical corporate average gross margins, as the business was supposed to deliver good operating margins with little overhead. However, the reaction to this new business model was entirely negative and caused the stock to trade at lower levels during Q2.
During this conference call, we see the benefit of this new model. During the Q2 conference call, Stacy Rasgon of Sanford C. Bernstein & Co. pegged console royalties based on a royalty business model between $100M and $150M annually. Using Mr. Rasgon's numbers as a base, this would yield $25M to $37.5M in quarterly operating income for the GVS reporting segment.
Comparatively, this quarter AMD posted a total operating income of ~$80M in the company's GVS segment. This becomes more significant given that from the call it sounded like both GPU volumes and ASPs were both down, partly due to the transition to the R7/R9 series of graphics cards. With revenues and ASPs of consumer class GPUs down, but overall revenues for GVS up 110% along with $79M in operating income for GVS, the earnings power of the consoles and the semi-custom business model becomes much more apparent.
Much of the focus regarding Intel (NASDAQ:INTC) seems to be on Intel breaking into tablets as a way to offset declining revenues from lower PC shipments. The market seems to be trying to shoehorn AMD into the same scenario, and writing off the fact that AMD grew revenues 26% sequentially despite lower PC shipment volumes -- rather than following the industry into mobile, AMD managed to place custom IP in a high volume, long life cycle designs, providing a steady, "sticky" revenue stream with significant earnings potential. Comparing overall results between CS and GVS segments, AMD generated much higher income in the GVS segment, and this was due solely to the consoles. And as yields improve, and a future transition to a smaller process node, AMD has the chance to further improve the earnings power through cost reduction.
The Sticking Point
The biggest negative from this call was the focus on the 6% sequential decline in CS revenues driven by lower notebook shipments. Specifically, during the call analysts pointed out that AMD had a small revenue decline, and compared this against Intel's slight shipment rise.
Analyzing this trend further, AMD actually managed to grow CS revenue 12% sequentially between Q1 and Q2, based partly on Kabini, Temash, and Richland platforms. However during Q3, AMD gave back part of the market share they had gained earlier this year. The negative focus on console earnings during the Q2 conference call was apparent based on the questioning coming from the analysts on the call. During Q3, a focal point of analysts was the continuing downtrend of the overall PC market and the possibility of losing additional PC market share going into Q4.
One thing to watch out for going into Q4 is more aggressive pricing from Intel in an attempt to continue to regain market share, as well as the launch of Bay Trail products. AMD appeared to have a strong uptake of Kabini and Temash among OEMs during Q2, with the lower revenues suggesting this uptake has slowed. AMD's next processor launch will be the Kaveri APU, which will not be available for retail until Q1 2014, so AMD will be competing with the company's current lineup throughout Q4, with Kaveri launching into the channel at the end of Q4, meaning it will likely not have a significant impact on Q4 numbers.
Interesting Points To Note Regarding The Q&A Session
There was a large focus on console margins going forward. David Wong of Wells Fargo noted that console margins came in "better than expected." Based on the comments of Dr. Su and Mr. Kumar, AMD expects console margins to improve over time. Factors for improving margins include improving yields as volumes ramp, along with an eventual transition to 20nm, yielding a cost reduction based on a smaller die size.
Regarding the console roll out, Dr. Su points out that pent up demand and a world wide roll out beginning in 2014 could offset some of the traditional seasonality of console sales, potentially leading to better than expected console sales during 1H 2014.
CLSA Securities analyst Srini Pajjuri opened an interesting line of questioning when asking about the SeaMicro and Verizon deal. Specifically, Dr. Su stated that, "Verizon was the first major data center win that we can talk about publicly." This is an interesting, and seemingly deliberate, choice of wording that potentially points to another big deal in the works. Dr. Su also sees SeaMicro as a major opportunity to grow revenue going into 2014.
Lastly, Mr. Kumar disclosed AMD is on track to meet wafer requirements from Global Foundries, and pricing for 2014 will be arranged this quarter.
The Importance Of Kaveri And The Overall Enthusiast Market
Trawling tech forums shows a lot of excitement among AMD fans for the upcoming Kaveri APU launch. AMD stated that desktop sales partially offset the revenue decline in the CS segment. A research report from Jon Peddie Research points to disconnect between the overall PC industry and gaming hardware sales.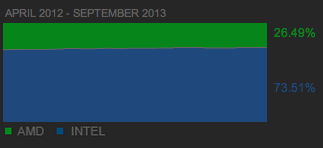 click to enlarge)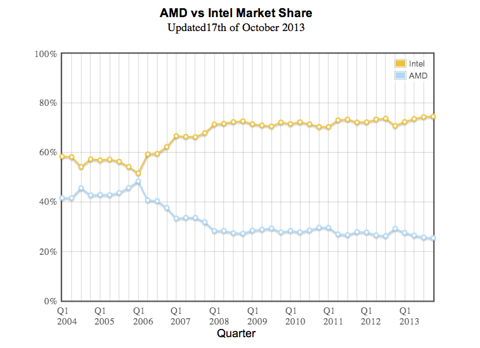 Based on survey data from Steam and PassMark, we can see that AMD has a higher than 85% market share among the enthusiast and DIY community. A point of interest on the PassMark graph occurs during 2006, which coincides with the release of Intel's Conroe chip.
This discussion may seem slightly counterintuitive, but Intel's chips are very good, which I feel are causing its chip sales to stagnate. Sandy Bridge i5's and i7's are extremely good chips -- a Sandy Bridge CPU is what I use in my gaming rig. There was only a modest increase in performance between Sandy Bridge and Ivy Bridge, and again from Ivy Bridge to Haswell. Compare this to AMD, which could actually generate a higher volume of sales provided a sufficient performance increase as some AMD fans have been holding off on upgrades while waiting for Kaveri.
To put things in perspective, consider an average retail price of around $150 for a top of the line AMD APU. Accounting for retailer markup, and to make the math simple, assume that the ASP for AMD is $100. A $50M revenue loss could be made up by 500k Kaveri APUs. An additional 500k APUs would constitute just over one half of 1% of the 81.6M unit quarterly PC market. Note this is an apple to oranges comparison, since IDC data tracks OEM shipments, but the numbers are meant to serve to put things in a relative perspective. According to the JPR research report, $50M represents about 3% of the $18B gaming hardware market.

In addition to Kaveri, AMD also has opportunity to grab additional market share in the growing gaming hardware market through increased GPU sales. Dr. Su stated during the call she expects to see market share gain during the fourth quarter, as the R7/R9 arrived a little late to the party to have much of an impact.
Also important on this front is AMD's new Mantle API. If studios adopt Mantle, this could give AMD an edge over rival Nvidia (NASDAQ:NVDA).
Much of my thesis going forward revolves around the new "Steamroller" architecture, on which Kaveri is based. The important thing for investors to note is that when AMD released "Bulldozer" architecture based chips, the company took a step back. Kaveri will make AMD more competitive among enthusiasts and gamers, in laptops once the mobile chip is released (scheduled to be sometime after the desktop chip), and Steamroller based Opterons could make AMD more competitive in the data center. If you are Intel and have the vast majority of market share in both the PC and server spaces, you are completely dependent on overall market growth in traditional segments, and must break into new markets to see topline growth. AMD can grow their topline significantly by stealing a couple percent of market share in either the PC or server space. This quarter we could possibly start seeing more leaked benchmarks of Kaveri.
Conclusion and Thoughts Going Forward
Unfortunately, it seemed much of the focus was on the $50M sequential decline in CS revenue. The decline in this operating segment set the tone for earnings, despite the fact that GVS revenues rose 7 times the CS revenue decline. At least part of the focus in the following weeks will likely be on competition in the PC space.
If the Kaveri release closes the performance gap, the chip has the chance to be a strong growth driver during 1H 2014. Looking at the first half of next year, a successful Kaveri launch and worldwide roll out of consoles could offset some of the traditional seasonality of the computer and gaming markets for AMD.
Aside from Kaveri, other growth drivers going forward include both GPUs and server growth via AMD's SeaMicro acquisition. Based on Dr. Su's comments, I think it seems likely there is potential for another big data center design win in the works, but at this point this is only speculation based on what seems to be choice wording.
In a previous article, I pointed out AMD's volatility and reaction to analyst upgrades and downgrades. When the market opens, I feel a lot of the price action going forward will be based on the sentiment regarding the press AMD receives. On one hand, you have slightly lower CS revenues due to the declining PC market. On the other, you have a successful proof of concept of the semi-custom business model and potential for data center growth. We will soon find out which the market finds more important.
Disclosure: I am long AMD. I wrote this article myself, and it expresses my own opinions. I am not receiving compensation for it (other than from Seeking Alpha). I have no business relationship with any company whose stock is mentioned in this article.
Additional disclosure: I am long AMD in both shares and options. I actively trade my position, and may add or liquidate shares at anytime. I am also short NVDA through a very small number of puts, which I may liquidate at any time.