Transocean (NYSE:RIG) is an offshore drilling company providing a variety of engineering and contract management services to the exploration sector. Transocean specializes in deep water oil- and natural gas wells and provides essential services to global energy firms tapping resources in harsh exploration environments. Transocean has operations across the world which spans from the Gulf of Mexico to Brazil and Venezuela in Latin America to the Caspian Sea and Australia. Transocean's service offering is top-in-class and many large-cap explorers outsource rig drilling jobs to the company. Despite a great drilling rig footprint around the world Transocean is one of the cheapest offshore drillers in the market with a valuation that is detached from its long-term prospects.
Share performance
Shareholders of Transocean know what an underperformer looks like. Transocean has a market-leading position in ultra-deepwater drilling and one of the largest fleets of floaters in the industry but its share price won't just catch up to the fundamentals. Transocean shares have returned a negative 11.5% over the last two years and are seriously lagging other oil- and gas drilling and exploration companies: Whiting Petroleum Corp. (NYSE:WLL) is up 59% over the last two years, Concho Resources (NYSE:CXO) 40% and Ensco (NYSE:ESV) 16%. Cenovus Energy (NYSE:CVE) produced the worst two year return at minus 15.48%. Transocean's five year chart is truly depressing with a minus of 31.65% while other offshore drillers have shot through the roof during the same time period. Since July 2013 the gap between top- and under-performers in the drilling sector has widened: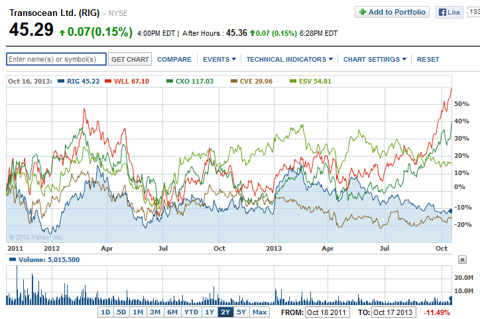 Click to enlarge
Transocean is priced as a bargain
Transocean trades at 8.46 times forward earnings and is only slightly more expensive than UK-based Ensco at 7.43. Whiting Petroleum and Concho Resources have done really well in terms of share price performance since July which explains why these companies are relatively more expensive. Concho Resources trades at nearly 25 times future earnings and makes it everything else but a bargain.
On the other hand, investors interested in snatching up a premier deepwater driller with $27 billion worth of backlog from continuing operations can do so at a bargain basement multiple of 8.46. Booming oil- and natural gas production underlines Transocean's attractive operating cash flow growth prospects.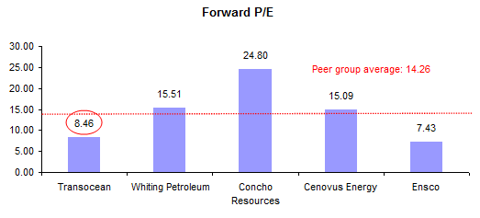 Click to enlarge
Transocean's dividend history has been sort of controversial. Transocean paid a quarterly dividend of $0.79 per share in 2011 only after being repeatedly pressured by US hedge fund manager Leon Cooperman and other investors. In 2012 the company decided to suspend its distribution and save the $1 billion in annual dividends to bolster up its balance sheet. In Q2 2013 Transocean resumed a quarterly dividend of $0.56 per share which was hold steady in the third quarter. Transocean's dividend record is inconsistent but the company pays investors now an annualized yield of nearly 5%. Contributing to the relatively high yield, of course, is Transocean's low share price.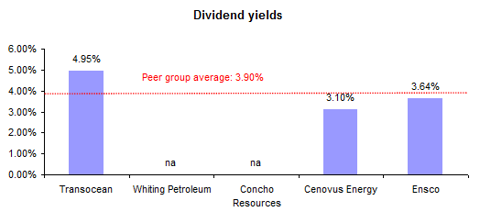 Click to enlarge
Transocean trades at massive discounts to the peer group average P/E and PEG ratios. Transocean is 41% cheaper than the average drilling company and its PEG ratio represents an 81% discount to the peer group PEG ratio of 2.32. Its dividend yield is the best at 4.95%. Dividend investors could pocket a near 5% but need to be aware that Transocean's dividend record is not as reliable as the record of other companies in the energy sector.

Click to enlarge
Summary
Investors interested in purchasing an undervalued off-shore driller with a market-leading position in ultra-deepwater drilling and the world's largest rig fleet should take a closer look at Transocean. Transocean can now be purchased at the same price it was trading at in 2010 after the explosion of the Deepwater Horizon platform in the Gulf of Mexico. BP, Halliburton (NYSE:HAL) and Transocean shares fell off a cliff as soon as the drilling rig explosion made headlines. Halliburton has recovered nicely but BP and Transocean still have a lot of room left to grow their multiples given their very low current valuations. Transocean's dividend resumption in 2013 adds a decent-sized yield to any income-oriented portfolio. Long-term Buy.
Disclosure: I am long BP, RIG. I wrote this article myself, and it expresses my own opinions. I am not receiving compensation for it (other than from Seeking Alpha). I have no business relationship with any company whose stock is mentioned in this article.