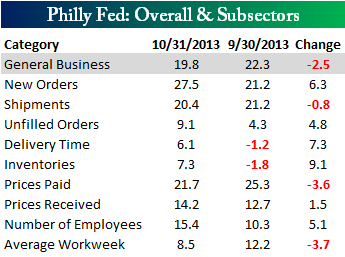 Earlier this week, we got one of the first reads on economic activity in the post shutdown period with the release of the weaker than expected Empire Manufacturing report. While that report showed a weaker than expected economic environment, Thursday's Philly Fed report showed that although General Business conditions weakened in October, the decline was not as much as economists were expecting (19.8 vs. 15.0).
Additionally, if we look at the 'guts' of the report, the table above shows that only three of the index's nine sub-components declined in October. Components that saw the largest increases this month include Inventories, Delivery Time, and New Orders. On the downside, the only three components that declined were Average Workweek (which some would attribute to the Affordable Care Act), Prices Paid, and Shipments.
Based on the Empire Manufacturing report earlier this week, it appeared as though the uncertainty over the shutdown and debt ceiling was definitely having an impact on the manufacturing sector. Thursday's report helps somewhat to alleviate those concerns.