The Global X Top Guru Holdings Index ETF (NYSEARCA:GURU) has been breaking new 52-week highs throughout the year, providing exchange traded fund investors with an outperforming strategy based on top hedge fund picks.
GURU has increased 33.4% year-to-date, trading just below its most recent high of $23.27.
The Global X Top Guru ETF tries to reflect the performance of the Solactive Top Guru Holdings Index, which is comprised of the top U.S. listed equity positions reported on quarterly Form 13F by a select group of hedge funds.
The SEC Form 13F, or Information Required of Institutional Investment Managers Form, is a quarterly filing required of institutional managers with over $100 million in qualifying assets. The filing contains information on the manager's list of recent investing holdings, which provide the public a glimpse of how the heavy weights are moving around the changing markets.
GURU utilizes the public filing information to construct a portfolio aimed to outperform the broader equities market at a fraction of the cost to traditional hedge funds. The ETF has a 0.75% expense ratio, compared to hedge funds that typically charge a 2% management fee and a 20% performance fee.
However, since GURU's holdings are based on numbers from the previous quarter, the ETF's positions may become stale in a quickly changing market.
The fund has 54 components and the top holdings include Education Management Corp. (NASDAQ:EDMC) 2.7%, U.S. Airways Group (LCC) 2.3%, Cumulus Media (NASDAQ:CMLS) 2.2%, Pandora Media (NYSE:P) 2.2% and Yahoo Inc. (NASDAQ:YHOO) 2.2%.
Sector allocations include basic materials 7.3%, consumer cyclical 17.3%, financial services 10.4%, real estate 1.7%, telecom services 9.2%, energy 7.5%, industrials 9.4%, tech 24.1%, consumer defensive 2.6% and healthcare 10.5%.
Global X Top Guru Holdings Index ETF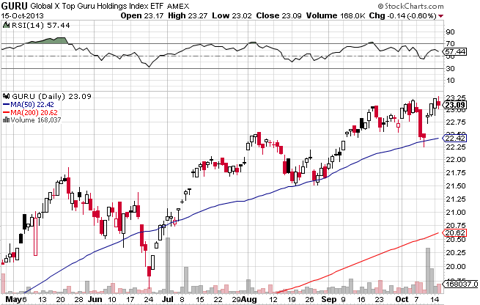 Click to enlarge
Max Chen contributed to this article.
Disclosure: I have no positions in any stocks mentioned, and no plans to initiate any positions within the next 72 hours. I wrote this article myself, and it expresses my own opinions. I am not receiving compensation for it. I have no business relationship with any company whose stock is mentioned in this article.