TransDigm Group, Inc. (NYSE:TDG) is a designer, producer and distributor of airplane components. The TransDigm stock has shot up more than 400% in the last four years to trade at the current $140.17. The firm's total returns have grown by an astounding 653% in a similar time-space.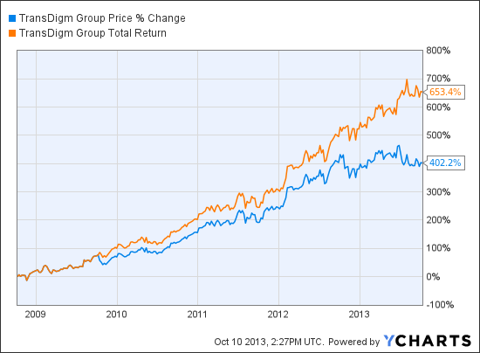 TransDigm sells to the big boys including Boeing (NYSE: BA), Delta Airlines (NYSE:DAL), United Continental (NYSE: UAL) and Lockheed Martin (NYSE: LMT). The firm derives 45% of its revenues from OEM, while 55% comes from the high-margins after-market business. TransDigm claims that a good 75% of its revenue comes from products for which the firm is the sole supplier, meaning it faces zero competition.
Minimal exposure to the defense sector
Perhaps one of the reasons that best explain why the stock remains a darling of the masses is that TransDigm has got little exposure to the defense sector. Defense companies are currently feeling the heat of sequestration, and their revenues have remained pretty flat this year. Honeywell (NYSE: HON) leads the defense pack in revenue growth, managing to grow its revenues by a mere 2.73% YTD (Year-to-Date). TransDigm derives 75% of its revenue from the commercial sector, with only 25% coming from defense. Defense spending might be on a tight leash, but aerospace's certainly isn't. Despite the headwinds being faced in the sector, TransDigm has managed to grow its defense revenue by 5% YTD, with third-quarter defense revenue rising 8%.
One weak spot in TransDigm's otherwise bright outlook is the sluggish growth being experienced in its high-margin commercial after-market business segment. This sector accounts for more than 40% of the firm's sales. TransDigm's commercial after-market business segment has managed to grow just 2%YTD. The sector's growth, however, seems to be gaining momentum and managed to rise 4% in the third-quarter.
Airlines are currently concentrating on overhauling and repairing their fleets as the economy continues to recover from the effects of the devastating 2008 recession. You can read that from this June 2013 PWC report. As the industry continues to recover in tandem with the rest of the economy, the companies will have more money to spend on aftermarket purchases. The report also outlines how fuel costs have more than doubled in the last decade. Airlines will no doubt be looking to cut down on other expenses in a bid to trim their overall operational expenses. They are likely to continue viewing repairs as a cost-effective alternative to purchasing new aircraft.
Acquisition frenzy
TransDigm is not shy of striking deals and making acquisitions. The firm has consummated 30 deals since 2006. This year alone, TransDigm has made four acquisitions. Investors are aware of how acquisitions can make a company's growth look artificially high. If you look at the graph below, you will notice that TransDigm's EPS growth is only about a third of sales growth.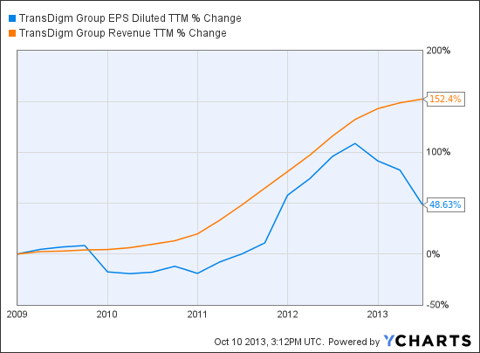 TransDigm's management says that organic growth accounts for more than half (11%) of its overall 20% annual growth.
Healthy FCF
TransDigm's FCF has doubled in the last five years. The current ratio of share price to FCF stands at 19x. The firm's free cash flow per share is over $7. It's this impressive FCF growth that has caught the attention of fund managers such as Weitz. Weitz has continued buying TransDigm shares throughout this year, and the stock now accounts for 2.8% of its fund assets.
TransDigm does not pay a regular dividend, preferring instead to dole out fat special dividends. The firm recently paid out a huge $22 special dividend.
Price target
TransDigm has received a $147 PT on its shares with a neutral rating. Bank of America Corp. have a $154 PT on the stock with a neutral rating. Bank of America's new PT was an improvement over its earlier $142 PT.
High debt to equity ratio
TransDigm's main Achilles Heel remains its relatively high debt to equity ratio, which stands at 5.4. The ratio ranks among the highest, if not the highest, in the aerospace industry, making TransDigm one of the most indebted companies in the industry.
TransDigm's peers
The Boeing Company is one of TransDigm's peers. Boeing continues to do well with its international passenger capacity growing 5.6% Y-o-Y. Boeing has an impressive dividend payment track record. Its latest dividend of $0.485 per share represents a 10.2 Y-o-Y growth.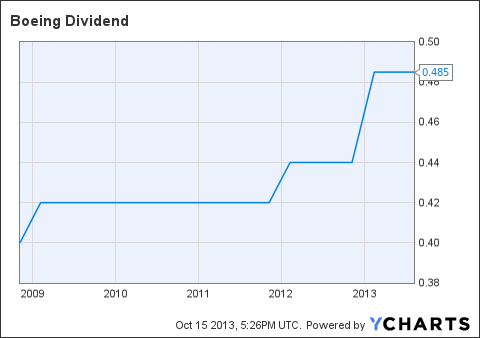 In the defense sector, Honeywell has the most impressive revenue growth with 2.73% growth Y-o-Y. The ongoing sequestration in the defense sector has forced most firms in the sector to institute aggressive cost-cutting measures, most notable being their job cuts. Lockheed Martin is one of the defense companies that have realized significant upside from their cost reduction exercises. Despite a 4% decline in revenue in the second-quarter, Lockheed managed to grow its EPS by 11%. Analysts predict that defense companies will continue to grow their EPS even in the midst of the defense budget cuts. The estimates for average EPS in the defense sector by the end of 2014 is $9.48, 12% higher than 2012 levels.
Conclusion
TransDigm continues to sport impressive growth and solid financial performance. Although its balance sheet still bears some weaknesses, most notable being the high debt-to-equity ratio, the company is doing well overall. The current price target for the stock by leading analysts represents a significant upside potential
Disclosure: I have no positions in any stocks mentioned, and no plans to initiate any positions within the next 72 hours.
Business relationship disclosure: Syncopy Research is a team of financial analysts. This article was written by Alex Kimani, the company's Senior Analyst. We did not receive compensation for this article (other than from Seeking Alpha), and we have no business relationship with any company whose stock is mentioned in this article.