Using The Applied Finance Group's (AFG's) Value Expectations interface we have provided an analysis of the expectations embedded in the stock prices of some of the top performers in the S&P 500 year to date (excluding financials) to see which companies have the lowest expectations for sales growth (VE Sales Growth) relative to what the company has been able to deliver historically (5 Year Median Sales Growth).
AFG's Value Expectations interface provides clients a platform to better understand economic profitability, and at the same time understand the performance a company must deliver to justify its current stock price. By understanding the embedded expectations a company must deliver to justify their current trading price, clients can develop a "hurdle rate" to quickly determine if the company's expectations are rich or low. Take, for example, the typical company during the tech bubble: the expectations that were priced into the average tech stock far exceeded what it could realistically deliver. For this reason, AFG identified the technology sector as overvalued, as well as potential torpedoes such as Cisco (NASDAQ:CSCO), whose expectations were unrealistically high.
By gaining a better understanding of the embedded expectations built in to security prices, relative to what a company has delivered historically, can provide insight into the Sales Growth, EBITDA Margin, and Asset Turnover a company must deliver in the future to justify its current trading price. In many circumstances, if the imbedded future performance is very conservative relative to the company's historical performance, the stock is regarded as undervalued.
The top performers of the S&P 500 listed below are ranked based on valuation attractiveness using The Applied Finance Group's valuation model. You would like to look for companies with attractive valuations and modest expectations for revenue growth relative to what the company has been able to achieve over the past five years when looking for potential investment opportunities as these types of companies have proven through time to outperform firms with the opposite characteristics.
If you would like to view some of the favorite long and short investment ideas provided by professional investors click here to view the results for AFG's Market Forecast Project.
Sales Growth Expectations of S&P 500 Top Performers of 2009
click to enlarge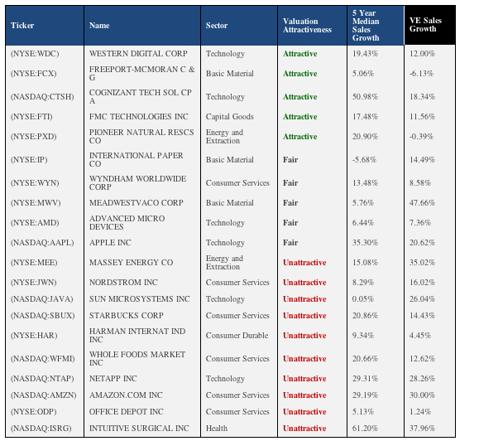 Source: EconomicMargin.com

AFG's Valuation Metric – Measures the percent to target (deviation between a stock's current trading price and its AFG current default target price). To derive the intrinsic value of a firm, AFG uses its proprietary Valuation Model (modified discounted cash flow model).

Economic Margin - A corporate performance measurement that addresses the gaps in GAAP, eliminating distortions caused by accounting policies to measure what a company is truly earning above or below their cost of capital.

Management Quality – Assesses management's ability to make wealth creating decisions.