Apple (NASDAQ:AAPL) has been making all the right moves lately. Tailwinds abound: New deals, surprise sales, analyst revisions, heightened brand awareness (recently overtaking Coca-Cola as the World's Most Valuable Brand), competitor stagnation, and a new shareholder-friendly attitude from management, with Cupertino repurchasing $18B in stock in the last quarter alone. While investors are waiting for the Next Big Thing to emerge out of Silicon Valley, Apple has been making quiet inroads into Asia, education, and Enterprise-level security. In this article, we're going to take a look at the top 10 catalysts driving Apple's resurgence.
1. The NTT DoCoMo Deal: Japan is Apple Country. According to Bloomberg (via IDC), the iPhone accounted for 36.1% of Japanese smartphone shipments in the latest quarter, compared with 20.6% for Sony and 13.9% for Sharp Corp. Per Apple's newly inked contract with NTT DoCoMo, Japan's largest carrier will devote 40% of all of its smartphone sales to the new iPhone 5s/5c models, which translates to 6.4 million iPhone sales over the next 6 months, assuming NTT DoCoMo's CFO Kazuto Tsubouchi's projections of 16 million units for the calendar year ending March 31st are accurate.

2. U.S. Market Share Gains: The smartphone market continues to consolidate around Apple and Samsung at the expense of rivals like HTC and Motorola, according to independent reports by Morgan Stanley's AlphaWise Smartphone Tracker and comScore's MobiLens and Mobile Metrix. The U.S. smartphone market is now more than 50% penetrated.
Fig. 1: Top Smartphone OEMs (By % Share of Smartphone Subscribers)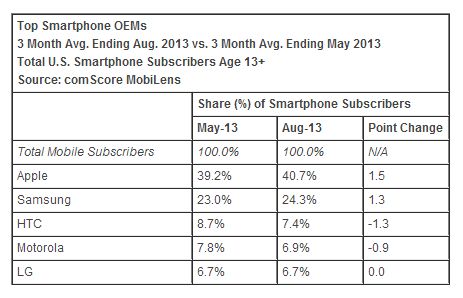 (Source: comScore)
3. The Bear Case Is Crumbling. Human beings are hardwired to love stories. If I asked you what you did last week, you'd probably tell me a story that begins with you waking up and going through your usual routine on Monday morning and ends with wherever you fell asleep on Friday night. It would also (in all likelihood) be hopelessly biased and incomplete.
Bias, inaccuracy, and false assumptions are the ticket price the listener pays for seeing life through a different set of eyes. When the story is the rise and fall of a high school chemistry teacher turned meth dealer, the price of admission is relatively small. When the story concerns the rise and fall of the world's largest tech company, buying into a narrative can bankrupt you. That's what makes the recent iPhone sales beat such an interesting real-world study of group polarization among analysts.
Fig. 2: EPS consensus revisions: Last 18 months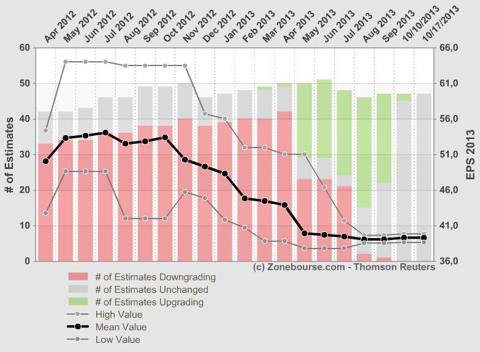 (Source: http://www.4-traders.com)
As a practical matter, the upward bias of the market rarely provides researchers with the basis for conviction in anything but underpriced equities. When it does, the opportunity is usually there for the whole world to see. Shorting opportunities not based on new regulations, share dilution, scandal, ill-advised M&A strategies or creative accounting usually involve high debt and excessive cash burn. No one seriously maintained that Apple was going broke, only that the company was "losing its mojo."
4. Positive Reviews. 15 years ago, there was a search engine that was developed by two guys at Stanford that was beloved by "Tech Hell" (i.e. Tech Support) for its ability to locate device drivers and troubleshooting tips. It was called Google. Yet the Social IQ of the nail-chewing, overworked and underpaid legions of Tech Hell 1.0 pales in comparison with the reach of today's social influencers. In fact, the lack of dismay among the technorati is one the primary reasons why I never bought into the "Apple is doomed" mantra being pushed by the financial press after Mapgate. Reviews for Apple's flagship iPhone 5s phone have been universally positive.
Fig. 3: iPhone 5c/5s Weekend Launch Sales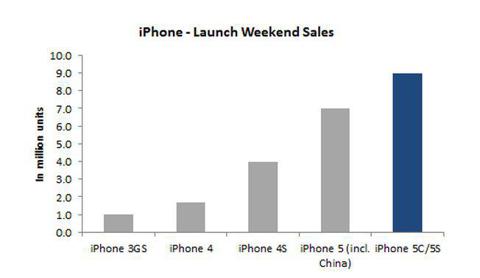 (Source: Tech-Thoughts)
5. Biometric Authentication. Most of the coverage on Apple's biometric fingerprint sensor has focused either on Apple's perceived lack of ambition in limiting its function to unlocking the phone and making purchases on iTunes or the fact that it's been hacked. Both critiques miss the mark. All security systems, from medical and financial records to Silk Road, from MP3s to oil pipelines, from street lights to prison doors, are "hackable" (see Avi Rubin's TED Talk on the subject here) - hence the reason that Apple set the bar only 1-inch from the floor. The question isn't whether or not a system can be hacked, but how long it takes to hack the system. Apple's "lack of ambition" is free mass beta testing disguised as a feature.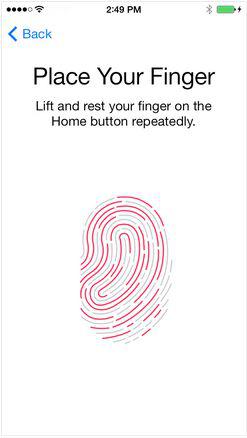 But the real power of fingerprint authentication is that it is "low friction" (i.e. faster than typing in a password by hand), and therefore habit forming. Instant gratification has made mobile consumers addicted to speed. This low friction preference scales down to fractions of a second.
Indeed, a study conducted by Google found that slowing down the search results page by 100 to 400 milliseconds has a measurable impact on the number of searches per user of -0.2% to -0.6%, or 8 million fewer queries a day. By that standard, a 1-second web page delay would cost Amazon up to $1.6 billion a year in lost sales.
Apple's recent patents reveal the extent to which the company intends to employ biometric authentication across its entire product line. The company is also making great strides on developing "live tissue" sensors, retina-scanning, and presence detection, as well as a new adaptive security system for iDevices capable of offering multi-tiered enterprise level security.
Fig. 4: Multi-Tiered Biometric Security For Enterprise (Beta)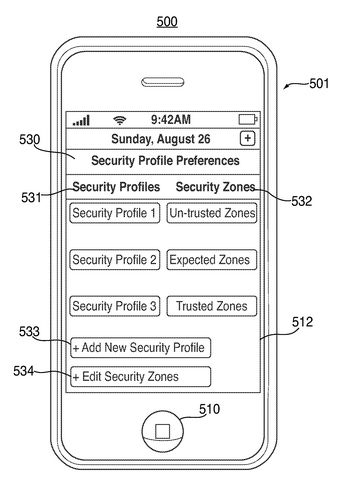 (Source: US Patent Publication # US 20120284779 A1)
6. Higher Guidance From Management. On September 23rd, Apple CFO Peter Oppenheimer announced that both revenue and margin would come in at the high end of the company's previously announced guidance of $34-$37 billion and 36%-37% (respectively). Managers eager to raise their guidance early in the quarter usually have a good reason for doing so.
7. Choppy Waters For Microsoft. Three of Microsoft's top investors, together representing over 5% of the total number of outstanding shares, want Bill Gates out. While a management shakeup would likely be a near-term positive catalyst for the stock, it's hardly coming at the best time for the company. Think: Stack Ranking, declining PC sales, Android/Apple mobile omnipresence, and Bing.
Fig. 6: Microsoft Org Chart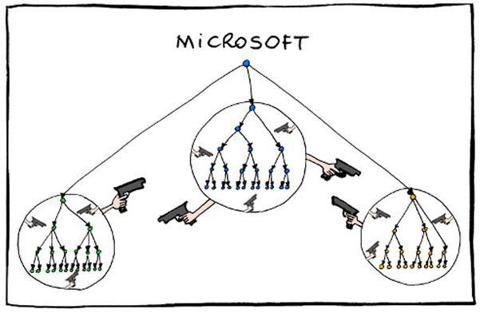 (Credit: Manu Cornet, Bonkers World)
8. iOS/iPad Institutional Penetration: Apple is signing up schools both in the U.S. and abroad at a frenetic pace, including a $30 million deal with the Los Angeles Unified School District in June at $678 a device. On that basis, an iPad in the hands of every K-12 student in the U.S. would mean an additional $37 billion in gross revenue on a revolving contractual basis every 3 years. Part of the reason for Apple's outstanding success in the education sphere is the fact that purchasing processes are merging.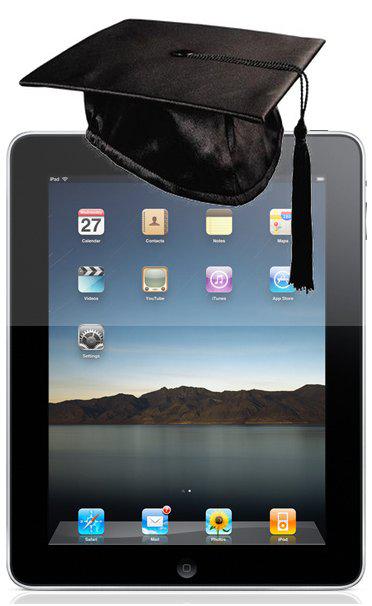 9. No New Killer Product From Google. Some early adopters are evangelical. Others think it's the new Segway. Regardless of how the public will ultimately feel about it, one thing about Google (NASDAQ:GOOG) Glass, one thing is certain: It hasn't shipped.
10. No New killer Product From Amazon. Back in 2011, Amazon's (NASDAQ:AMZN) Kindle Fire was widely touted as an iPad killer by the mainstream media. A year later, the new Kindle Fire HD 8.9 was "good, but no iPad killer." Today, it's "Amazon continues to step up its game (and its prices) with the Kindle Fire line." You do the math.
TechCrunch recently reported that Amazon is developing a high-end phone, codenamed Smith, that features a 3D GUI and eye-tracking support. Such a handset might be revolutionary indeed if Amazon had a lock on the technology, but it doesn't. In fact, Apple have made hundreds of breakthroughs in both technologies for the past two and a half years, along with audio broadcasting, travel, haptics, gaze detection, facial recognition, head tracking, projectors, and augmented reality. Google and Microsoft are working along similar lines. The only difference is that Amazon leaked its intentions in advance.
Conclusion
From a fundamentals point of view, Apple is easily worth $700 a share. Apple has the most valuable brand in the world, a fat dividend, very little debt, an addictive ecosystem, a fortress patent portfolio and has initiated the largest buyback in corporate history. A P/E of less than 8x ex-cash seems overly punitive. Nevertheless, the market is convinced that Apple's business model implicitly requires disruptive technological innovation in order to sustain profit margin. Apple has both the intellectual and resources to make that happen, if --and only if -- the infrastructure and advances in materials science are in place first.
Disclosure: I have no positions in any stocks mentioned, and no plans to initiate any positions within the next 72 hours. I wrote this article myself, and it expresses my own opinions. I am not receiving compensation for it (other than from Seeking Alpha). I have no business relationship with any company whose stock is mentioned in this article.